Southwest Airlines expects a "minority" of passengers will opt not to travel on the newly re-certificated Boeing 737 Max due to ongoing fears about the aircraft's safety.
Executives at the Dallas-based airline say on 19 November that while it understands these apprehensions, they are "proud" of the aircraft and looking forward to bringing it back to revenue service.
The carrier plans to return stored aircraft to schedule flights from April, after each has gone through a rigorous process to make it airworthy. In addition, all the airline's pilots will be sent through a comprehensive re-training that will include computer-based and simulator sessions.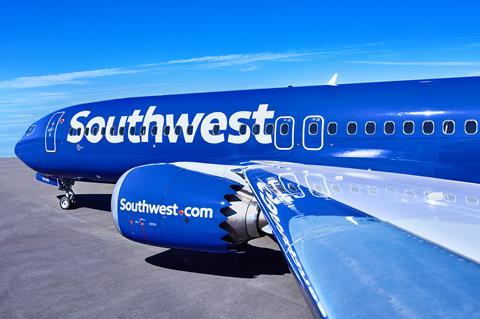 "Yesterday's Max announcements were very welcome and we have a clear path ahead to put the Max back in the air," says chief executive Gary Kelly. "We are proud of this airplane."
On 18 November, the FAA lifted the aircraft's 20-month grounding, which imposed in March 2019 following two crashes that killed 346 people.
Despite the FAA's stamp of approval, Southwest's executives are aware the general public may be reluctant to fly on the aircraft. The carrier has set up a dedicated customer website with information for potential customers, and promises to be flexible if passengers choose not to ride on the Max.
NO REBRANDING
Some voices in the industry have suggested dropping "Max" from the aircraft's type name, to eliminate negative stigmas.
"We bought the 737 Max 8 and we are proud of the 737 Max 8," says Southwest president Tom Nealon. "It's been through more evaluation and oversight than you can imagine. You can try to change the branding but we are proud of what we are flying. Over time that could certainly evolve, but our intent is not to change the name."
Southwest, with its all-737 fleet, is one of the top Max operators. It has 34 of the aircraft stored in Victorville, California and another 233 on order with Boeing, according to Cirium fleets data. Southwest says a maintenance team is already working on the stored aircraft, preparing them for service.
The airline anticipates it can return eight aircraft weekly to service. It will take about 135 days for the aircraft to go from storage to revenue service-ready, says Landon Nitschke, the airline's senior vice-president of technical operations. Whether the airline will bring all Max back at once, or do so sequentially, remains undecided, executives say.
Kelly adds that the airline is negotiating with Boeing about the company's orders and delivery schedules. After the coronavirus pandemic decimated the industry earlier this year, he says, Southwest is not looking to expand its fleet but rather to replace older aircraft with newer, more-efficient Max.
"We have 734 airplanes in the fleet, we don't need to increase our fleet size," Kelly says. "We had an order and a plan. [The grounding] had some impact on our plan, not directly on the order, and then you had the pandemic, which has thrown everything way off. It puts the whole order into play."
PILOT PREPARATION
Southwest's Alan Kasher, senior vice-president of air operations, says all the carrier's 8,000 pilots will be sent through Max training, including computer-based and simulator training. They will also repeat an introduction course that they had attended when the aircraft was first brought into the fleet.
In total, training pilots should take two to three months. Prior to its first scheduled flight with passengers, the airline will conduct numerous "readiness flights" without passengers, in addition to the enhanced training, to prepare for the jet's return to the schedule.
"Our focus is on making sure that our pilots are very comfortable bringing the aircraft back to service," he says, adding that there is currently "no feedback or any concerns".
"I have met not one pilot who is not confident in the Max," chief executive Kelly says.
However, on 18 November Southwest's pilots' union said it was "very disappointed" and "dismayed" that some safety concerns it and other pilot unions raised were not incorporated into the FAA's new airworthiness directive (AD) for the type. Kasher responds that the airline is "very comfortable" with the AD.
"The aircraft has had such an extensive review, and that review has gone far beyond the initial [software] issue," Kasher says. "It has had an end-to-end review and not just with the FAA. There have been multiple agencies involved from across the globe. There has never been an aircraft that has been reviewed to the extent that this aircraft has."