Southwest Airlines in recent months ordered another 19 of Boeing's yet-to-be-certificated 737 Max 7 and converted orders for 16 Max 7s into orders for larger Max 8s.
The Dallas-based airline disclosed those changes on 27 July, saying the moves leave it holding total orders for 462 737 Max jets, including for 192 Max 7s and 270 Max 8s.
Since a 27 April update, Southwest "exercised 19 -7 options for delivery in 2024 and converted 16 2024 -7 firm orders to -8 firm orders", Southwest says.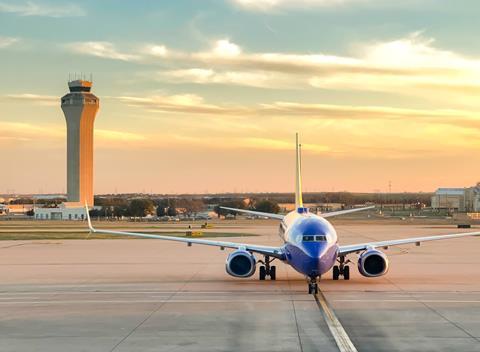 Reflecting the tweaks, Southwest's fleet plan shows the carrier expects in 2024 to received three additional 737 Max 7s (for a total of 51) and 16 additional Max 8s (35 total).
But the plan also lists 31 737 Max 7s as due for delivery this year, indicating Southwest has not adjusted the schedule to reflect Boeing's disclosure one day ago that it expects to deliver the first 737 Max 7 in 2024, not this year.
Addressing the orders and conversions during Southwest's quarterly earnings call, chief executive Bob Jordan says the carrier is "re-flowing our order book to allow for orderly and major growth, and we're still finalising the details of that with Boeing".
Southwest received 51 Max 8s in the first six months of 2023, and its contracts with Boeing call for 105 deliveries of the type this year. But Southwest expects to actually receive far fewer, having twice reduced its expectations for deliveries this year – first to 90, then to 70.
"We remain confident that we will get to 70 deliveries in 2023 that are assumed for our public schedules," Jordan says on 27 July. "And we are working to build a 2024 plan that is much more stable. We currently are planning to be flying the Max 7 at some point next year, but if not, we will take the Max 8 instead."
US carriers have been cutting fleet-growth plans in response to delivery delays, though Airbus and Boeing's production programmes have shown momentum in recent months.
Boeing's deliveries have been held up by broad supply-chain issues and repeated certification delays for the 737 Max 7 and 10.
Southwest reports a second-quarter profit of $683 million and revenue of $7 billion based on "continued strong demand", especially from leisure travellers.