Southwest Airlines has ordered another 108 Boeing 737 Max 7s and restructured its order book with plans to acquire even more of the jets through 2031.
Arlington, Virginia-based Boeing disclosed the order on 26 October, saying the deal brings Southwest's total orders for the smallest Max model to 302.
Also on 26 October, Southwest released an updated fleet plan showing it holds contracts for orders and options covering the acquisition of 780 737 Max between 2023 and 2031 (including aircraft already delivered this year). That is 216 more than its estimate in July of 564 deliveries during the period.
Those 780 planned aircraft include the 302 Max 7s, 110 more than in Southwest's July plan, and 271 Max 8s, up from 270 previously. Additionally, Southwest now holds 207 options for either Max 7s or Max 8s, up from 102 previously.
The airline and Boeing agreed to the changes earlier this week, providing Southwest with "flexibility" on deliveries through the beginning of the next decade.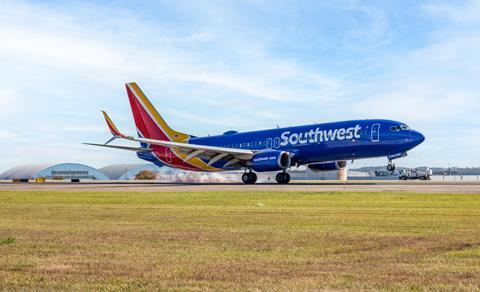 "The new aircraft market is tight and we wanted to ensure that we have access to aircraft into the future and we have done that through 2031," Southwest Airlines chief executive Bob Jordan says during the company's quarterly earning call. "We have locked in very attractive pricing. There's been more variability in our industry than I have ever seen and because of that you have to make sure that you have plenty of flexibility."
The revised fleet plan is "very orderly", reflecting deliveries at a steady rate of 80 to 90 aircraft annually through the 2031.
"We have plenty of opportunity to move those annual numbers up and down as demand dictates," he adds.
"With the world's largest all-Boeing, all-737 fleet, Southwest is counting on the exceptional efficiency and reliability of the 737 Max family," adds Boeing chief executive of commercial aircraft Stan Deal. "The 737-7 is pivotal to Southwest's long-term fleet modernisation strategy, and we are honoured to have the airline's continued trust in us to deliver its future fleet."
MORE 737s IN 2023
In addition, Southwest now says expects to receive 85 737s – all Max 8s – from Boeing this year, up from its estimate of 70 in July. The company does not specify details about the change.
The additional aircraft have prompted Southwest to accelerate its retirement of older 737-700s. It now plans to divest 41 of those in 2023, down from a previously planned 26.
Those changes leave unchanged Southwest's expectation to end 2023 with 814 737s in its fleet.