Kenya Airways continues to face the impact of aircraft remaining grounded for longer than planned during maintenance checks because of a global shortage of spare parts.
The SkyTeam carrier had early this year flagged of the risk of services being disrupted because of the unexpected impact of ongoing supply chain challenges.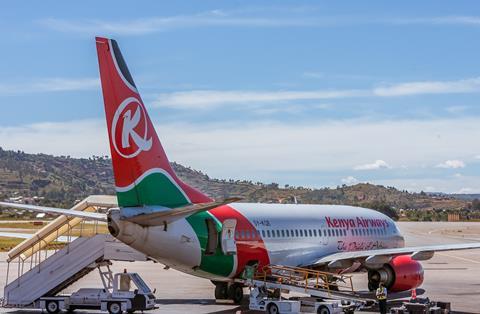 "We have had one of our aircraft undergoing major checks since late last year," Kenya Airways chief executive Allan Kilavuka tells FlightGlobal during an interview at the IATA AGM in Istanbul. "We were hoping we would be able to fly it by 1 June. We are not able to, and that is going to hurt us significantly because of the peak season. So there is a significant shortage of spares parts.
"I think one of the mistakes the industry made was to assume Covid was never going to end, so everything came to a complete standstill. That kind of stoppage of activity is coming back to bite us."
Airline frustrations at ongoing aircraft maintenance and delivery challenges was one of the main topics to emerge during this week's AGM. The issue is particularly acute for smaller airlines, as there is less flexibility to offset the unplanned loss of an aircraft. "Especially for those that have smaller fleets, like we do, the impact is much bigger," Kilavuka notes.
Aircraft availability is one of the challenges the carrier is facing as it strives for a return to profit against the backdrop of continued strong demand.
"The yields are very strong, but obviously the costs are high," Kilavuka says. "So that kind of cancels out.
"Demand is extremely strong, and I think that caught everyone by surprise. The demand is coming from premium leisure travel. Business travel is not back to where it was in 2019 but it will come back, I think it will maybe come back towards the end of the year or next year. But premium leisure traffic is extremely high.
"The problem is the costs," he adds. "Last year it was fuel. Fuel is not so bad this year, but now it is the cost of spare parts – that's inflation – and also the strength of the dollar."
Kenya Airways revenues jumped two-third in 2022 to approach pre-crisis highs in local currency, even though passenger levels were still around 30% shy of 2019 levels. While this meant it was able to report a cut in its underlying operating loss, heavy foreign exchange losses against the strong dollar drove the carrier to a deeper pre-tax and net loss for the year.
Kilavuka says the carrier is aiming to reach at least breakeven in 2024, something he says will be helped by a successful capital raise it is working to secure.