US ultra-low-cost carrier Spirit Airlines is cancelling dozens of flights in order to inspect 25 of its narrbowbody Airbus jets.
Spirit on 20 October cancelled nearly 100 flights across the Florida-based carrier's network as of 14:00 on the East Coast of the USA – nearly 11% of its schedule, according to flight-tracking website FlightAware.
Many of the affected flights are to and from Orlando International airport.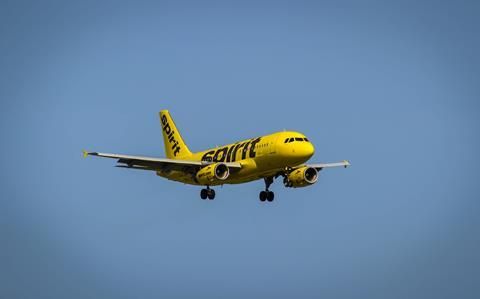 Spirit declined to identify the problem that prompted it to ground some of its A320-family aircraft, including A319s and A320s.
The carrier asserts that the cancellations are related to performing "a necessary inspection of a small section… of our aircraft", and that it is working to make arrangements for affected customers.
"While this action is being taken out of an abundance of caution, the impact to our network is expected to last several days as we complete the inspections and work to return to normal operations," says the ULLC.
Spirit currently operates 137 A320s, 38 A321s and 19 A319s, according to Cirium fleets data. Nine jets are currently listed as in storage.
Last month, Spirit lowered its third-quarter revenue forecast based on higher-than-expected fuel costs.
The carrier will release its quarterly results on 26 October, but disclosed in a recent filing with the US Securities and Exchange Commission that it will not host an earnings call.