Inspections that recently grounded 25 Spirit Airlines' Airbus A320-family jets and caused dozens of flight cancellations across the carrier's network involve checking for fatigue cracking around airframe brackets.
That is according to the Federal Aviation Administration, which says the checks involve "physical inspections of a bracket on the airframe".
The FAA declines to elaborate but says a 2018 airworthiness directive (AD) includes more details about the issue. The directive was prompted by "fatigue tests which revealed cracking around the fasteners attaching the pressure panel to the flexible bracket, and by the discovery of additional cracks under the longitudinal beams at locations that are not included in the inspection", the FAA said in 2018.
The issue affects first-generation A320-family jets but not newer A320neo-family models.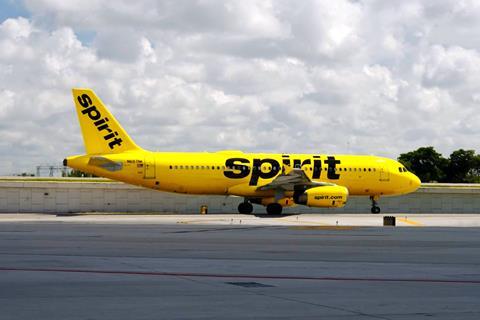 Spirit on 20 October cancelled about 100 flights across its network – 11% of its schedule – to perform "mandatory inspections" on 25 aircraft, including A319s and A320s. The carrier declined at the time to provide details about the inspections.
"While this action is being taken out of an abundance of caution, the impact to our network is expected to last several days as we complete the inspections and work to return to normal operations," it said.
The FAA says on 23 October that it is "aware that Spirit Airlines removed approximately 25 of its Airbus airplanes from service to conduct a mandatory maintenance inspection", adding it will "ensure that the matter is addressed before the airplanes are returned to service".
It is unclear when the jets will be back in the air, as Spirit declines to provide additional information. Flight-tracking website FlightAware shows that the Florida-based carrier did not cancel flights on 23 October flights as of 17:00 Eastern time.
Spirit operates 137 A320s, 38 A321s and 19 A319s, according to Cirium fleets data, while 10 jets are listed as in storage.
The ultra-low-cost carrier will release its quarterly results on 26 October, but disclosed in a recent filing with the US Securities and Exchange Commission that it will not host an earnings call.