Swiss will apply a new kind of aerodynamic coating on some long-haul aircraft that promises to lower frictional resistance and thereby increase fuel efficiency and reduce carbon emissions.
The Zurich-based carrier says on 23 February that it will use the "Aeroshark" riblet film, developed by Lufthansa Technik and German chemicals company BASF, on its 12-strong Boeing 777-300ER fleet.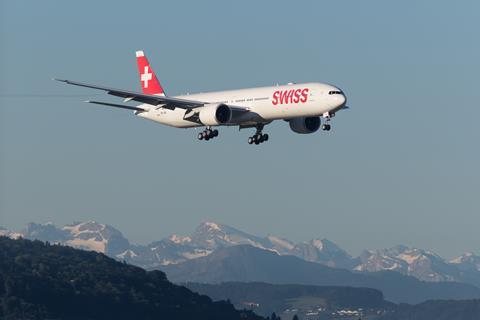 "Reducing its environmental footprint is one of the greatest challenges ahead for the aviation sector, and being carbon-neutral in our flying by 2050 is a key Swiss strategic objective," says chief executive Dieter Vranckx. "In becoming the world's first passenger airline to use the innovative Aeroshark technology, as we'll be doing with our Boeing 777 fleet, we'll now be making a further substantial contribution to ensuring more sustainable travel."
Swiss follows Lufthansa Cargo, which said last May that it would use the film on its 777 freighter fleet beginning this year.
"The film features millions of 'riblets' – small protrusions just 50 micrometres high – which replicate the highly hydrodynamic skin of sharks, and thus reduces an aircraft's aerodynamic drag wherever it is applied," Swiss says.
Each aircraft will require 950sq m (10,226sq ft) of the film, which is applied to the fuselage and the engine nacelles. It promises to improve the jet's aerodynamics, and reduce the 777 fleet's fuel consumption by 6 million litres (1.6 million USgal) and carbon dioxide emissions by 15,200 tonnes, or 1.1% each year. Swiss says that is equal to the amount of emissions from 87 long-haul flights between Zurich and Mumbai.
Swiss will apply the film to the aircraft from mid-2022, the company says.
The airline is aiming to cut its 2019 net CO2 emissions by half by 2030, and making its entire business and operations carbon-neutral by 2050.