TAP Air Portugal has negotiated payment deferrals covering about 60% of its leased fleet, and is looking at selling up to eight Airbus narrowbodies as well as returning some aircraft early to lessors.
The Portuguese flag carrier has made the disclosures in a first-half financial results document in which it reveals that it incurred a net loss of €582 million ($682 million) in the six-month period to 30 June. This compares with a €112 million net loss in the same period of 2019.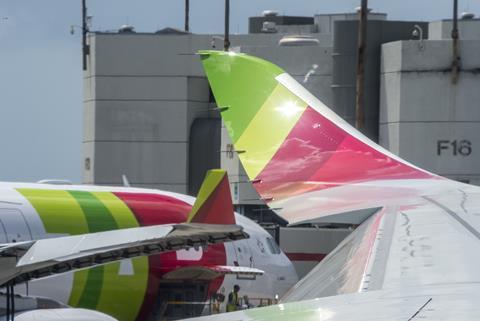 TAP says it has agreed with Airbus to defer deliveries of most of the A320neo-family aircraft it has on order, and to either postpone the arrival of two A330neos or exchange them for "other models, in light of the market rebound and TAP's needs at such time".
The airline has postponed "some" of the A320neo-family aircraft that were scheduled to be delivered this year to 2021, and "most deliveries" planned for 2021-22 to 2025-27. The two A330neos it had planned to take delivery of in 2022 have been pushed back to 2024, and the airline highlights the "possibility" of switching to another aircraft type instead.
TAP says its agreement with Airbus reduces its 2020-22 capital expenditure by about $1 billion.
Having initiated discussions with lessors when the Covid-19 pandemic grounded much of its fleet, TAP says it has now finalised agreements which span some three-fifths of its leased fleet.
"These negotiations have been focusing mostly on the deferral of rent payments and maintenance reserves that would be due during 2020, as well as on the amount of future rents," says TAP.
In the second half of this year, TAP is taking delivery of one A320neo, one A321neo and another A321LR, to add to the A321LR it took in the first half and is in the process of phasing into its operations. The airline is considering "the possible sale" of six to eight aircraft – six A319s and two A320s – and is studying "the early return of aircraft under operating lease and the potential sale of aircraft under financial lease".
As of 30 June, TAP's widebody fleet comprised seven A330s and 19 A330neos while its 61-strong Airbus narrowbody fleet included five A321LRs, nine A321neos and seven A320neos. The airline's regional fleet features 13 Embraer jets and eight ATR 72 turboprops.
TAP says it recorded "very positive developments" in the first two months of 2020, before the Covid-19 pandemic brought "a sharp decrease in activity".
Earlier this month, TAP received just under €500 million of its potential €1.2 billion state rescue loan from the Portuguese government. The state has agreed to grant TAP an interest-bearing loan of up to €946 million, with the possibility of adding an extra €254 million.
Earlier this year, the government invested €55 million to increase its stake in TAP from 50% to 72.5% in order to prevent the airline from going bankrupt.