Thai Airways International is "studying closely" plans to bring its stored Airbus A380s back into its fleet to cope with a capacity shortfall, as the airline sees a steady increase in travel demand.
Airline commercial chief Korakot Chatasingha says the airline has not committed to a decision, but is looking at the "cost effectiveness" of such a move.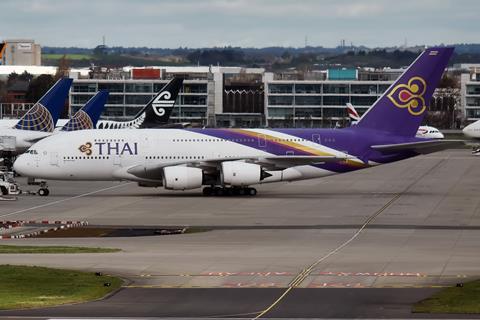 "As you know, to bring them…and return them to service, costs a lot of money," says Chatasingha, who was speaking to reporters during the Association of Asia Pacific Airlines (AAPA) Assembly of Presidents held in Bangkok.
Thai previously operated a fleet of six A380s, but grounded the aircraft amid a collapse in travel demand during pandemic, which saw the airline file for business rehabilitation.
Of the six superjumbos, two are owned by the Bangkok-based airline, with the other four examples on lease. The airline intends to return its four leased A380s to lessors, and thus will study returning the remaining two to service.
The disclosure comes as Chatasingha says the airline will "review its fleet planning" in 2023 as part of capacity expansion efforts.
At present, Thai and its sister unit Thai Smile Airways operate a fleet of 64 aircraft, including 20 A320s.
Two A330s - previously put up on sale - are expected to join the fleet by January 2023, a move Chatasingha says is driven by the need to boost capacity.
The airline has, as part of restructuring efforts, streamlined its fleet, retiring its Boeing 747s, A380s and older 777s and A330s.
Thai also signed leases for two more A350s, which will arrive in 2023. Chatasingha, who says another two are on the cards, notes that the aircraft were not part of original fleet plans and were secured in anticipation of a ramp-up in capacity.
NETWORK RECOVERY
Chatasingha says Thai has recovered to about 60% pre-pandemic capacity system-wide. Part of the shortfall, he notes, comes from China's continued closure.
Pre-pandemic, China accounted for about 10 to 15% of total ASKs for the airline, says Chatasingha.
To this end, the airline's two extra A350s, along with two more A330s are "on standby…as excess capacity" should China ease border measures and the airline ramps up its flights to the country.
At present, the airline and its leisure unit Thai Smile Airways operate 713 weekly flights to 68 domestic and international points.
Chatasingha says the airline is for now shifting capacity to North Asia, particularly Japan and South Korea, as those markets open up. This follows an earlier plan to restore regional capacity within Southeast Asia.
Thai has just released third quarter results, which show the airline narrowed its nine-month losses as rising revenue outpaced the increase in costs.
For the nine months to 30 September, Thai posted an operating loss excluding one-off items of Bt9.5 billion ($264 million), That is an improvement on the Bt21.1 billion loss it made in the year-ago period. Revenue rose four-fold to nearly Bt66 billion, led by a sharp increase in passenger travel. It outpaced a two-fold rise in costs, which came in at Bt66 billion. Fuel costs, in particular, saw the sharpest rise, increasing nearly nine times year on year.