Thai Airways International has outlined a broad plan to its lessors that would involve reductions in both its total fleet size and the number of aircraft types it operates, plus haircuts for lessors, sources have revealed.
The flag carrier's chief financial officer presented the proposals during a 21 October virtual meeting held over Webex, four of the attendees tell Cirium.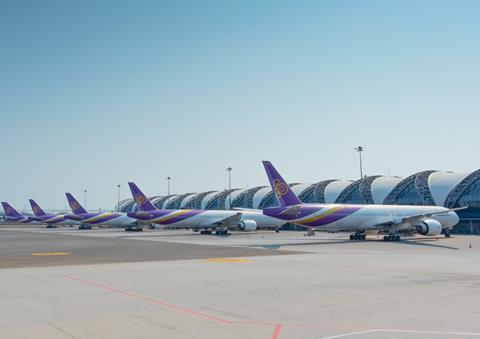 "They are simplifying the fleet and they are asking for the restructuring of all their leases as well," says one. "The meeting yesterday was mainly an introduction of their restructuring plan and what they are going to do with the fleet in future."
Thai's fleet includes multiple aircraft types ranging from Boeing 737-400s to Airbus A380s. Market sources have suggested to Cirium that the diversity of aircraft does not make for a sustainable business model, especially in the Covid-19 environment.
Requests for proposals (RFPs), which are expected to arrive in lessors' inboxes today, will set a 4 November deadline, two of the Webex meeting's attendees say, giving lessors less than two weeks to present their best offers to the airline.
"[They are saying]: 'This is what we want; what can you offer?' If you don't give them what they want and other people do, you have more chance of being rejected. Even if everyone gives them what they want, they don't want all the aircraft," says one of the two.
Sixteen lessors have exposure to Thai Airways to the tune of 41 aircraft, Cirium fleets data indicate.
"They said they need to remove a bunch of aircraft," says a third attendee. "They see a slow recovery until 2025. They don't think they need the same amount of aircraft, even after 2025. They think they will still be down from what they had. They are looking at quite a big reduction, though there is a range.
"They are narrowing down fleet types that they have… The question is which ones will be staying, and which [ones] will not will depend on which kind of restructuring they will do. I have to imagine that behind this they have some framework, but then it's also going to change based on what response they get from lessors."
After Thailand's bankruptcy court approved the airline's application for business rehabilitation on 27 May, an automatic "stay" on creditor claims came into effect.
That stay restricts the ability of creditors to enforce any security or start any other litigation proceedings against Thai. It also imposes a moratorium on creditors' rights, including – crucially for lessors – the right to pursue action to repossess property that is the subject of lease or hire-purchase.
Thai did not offer to take questions at the end of the meeting, the four people said, though the airline had accepted lists of questions before the meeting and sought to answer some of them.
"They just consolidated the questions into their plan [outline] and answered partially. We wanted to get a more detailed picture of their plan," says one attendee.
Another adds that while this time around it was a "one-way briefing", there is a plan for follow-up. "The CFO led the briefing, but the working level team are going to have working level conversations going forward. This was to set the scene."