American Airlines plans to operate five employee-only flights in the newly re-certificated Boeing 737 Max ahead of its first scheduled passenger revenue flight on 29 December.
The Fort Worth-based carrier says on 2 December that the flights will be open to all active employees including mainline carrier and wholly owned subsidiaries Piedmont Airlines, Envoy Air and PSA Airlines.
"We know that restoring our customers' confidence in the 737 Max starts with ensuring our own team members are comfortable," the airline says.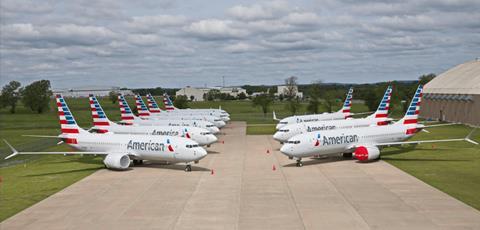 The first flight will take place on 3 December, departing and returning to Dallas/Fort Worth International airport.
On 8 December a flight will depart Miami International airport, with two further sorties from New York's LaGuardia airport on 9 and 15 December. The final flight will depart from Miami again on 17 December.
American plans to re-launch revenue service with the type on a round-trip flight between Miami to LaGuardia on 29 December.
American is the first carrier to re-introduce the type into its schedule following a 20-month grounding after two jets crashed and killed 346 people in 2018 and 2019.
On 18 November, the Federal Aviation Administration rescinded its 13 March 2019 "Emergency Order of Prohibition" – the document barring US airlines from operating Boeing's latest 737 iteration – after the airframer adequately addressed the issues which had led to the fatal accidents.
Brazil's civil aviation agency ANAC followed with its re-certification a week later but the aircraft is still awaiting approval in several other jurisdictions including China, Europe and Canada.
Europe's air safety regulator, EASA, said last month it expects to publish a final airworthiness directive on modification of the 737 Max in mid-January, which will mark the formal revocation of the grounding order imposed on the twinjet in that region. Canada said it would approve the jet's return "soon".
American has 24 of the aircraft type in storage and another 76 on order from Boeing.
United Airlines and Southwest Airlines, which also operate the type, have not said if they will be providing such flights to their employees. Both plan to bring the aircraft back into their fleets in early 2021.