Turkish Airlines has struck deals to lease a further 20 narrowbodies and one widebody as it aims to secure capacity to meet its near-term growth ambitions.
The Star Alliance carrier has been working on an order for 400 narrowbodies and 200 widebodies as it looks to double its fleet to more than 800 aircraft over the next decade.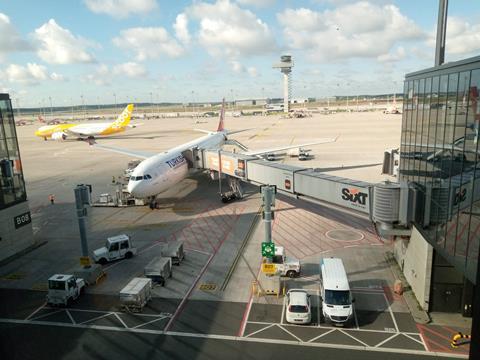 It had initially hoped to finalise that deal this summer, but completion has been complicated by challenges securing delivery slots at Airbus and Boeing and current engine supply issues. Against that backdrop the airline has turned to the lessor market to ensure it meets its growth targets while it continues negotiations on the wider order.
The Istanbul-based carrier last month agreed to lease 25 Boeing 737 Max 8s and three Boeing 787-9s from lessor AerCap for delivery from next year through until 2026.
It has now disclosed commitments for 20 more narrowbodies for delivery from between the fourth quarter of 2024 and the first quarter of 2026.
Specifically it is taking 10 narrowbodies from DAE Capital, deliveries of which will run over the fourth quarter of next year and the first quarter of 2025.
It will also take four narrowbodies from Jackson Square Aviation in the first quarter of 2025 and six from CDB Aviation Lease Finance for delivering from the first quarter of 2025 to the first quarter of 2026.
Turkish Airlines, which operates current and next-generations narrowbodies from both Airbus and Boeing, has not disclosed which narrowbodies it it is taking.
The airline is also adding leasing a further widebody from CDB for delivery in the second quarter of next year.
Under its fleet plan Turkish Airlines, which will end this year with a fleet of around 440 aircraft, expects to add around 40 aircraft in 2024 and between 40 and 50 in 2025.