Turkish Airlines has disclosed its decision to acquire 10 more Airbus A350-900s for delivery from 2025.
In a brief stock market announcement, Turkish Airlines says it has decided to purchase the 10 widebodies to meet its planned growth targets. The aircraft will be delivered between 2025 and 2027.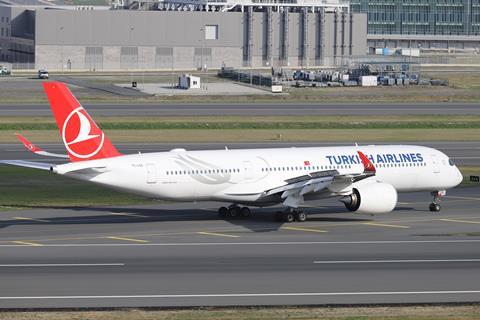 It comes as the Star Alliance carrier is working on a major order covering around 600 aircraft, including 200 widebodies, as part of its plan to double in size over the coming 10 years. It is in talks with Airbus and Boeing and had hoped to finalise the order in June, though the decision has been complicated by national elections and ongoing engine supply issues. Turkish Airlines' chief financial officer Murat Seker last month said the decision would be finalised "soon".
Cirium fleets data shows Turkish Airlines operates 14 A350-900s and has a dozen more on order, and options on five more. It is not clear if the 10 aircraft being ordered include exercising these options.
Turkish Airlines finished the three months to 30 June with 419 aircraft and expects its fleet to reach 435 by year-end.
Seker expects the fleet to end 2024 in the region of 460-470 aircraft. "Then in 2025 to [reach] roughly 500 aircraft and to reach a fleet size of 600 by 2028, which we believe is going to give us that 7-10% ASK growth for the coming five years," he says.