Turkish Airlines chairman Ahmet Bolat has reiterated the airline's intent to order around 600 aircraft to support a doubling of its operation over the next 10 years, but says it has pushed back its decision by a couple of months.
Bolat had last month flagged the planned order commitment, covering 400 narrowbodies and 200 widebodies, in unveiling its long-term strategy. He had indicated the orders could be announced in June, possibly at the IATA annual generating meeting being held this week in Istanbul, or at the Paris air show. However, the run-off in the recent Turkish national elections, which delayed the result by two weeks, has also pushed back the airline's decision timelines.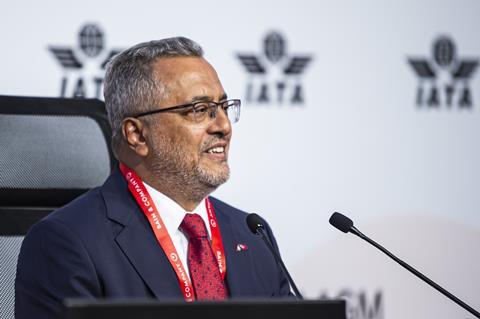 "The elections took a little longer than expected," Bolat said during a briefing today at the AGM. "We were very close to making a deal with one of the manufacturers. But to be fair to our other manufacturer, we are going to delay by around two months to announce our decision. So we won't announce our decision at Le Bourget."
He says the airline will instead arrange a separate event in Istanbul to announce the order in the next couple of months.
The airline ended 2022 with 394 aircraft and expects the fleet to reach 435 by the end of this year. Under its strategic plan, Turkish sees its fleet reaching 500 units in 2025, growing to 600 by 2028, hitting the 700 mark in 2031 and passing the 800 threshold in 2033.
To support this growth the airline is looking at ordering 600 aircraft over the next 10 years, covering replacement and growth requirements. "We had talks with Airbus and Boeing. We are talking about Max's. We are talking about Neos," Bolat says about the narrowbody portion of the deal. "We are talking 200 widebodies, mainly 787s and A350s," he says, though noting this will also include 25-30 longer-range widebodies.