Turkish Airlines is turning to the lessor market to ensure its growth plans remain on track amid delays in finalising its major fleet order and aircraft availability.
The Istanbul-based carrier last month agreed to lease 25 Boeing 737 Max 8s and three Boeing 787-9s from lessor AerCap for delivery from next year through until 2026. It also in September ordered 10 more Airbus A350-900s from the manufacturer for delivery from 2025.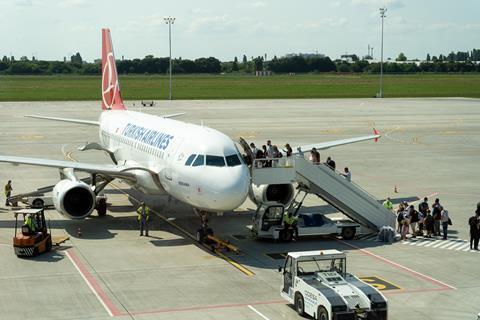 Turkish Airlines has been working on an order for 400 narrowbodies and 200 widebodies as it looks to double its fleet to more than 800 aircraft over the next decade.
It had initially hoped to finalise that deal this summer, but chief financial officer Murat Seker previously said completion has been complicated by challenges securing delivery slots at Airbus and Boeing and current engine supply issues.
Speaking during Turkish Airlines' third-quarter results call on 2 November, Seker said the order has been delayed for "numerous reasons" and the challenges he had flagged previously are continuing.
"Neither of the OEMs are in a position to fill [our requirement] in the short-term, so we decided to make more aggressive use of the leasing market," says Seker.
He expects the airline to end this year with a fleet of around 440 aircraft – taking in 61 aircraft and withdrawing 15. It will add 40 more aircraft next year, 25 of which will be leased. "In 2025 we expect to add an additional 40-50 aircraft," he says, noting again around 25 of those will be leased.
"We have the negotiations [still], but we have made progress on our short-term needs with the operating leases," Seker adds.
The airline is also working to mitigate ongoing issues with Pratt & Witney's geared turbofan (GTF) engines, which prompted the manufacturer to recall 1,200 PW1100Gs for inspection.
Turkish Airlines has 56 GTF-powered A320neos and Seker had previously said the airline expected to ground 10-12 aircraft by end of the year. "Our current expectation is 14-15, as new deliveries come from Pratt & Whitney. So we are not far away from our expectations," he says.
"This has an effect on 4Q capacity," he says, but the airline remains in the range of its guidance in expecting full-year ASK capacity to be between 17-19% higher than in 2022.
"We might end up grounding up to 40 aircraft next year [because of the GTF issue]," Seker adds. "We are trying to fill the gaps, so the net impact of the grounding will be quite limited."
The airline has stopped short of giving finalised capacity guidance for 2024, noting the challenges around aircraft availability and the potential impact of geopolitical issues. "Our initial thinking is we will still be able to maintain high-single-digit capacity growth in 2024", Seker says, with a "mild erosion" in yields. But he notes visibility remains limited and more detailed guidance will follow.