Although United Airlines will use incoming Airbus A321neos and Boeing 737 Max jets to replace its ageing 757-200s, the new aircraft will not supplant its larger 757-300s.
Chief executive Scott Kirby says United is yet to decide how it intends to replace the 757-300s. Exactly which aircraft type might fit the bill remains unclear; no new jet with similar characteristics exists, though Boeing has for years hinted it would develop such a "mid-market" aircraft.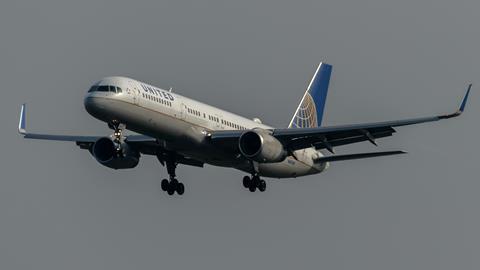 Kirby made his comments when discussing United's new 270-aircraft order for Airbus and Boeing narrowbodies. Those new jets "will replace the bulk of our 757 fleet", he says.
Specifically, United will use the incoming jets to enable it to phase out the 757-200s, which will leave the fleet in around 2026, Kirby says.
United had 40 757-200s at the end of 2020, according to securities filings. The jets have a range of 3,900nm (7,220km) and, in United's configurations, carry 142-176 passengers.
By comparison, A321neos carry 180-220 passengers in two classes and have 4,000nm range, though the in-development A321XLR will fly up to 4,700nm. Boeing's 737 Max 10 will accommodate about the same number of passengers and have a 3,300nm range.
"This order is not intended to replace our 757-300 aircraft, which is larger," Kirby says. "We will make a decision as to what the optimum replacement for that jet will be in the future."
He notes that United has relatively few 757-300s – only 21, according to securities filings – which are configured with 234 seats.
Kirby's comments highlight a gap the commercial aircraft market – the lack of new aircraft that are sized to fill the mid-market segment between narrowbodies and small widebodies. Jets like 757s and 767s have long occupied that space, but are nearing retirement.
Boeing has for several years said it is considering developing a new mid-market aircraft. Just weeks ago, chief executive David Calhoun hinted the company might yet launch such a project.