United Airlines will add 110 more Boeing and Airbus aircraft to its fleet beginning in 2028, bringing "additional flexibility" for its long-term strategy.
The Chicago-based carrier said on 3 October that it has converted previous options and purchase rights into firm orders for 50 Boeing 787-9s and 60 Airbus A321neos.
United has also added options for up to 50 more 787s and purchase rights for an additional 40 A321neos at the end of the decade.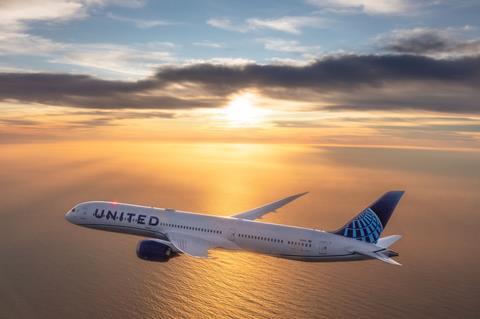 "We're building a bright future at United and this order takes our already successful United Next plan into the next decade and beyond," says chief executive Scott Kirby.
"Our planning and focus on the long term have helped us surge past other airlines that stood still.
"I'm convinced our strategy is the right one as we continue to add new, larger aircraft to take full advantage of our growing flying opportunities both internationally and domestically," he adds.
With the new orders, United now says it will take delivery of 800 new aircraft between 2023 and the end of 2032.
"Today's order for an additional 110 aircraft builds out our orderbook for the latter part of the decade," says chief commercial officer Andrew Nocella. "We would not normally order jets this far out, [but] we have confidence in our outlook."
In addition, the airline says that airframer production lines are now regularly hampered by supply chain disruptions and delivery delays remain a concern.
"Supply chain has been a challenge throughout our entire business post-pandemic, and there's no doubt that the aircraft we ordered in 2021 are behind schedule significantly," Nocella says. "We continue to see those delays even today which is a bit frustrating. So I do think delays are going to kind of plague MROs for a considerable amount of time."
In June 2021, when the company initially announced its "United Next" strategy, it placed an order for 270 narrowbody jets, also split between Boeing and Airbus.
GAUGE GROWTH
By 2030, the carrier says it will operate a fleet of nearly 280 Airbus A321s across the Neo and XLR models.
"The A321neo will continue our strategic push to drive our North American aircraft gauge higher while pushing our unit costs lower," Nocella says. "By 2027, we expect United's gauge to grow by more than 40 seats per departure versus 2019."
In 2019, prior to the global Covid-19 pandemic, United averaged 104 seats per North American departure, among the lowest in the industry. The airline hopes to bring that figure up to over 145 seats.
"Gauge growth is how United will manage an increase in number of limitations on runways, airspace and gate capacity as the nation's largest airports are still growing," Nocella adds. In this way, the airline is hedging against the constraints to long-term growth at its US hubs that it says are "increasingly permanent".
United now has 180 A321neo and more than 370 737 Max aircraft on firm order through 2030, the airline adds.
WIDEBODY SIMPLIFICATION
The 787 orders will continue United's widebody fleet renewal and simplification in preparation of the retirements of the company's 757 and 767 fleets "this decade". Nocella adds.
The aircraft will aid replacement as well as growth, as the airline also banks on "disproportionate" expansion of long-haul flying in the later half of this decade, as the domestic market shows itself to be "mature", Nocella says. United now has 150 firm Dreamliner orders, with 100 more options. By 2030, the airline will operate about 200 787s, it says.
"This order contains a lot of flexibility for United and we have a very large [number] of aircraft that we can either accelerate the retirement of or decelerate to make sure that the capacity we put the marketplace is the right level," Nocella says.
United will report third-quarter results on 17 October.