A United Airlines Boeing 777-200 experienced a "hydraulic pump issue" shortly after take-off from Newark's Liberty International airport, forcing the aircraft to return and land.
The aircraft bearing registration N787UA (MSN26939), operating as flight 149 to Sao Paulo, Brazil on 21 September, had 256 passengers on board, United says. According to Cirum fleets data, the aircraft is 26 years old.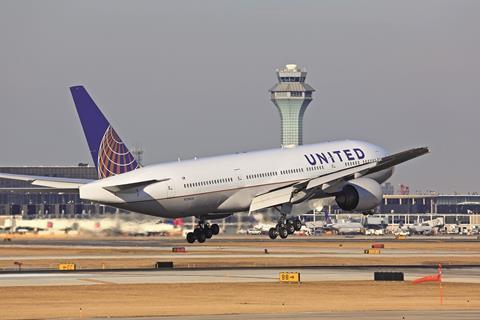 In a video circulating on social media, sparks appear to fly from the aircraft's left wing root just after it departed from Newark's runway 22 at 23:24 local time. There are also images of debris that fell onto a parking lot near the airport.
United confirms the incident.
"After our aircraft experienced a mechanical issue shortly after takeoff, it remained in the air to burn fuel and then landed safely," United said on 22 September. "Passengers deplaned at the gate and we assigned a new aircraft that departed this afternoon."
Flight tracking website Flightaware.com shows the aircraft circled over the Atlantic Ocean about 130km (70nm) south-east of the airport while burning off fuel before returning to the airport.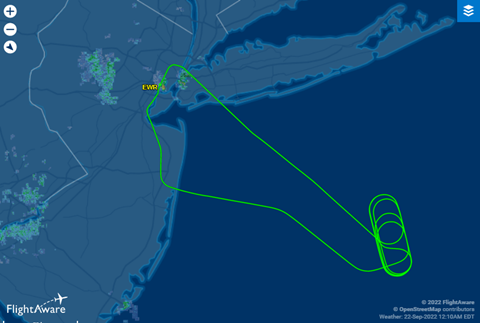 The Federal Aviation Administration adds that the aircraft landed safely shortly before 01:00 local time. The US regulator adds that it will investigate the incident.
It's not United's first incident with the aircraft type. In February 2021, a United Boeing 777-200 suffered an in-flight engine failure just after take-off from Denver International airport. That incident saw part of a Pratt & Whitney PW4000 engine nacelle fall into in the front yard of a house in a Denver suburb, and various large metal pieces were strewn across a field. That aircraft also landed safely.
Investigators later found that the engine failure was caused by fan blades that had cracked due to metal fatigue. PW4000-powered 777s were grounded while all engine fan blades went through additional inspections. United said earlier this month that it had reintroduced most of the aircraft back to the fleet.