United Airlines has taken the Boeing 737 Max out of its summer peak schedule as the beleaguered aircraft's path to return to revenue service remains unclear.
It will not return the aircraft to its schedule until at least 4 September, the Chicago-based airline says on 14 February. The move comes a day after Southwest Airlines, which operates an all-Boeing 737 fleet, pulled the aircraft out of its schedules until 10 August. American Airlines has suspended its Max fleet until June.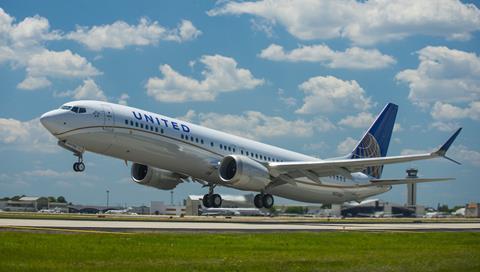 "We have decided to pull Max flights out of our schedule until Sept. 4, 2020," the airline says in a statement. "During this period, we'll continue to take extraordinary steps to protect our customers' travel plans. Moving forward, we'll continue to monitor the regulatory process and nimbly make the necessary adjustments to our operation and our schedule to benefit our customers who are traveling with us."
"By moving the return to service date back past peak summer travel season it allows us to have more certainty by providing our customers and our operation a firmer and more definitive timeline," the airline adds.
United says it expects to cancel between 56 and 108 flights every day, or between 1,600 and 3,300 fligths every month, between now and September as a result of the aircraft's ongoing grounding.
"We are continuing to work through the schedule to try and swap and upgauge aircraft to mitigate the disruption caused by the grounding of the Max," the airline says. "We continue to automatically book affected customers on alternate flights."
United has 14 Maxes in its fleet, which are currently in storage. Sixteen more have been built and are grounded at Boeing facilities and awaiting delivery, and 155 more on order, United says. "We have not made our delivery timeline public, and with the continued grounding and unknown return to service date, we will continue to not have a firm date for delivery of our remaining Max orders."
Last week, US Federal Aviation Administration head Steve Dickson indicated that the 737 Max could commence certification flights within a few weeks, although certain issues with the aircraft still need to be resolved. There is still no timeline for the aircraft to return to service.
Problems with the new-generation aircraft have repeatedly delayed its return to service after it was grounded in March 2019 following two crashes that killed 346 people.