United Airlines has confirmed that it will park up to 38 Embraer E175 jets in favour of operating Bombardier CRJ900 jets from regional partner Mesa Airlines so as not to run afoul of its contract with its pilots.
United is taking the Mesa jets after that carrier earlier this month severed its relationship with American Airlines to fly exclusively for United.
"Mesa Airlines recently announced changes in its operation that mean we will replace up to 38 Embraer E175 aircraft in the United Express fleet with up to 38 of their Bombardier CRJ900 aircraft," said Bryan Quigley, the Chicago-based carrier's senior vice-president of flight operations, in an internal memo on 30 December. "It is important to note that there is no change to our scope provisions in the United Pilot Agreement. United will remove a corresponding number of Embraer E175 aircraft from its regional fleet."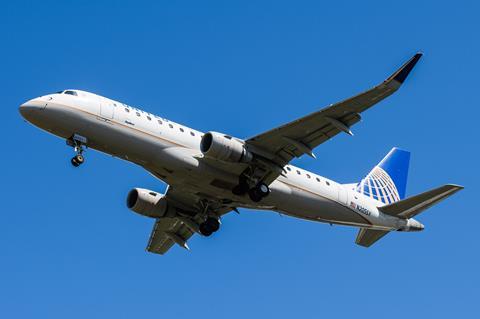 Scope clauses are passages written into contracts between major US airlines and pilot unions that limit the number and size of aircraft that may be flown by the airlines' regional affiliates. They generally prevent carriers from farming out more flying to regionals – like Mesa, Republic Airways and SkyWest Airlines – thus protecting mainline pilot jobs.
The Mesa CRJ900 aircraft will begin to transition to United as United Express from 1 March 2023, and will operate from the mainline carrier's hubs in Houston and Denver "as capabilities allow", Quigley writes. WIth this move, the airline hopes to increase service to small- and mid-sized markets across the USA which have in the past years seen a reduction in air service.
Mesa chief executive Jonathan Ornstein told FlightGlobal on 23 December that the Phoenix-based carrier was losing $5 million monthly while operating for American due to higher pilot pay rates and penalties for not meeting contracted block-hour requirements – meaning it wasn't flying enough for the Fort Worth-headquartered legacy carrier. Also, American was poaching Mesa's pilots to the tune of "50 to 60 pilots a month", he added.
Mesa finalised a five-year capacity purchase agreement with United on 27 December. Mesa will operate its current schedule with American through 28 February 2023, then reduce flights by half until it stops flying for American on 3 April. Ornstein said it promises to be a "smooth transition".
United Airlines' regional airline partners currently include Air Wisconsin, CommuteAir, GoJet, Mesa, Republic and SkyWest.
Air Wisconsin, however, said last August that it will end its relationship with United and partner with American Airlines, also beginning in March 2023. Air Wisconsin will transition up to 60 of its CRJ200 aircraft to American, which will then operate as American Eagle and strengthen that carrier's regional network out of Chicago.