United Airlines has ordered another 25 Boeing 737 Max and moved forward deliveries of 45 previously ordered Max, moves the company says will enable to it capitalise on increased demand following the pandemic.
Chicago-based United disclosed the order, signed on 26 February, in its 2020 securities filing, made public on 1 March.
United plans to take delivery of the newly ordered 25 737 Max in 2023.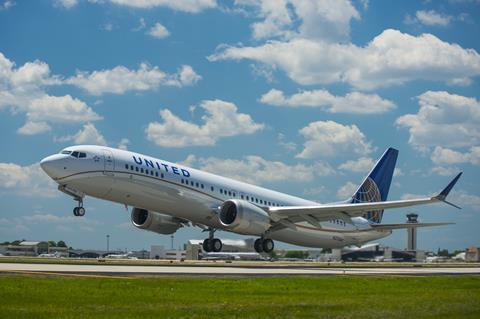 The airline now holds unfilled orders for 188 737 Max, of which it intends to receive 21 in 2021, 40 in 2022 and the balance after 2022.
United has 22 737 Max already in its fleet.
By comparison, at the end of September 2020, United had 14 Max in storage and held orders for 171 of the jets. At that time, it intended to receive just 24 Max in 2021, none in 2022 and 131 after 2022, securities documents show.
United chief operating officer Andrew Nocella also addressed the new Max order in a recent memo to employees.
"As we plan for the future and the return of demand, we've been looking at ways to best position our fleet for the recovery and be in a position to best take advantage of people's desire to travel," Nocella says. "Today, I'm pleased to share with you an important announcement that will be a key driver of our near-term growth as an airline: We've placed an order for 25 new Boeing 737 Max aircraft for delivery in 2023."
"We're even more confident in our ability to navigate the recovery, regardless of the inevitable bumps and dips in the months ahead," the note adds. "With a number of our aircraft nearing the end of their life cycle and the growth opportunities that we know will exist in the Covid-19 recovery period, this agreement will help us to grow as demand returns."