United Airlines' recent order for more Boeing 787-9s reflects the airline seeking to lock in its growth opportunity amid a backdrop of sliding aircraft deliveries.
The Star Alliance carrier earlier this month placed an order for 50 further Dreamliners, together with another for 60 more Airbus A321neos for delivery from 2028 onwards.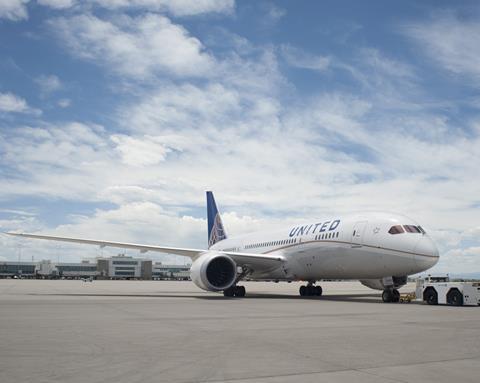 Speaking during United's third quarter results call on 18 October, the airline's chief financial officer Michael Leskinen said: "With the delays in the supply chain, they've become persistent. And so part of what we're doing is controlling skyline for a longer period of time than we have historically.
"This industry has been an industry that has in the past gone from putting out fire to fire and [our] United Next strategy is putting us on a firmer footing to plan for the longer term. The contractual delivery dates, they've been pushing to the right. And we'll probably continue to see that. And you see us – as you see us playing internally, we'll have some expectation of continued slipping," he says.
"But make no mistake, we will make adjustments to the order book and the delivery times in a way that maximises the returns to our shareholders."
United's chief commercial officer Andrew Nocella adds that the fresh widebody order also reflects the carrier's confidence in its strategy to continue growing its international business in the long-term.
"It's really our confidence in our plan, but its particularly our confidence that we are going to increasingly pivot in the latter part of the decade to global growth and not domestic growth," he says. "So we secured those positions, we are confident we will use them."
He points to the likely retirement of its Boeing 767s "at some point" later this decade. "So with the number of retirements we have, the confidence in our plan – and some of the OEM issues – it just made sense," Nocella says.
"2028 and beyond is a long time away, but we are really confident in the plan, confident of global growth, we will have to lean into that and we want to lean into that in the latter part of the decade," he adds.
Nearer term, the airline faces further delivery uncertainty, given the challenges Pratt & Whitney is working through on its GTF engines – which power United's incoming fleet of Airbus A321neos – and that its orderbook includes Boeing 737-10s, which still await certification.
Leskinen though believes the airline has the ability to ride out any deliveries delays. "We have older aircraft, and we will push some of those older aircraft to fly longer with expected delays in delivery. I happen to love that option because that is also a return on invested capital enhancing.
"We want to simplify the fleet and those Max 10s are going to be structurally lower cost. We're excited about them. The A321s are fantastic aircraft," he adds. "I expect those deliveries to really start to drive lower CASM in 2025, not 2024. And so we should understand the timing of that.
"But we've got numerous levers to manage the delays from the supply chain."