American Airlines' regional subsidiary Envoy Air is retiring the last of its ageing 50-seat Embraer ERJ-145 jets, all of which are approaching two decades in service.
The Texas-headquartered carrier said on 26 May that it was bidding a "fond goodbye" to the ERJ-145s that had "served Envoy well for many years".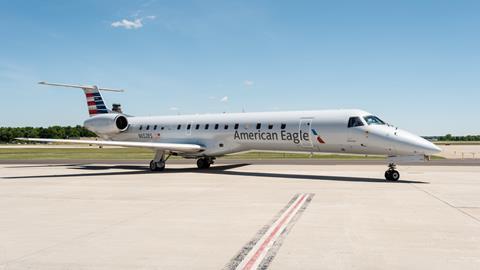 Envoy currently operates nine ERJ-145s, down from 22 of the type as recently as mid-March, according to Cirium fleets data. The last of the older jets will be pulled from service next week.
The retirements reflect a broad regional industry shift toward larger regional jets. In March, Envoy disclosed that American had assigned it six more E175s.
"As we transition away from the ERJ-145 and focus on our large [regional jet] operation, American continues to invest and have faith in Envoy's ability to offer safe, reliable and cost-effective service to its customers," Dee Temples, Envoy's senior vice-president of air operations, said at the time. "Envoy has invested significantly in the resources and infrastructure needed to support our Embraer E-Jet fleet."
"These aircraft will make Envoy a stronger, leaner company and help us continue to build Envoy as a critical part of the American Eagle network," says the regional airline. "We are excited for the ability to focus on a single fleet type."
Envoy is one of three regional carriers that operate as American Eagle, including Maryland's Piedmont Airlines and Ohio-based PSA Airlines. It has 104 E175s and 16 E170s in service, and has 31 ERJ-145s in storage, according to Cirium.