WestJet will begin non-commercial test flights of its Boeing 737 Max aircraft during the coming weeks with the aim of having the aircraft type ready to resume revenue flights on 21 January pending approval from Transport Canada.
The Calgary-based airline would take a phased approach to resume Max flights once Transport Canada allows the Boeing aircraft to re-enter Canadian airspace after it has been grounded for 20 months, WestJet chief executive Ed Sims states.
"We will be forthcoming with our guests on where the Max aircraft are flying, and we will be flexible with our change and cancel policy to ensure our guests can make their travel plans confidently," Sims says.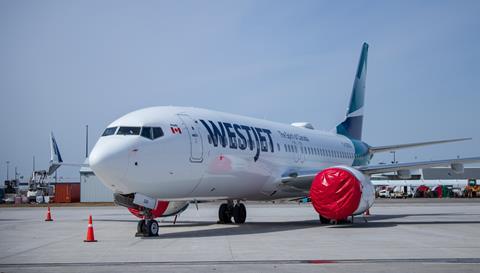 Following regulatory approval, WestJet plans to operate 737 Max aircraft on three round-trip flights each week between Calgary and Toronto, which is one of its busiest routes. The airline would limit its Max rollout to that route for four weeks before deciding how best to resume operation of that aircraft type on other routes.
"Regulatory bodies around the world have spent more than a year examining the Max aircraft to provide recommended changes to software, pilot training and maintenance requirements," Sims says. "We are confident with the changes they have mandated. In particular, the deliberate, detailed and independent scrutiny applied by Transport Canada's National Aircraft Certification team, which prescribed additional requirements to pilot procedures and training, provides further confidence in the aircraft and its safe return."
WestJet has 13 737 Max 8 aircraft parked or in storage, Cirium fleets data shows. Canada's second-largest airline has also bet the future of its fleet on Max aircraft, as it has 44 firm orders for that aircraft type. The only other firm orders for aircraft on the books for WestJet are four Boeing 787-9 aircraft.
Transport Canada grounded Max aircraft in March 2019 before the US Federal Aviation Administration in the wake of two fatal Max crashes during which 346 people died. The Canadian regulator has said it plans "to issue a Canadian airworthiness directive which will stipulate the Canadian design changes that must be incorporated in Canadian aircraft" during January.
The FAA on 18 November rescinded its order barring US airlines from operating 737 Max aircraft after Boeing addressed numerous safety issues. American Airlines resumed revenue flights of its Max aircraft at the end of December.
FAA administrator Steve Dickson flew a Max during a safety test in September and has said "I am 100% comfortable with my family flying on [the Max]".
The families of victims who died in the Ethiopian Airlines crash of a 737 Max are not convinced the aircraft is safe to resume service. They accuse Boeing and the FAA of not being transparent enough in sharing documents related to the recertification process for Max aircraft. They are represented by Clifford Law Offices and have lawsuits pending against Boeing in Chicago federal district court.