The coronavirus downturn and concurrent cheap fuel have not led the world's airlines to favour older narrowbody aircraft over newer or more-efficient jets, despite predictions to the contrary.
Cirium data shows that amid the downturn and now-nascent recovery, carriers are largely favouring newer jets, including more-efficient models like Airbus A320neo-family aircraft.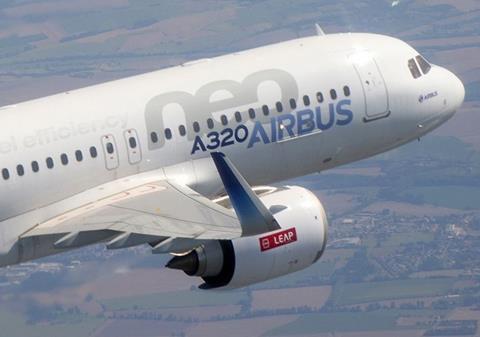 The trend reflects an effort by airlines to realise the fuel-efficiency benefits of newer jets and to avoid the hefty expense of maintaining older aircraft, says Cirium head of valuations George Dimitroff.
"Despite what anyone may tell you – [that] low fuel prices mean older aircraft are going to be in vogue – it's not happening," Dimitroff says during an 8 June webcast hosted by financial services company Jefferies. "Older aircraft are being retired."
Airlines are putting newer and more-efficient jets "to work first" as the industry begins a slow recovery, he adds. That strategy enables carriers to recognise benefits from both improved fuel efficiency and cheaper fuel expenses, Dimitroff adds.
Some analysts had speculated cheap fuel, which reduces the financial value of efficiency, might lead carriers to favour older aircraft over newer jets. Jet fuel prices have declined 45% since one year ago, according to IATA.
But Dimitroff points to data showing that the passenger aircraft in storage are, on average, older than in-service jets.
In the first several months of this year, as the coronavirus pandemic spread globally, airlines placed some 15,000 passenger aircraft into storage, Cirium data shows.
Likewise, the in-service fleet declined from 28,000 passenger aircraft in January to about 13,000 at the end of April. Air travel demand has since inched higher, and airlines now have about 16,000 aircraft in service, according to Cirium.
Those in-service aircraft include roughly 7,540 Airbus and Boeing single-aisle aircraft (737s, A220s and A320-family aircraft), which have an average age of 8.9 years.
By comparison, the roughly 8,500 Airbus and Boeing narrowbodies in storage are 11 years old on average, data shows. Those figures include 383 737 Max in storage not due to coronavirus but to the regulatory grounding.
The same holds true for twin-engined widebodies like 767s, 777s, 787s, A330s and A350s.
The roughly 2,400 of those types now in service are about 7.5 years old on average, while the 2,150 of those jets in storage have an average age of 12 years, according to Cirium. Roughly two-thirds of all 787s and A350s – both newer-generation jets – are in service, while only one-third of 767s, a previous-generation jet, are in service.
Dimitroff says maintenance costs play an out-sized role in the trend. A heavy maintenance check and two engine overhauls can cost as much as $16 million per aircraft, he notes.
Therefore, Dimitroff says airlines are tending to keep aircraft that might soon need maintenance checks grounded in the early stages of the recovery.
"If an aircraft is approaching one of those [maintenance] milestones, it's more likely to be retired," he says.