Copa Airlines' low-cost carrier Wingo will take its ninth aircraft next month as it continues its rapid recovery from the pandemic.
Speaking on the sidelines of the ALTA Airline Leaders Forum in Buenos Aires, Wingo chief executive Eduardo Lombana says the Colombian carrier has already doubled its operation since the pandemic.
"We operated four 737-700s before the pandemic and now we are operating eight [737-800s] and we will bring the ninth, with 186 seats, in mid-November," he explains.
"We have already put together a network of 33 routes, seven of those have been started this year," Lombana adds. "We are focused on making sure the routes make financial sense and the demand is there, and we are confident there wil be."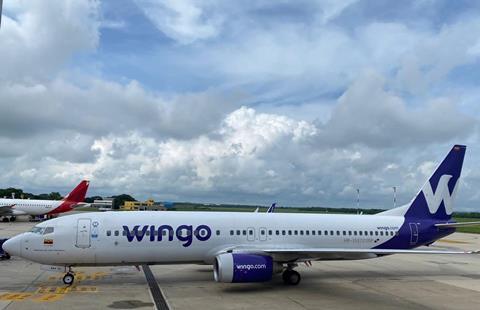 The majority of the routes, 26, are international and Wingo has benefited as Colombia's borders remained among the most open in the region during the pandemic.
"So far we have been able to get the route rights we want," he says. "We have some challenges with nations that are slower in opening up, particularly in Venezuela." The airline had been due to resume services between Bogota and Caracas earlier this month, but authorities have delayed the start.
"We were the only the airline that connected both countries up until the pandemic, and we will be the first to connect both coutnries once its re-activated," he says.
Wingo initially began operations with the smaller 737-700s before moving to the larger -800s. While the airline's parent Copa operates the 737 Max alongside 737NGs, Lombana says there are no plans at the moment for it to add Max jets. "We are making sure this new fleet with the 737-800 are operated correctly," he says of its fleet priorities.
He would not be drawn on further growth beyond its ninth aircraft. "We are constantly reviewing the size of our network. If we can justify any more fleet, we will be doing so," Lombana says.