Central European budget carrier Wizz Air is working to minimise the impact of the technical issue affecting Pratt & Whitney PW1100G engines that will limit its planned capacity growth during the second half of the 2023-24 fiscal year.
Wizz Air operates a fleet of Airbus single-aisle jets, with a substantial proportion consisting of A320neo-family aircraft fitted with the powerplants.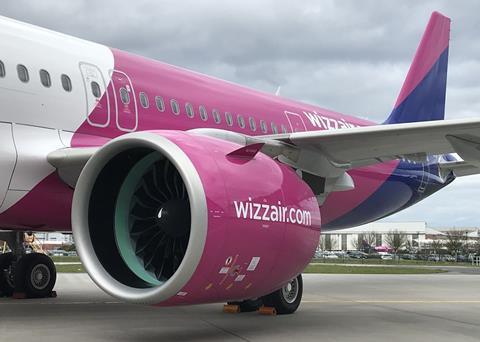 After Pratt & Whitney parent RTX disclosed an update to the situation – caused by powder metal contamination during manufacture of components including turbine disks – the airline guided that it expects capacity to be hit by about 10% over the second half of its financial year because of the new engine inspections.
Speaking during the World Aviation Festival in Lisbon on 27 September, Wizz Air president Robert Carey said: "If you break apart the Pratt issue, you've got phase one and phase two of the recall.
"Phase one is done. We had six engines impacted and those [aircraft] are on the ground and the engines are undergoing inspection as of today. That's about five aircraft across the winter.
"Looking at phase two, which is the bigger part now, and the revision they gave a couple of weeks ago, we are taking a lot of self-help measures. So we've extended all the [conventional A320s] we had coming off lease. That's about nine aircraft we've brought back to the fleet."
He says the carrier is also taking action to "reduce the strain on the engines", such as avoiding pressurising the engine during longer take-offs and cutting down cycles.
Carey adds: "And we are preparing scenarios around the summer. Pratt is still figuring out exactly which engines, when they are going to have to come in, how long its going to take. So there are still a lot of variables in play."
While Wizz is guiding for a 10% reduction of its planned capacity growth this winter, Carey notes the carrier will still have "a pretty healthy piece of growth" over the same period last year.
"We were planning about 30% growth across [the second half], October to March. We'll come out at about 20%. That's much heavier impact in [the fourth quarter]," he says, acknowledging: "There are worse times of the year not to be flying."