As noted elsewhere in this year's Top 100 report, companies that have a knack of squeezing the most profits from their revenues tend to be consistent. Either they offer high-value products that command a price premium over competitors, are in a sector where barriers to entry are high, or they run exceptionally tight ships – perhaps a combination of two or more.
That is why our table of the industry's most profitable players tends to have a familiar feel. However, bear in mind that we have not been able to calculate operating margins for a third of the companies in the Top 100 – this is either because they do not disclose sufficient financial data as private companies, or because the costs of running their aerospace business cannot be extracted from overall numbers.
In fact, exactly the same companies occupy the top six positions – with only TransDigm and Martin-Baker swapping places. Of the 20 businesses listed, 17 are the same as last time, with L3Harris, Northrop Grumman and Ontic making way for Spanish aerostructures firm Aernnova, Swiss defence group RUAG and US diversified aircraft systems and components company Triumph.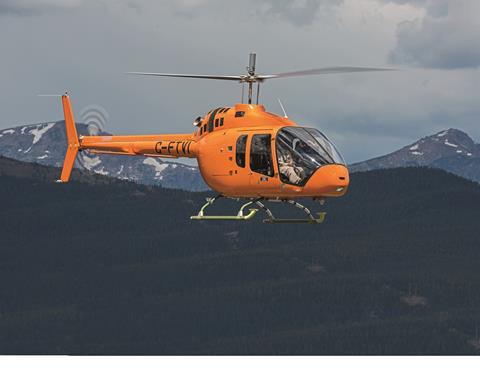 TransDigm has topped the operating margins table several times. Last year, it slipped to second, but this time resumes its status with an operating margin of more than 40%. The US company has an interesting business model. It is essentially a holding company that specialises in acquiring diverse businesses with potential that it feels are under-performing or could benefit from margins of scale.
It has bought 60 businesses in 25 years. Its latest, in May 2023, was Calspan, a provider of testing and systems for aerospace, including a transonic windtunnel, with revenues of around $200 million. In 2022 – the year on which the latest Top 100 is based – it bought Montreal-based Dart Aerospace, a roughly $100 million-revenue helicopter mission equipment company.
In its 2022 results, TransDigm, whose products extend from actuators to seat belts, cockpit security systems and parachutes, says it "remained sharply focused on our value drivers and cost structure. This strict operational focus together with the continued recovery of our commercial aftermarket revenues drove a strong… EBITDA [earnings before interest, tax, depreciation and amortisation]."
IN-DEMAND TECHNOLOGY
In second place is the prior year's most profitable company, ejection seat manufacturer Martin-Baker – a business producing an always in-demand technology. The UK family-owned firm has been leading its specialist field for more than 70 years – its only Western competitor is Collins Aerospace.
Third-placed Honeywell had an impressive 2022, recording an operating margin of just over 27%, boosted by a rebound in profitable commercial aftermarket activity. Following Honeywell, GPS specialist Garmin – which produces a range of flightdeck systems for business and general aviation platforms – is another regular in our most-profitable businesses list.
Supporting documents
Click link to download and view these files
Top 100 aerospace companies ranked by revenue
1

2

3

4

Currently reading

Acquisitive TransDigm tops list of leading margin makers

5