Aeralis is one of the many companies hoping to help propel the UK aerospace industry out of the pandemic-driven downturn, as it attracts new industrial partners and fresh financial backing for its modular family of military jets.
The firm will conduct a preliminary design review (PDR) for a demonstrator aircraft "in the autumn", and is aiming for a first test flight within three years.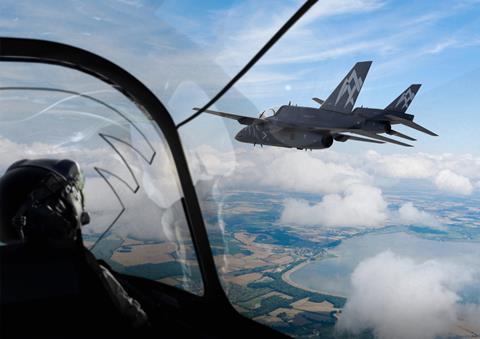 Interest in Aeralis has spiked since the aerospace sector began emerging from the Covid-19 crisis late last year. The start-up company's stand at last September's DSEI exhibition in London was inundated with visitors, and it also grabbed attention by unveiling two full-scale mock-ups at March's DIMDEX event in Qatar.
"The aim is to get the first article of the modular vehicle flying by 2025, so we can prove that the company is capable of getting approval to fly a modular jet training aircraft," says chief executive Tristan Crawford.
Aeralis's concept makes use of a core common fuselage, to which a variety of propulsion systems, wings and payloads can be integrated. Roles could range from basic and advanced jet training to light attack duties, along with operational/aggressor training and aerobatic display team use.
Originally piloted assets could later in life be converted for unmanned roles such as intelligence, surveillance and reconnaissance, "loyal wingman" or even autonomous in-flight refuelling, it believes.
Aeralis will be at the Royal International Air Tattoo (RIAT) at Fairford in Gloucestershire from 15-17 July, and at the Farnborough air show.
"Our focus is more on RIAT this year," Crawford says of the normally annual military spectacular, which is being staged for the first time since 2019. The company has taken a hospitality chalet and also hopes to have a full-scale mock-up at the event.
"We will be hosting a lot of people – military delegations and industry partners," he says. "Particularly some of the key international customers who have RFIs [requests for information] and RFPs [requests for proposals] out at the moment."
EMISSION STATEMENT
At Farnborough, Aeralis is taking space on the West of England Aerospace Forum stand: in May it opened a new office and "enterprise hub" in Bristol.
"We will be looking for the aerospace supply chain to come and talk to us about the technology options that we can bake into our technology roadmap to achieve net zero [emissions] in the timeframe that we are looking for," Crawford says. "That's everything from biodegradable aerostructures, sustainable aviation fuel [SAF], more electric aircraft systems and digital manufacturing and assembly."
Crawford believes Aeralis presents a real opportunity for UK industry to shine on the global stage. "We are looking to independently develop this aircraft system as a UK solution, and we are going to hold true to the model that we are using – best in breed, best in sector, best in UK – to do it. We are not looking to create an aircraft company on our own," he adds.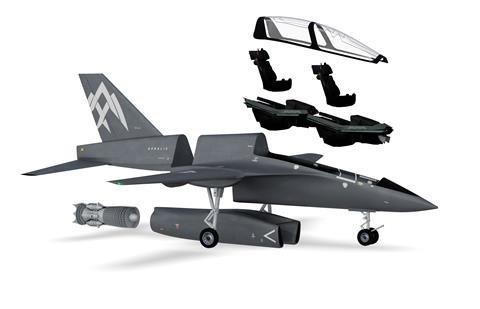 Its core design organisation is now working with nine UK aerospace SMEs to design its demonstrator vehicle. "Including the large industrial partners, there are 16 companies involved in the programme, and 136 individuals working on the design," Crawford says.
There are pacts with the Aircraft Research Association (design), Atkins (structural and systems design), Aernnova-owned Hamble Aerostructures (core fuselage design), Martin-Baker (crew escape system), Rolls-Royce (propulsion systems), Siemens UK (digital enterprise and digital mock-up), Swift Aircraft (design), and Thales UK (synthetic training).
Asked whether Aeralis could explore establishing a manufacturing arrangement with a prime contractor such as the nation's largest defence company, Crawford notes: "We are open to working with the best companies in the UK. And if that included BAE Systems, we would be delighted – just as we were with everyone else."
Investment secured last year – including from Barzan Holdings, the sovereign wealth investment arm of Qatar's defence ministry – has enabled Aeralis to hone the design for its pre-production aircraft. "Their interest is, first and foremost, purely a financial one," Crawford says of the stake from Doha.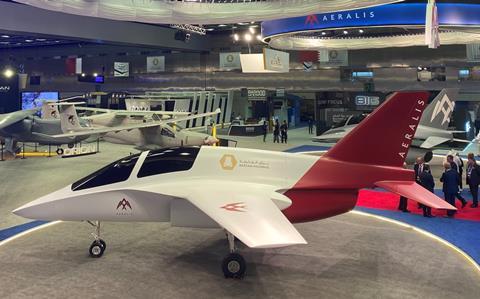 Earlier this year, the UK Royal Air Force's (RAF's) Rapid Capabilities Office (RCO) also strengthened its collaboration with the company, and could in the future agree additional work packages.
"We are now extending that to start to design and test the [RCO's] Pyramid avionics system that we are going to be baking into the preliminary design of the vehicle," Crawford says.
"When we go past PDR, that's the point at which the commercial model is set and agreed for investing deeply into the detailed design," Crawford says.
"That's the current drive: the next tranche of investment to get us to first flight." He says the company is in discussion with a potential "key sponsor", whose support "will unlock the other equity investors".
STAYING FLEXIBLE
However, he notes: "What we don't want to do is constrain the design by hooking ourselves to investors that will limit our ability to change the aeroplane later on. So we are narrowing that pool down to the three or four that actually will allow us to maintain the flexibility in the aircraft design."
Comparing its offering to urban air mobility products as an investment prospect, he notes: "It's nearer term, it's more real. There's much less R&D risk in what we are doing.
"We will be starting with an off-the-shelf engine, but making sure that it's going to be SAF-compliant. We are also having the debate now over whether some of the systems that we are putting into the design even for the first vehicle could be fully electric."
For an operator, equipping an Aeralis jet to serve as a companion trainer for a frontline type such as the Lockheed Martin F-35 – including emulating elements of the stealth fighter's cockpit – would carry "five or 10% of the operating cost", Crawford claims.
This could enable air forces to avoid a situation where perhaps 70% – or potentially even 90% for some platforms – of their training will be performed using simulators.
"We see the aeroplane providing this cross-cutting mix of synthetic and live flying experience which is a lot richer than you have today, which is basically 'make everything synthetic, and you might get to fly every now and then if you are lucky'," Crawford says.
So, when does Aeralis expect to attract its first customers? "Once the industry can see that it's happening and it has been invested into actually flying, that is when the first discussions on payments and deposits will start," Crawford believes.
An aspirational target for the company is to see its product become a candidate to re-equip the RAF's Red Arrows aerobatic display team, which is expected to stop flying its BAE Hawk T1s after 2030.
"I would be lying if I said that wasn't something that we would be really excited about," Crawford says. "We like to think that when they are ready to make that decision, we are a very good candidate. We are designing a jet that would be perfect in that role. It would display the best of British."
Craig Hoyle joined Flight International in 2003, and has edited the now monthly title since 2015. He has reported on the UK, European and international military aviation sector for more than 25 years, and produces our annual World Air Forces directory.