If the big airframers failed to unveil the expected big orders at Farnborough, then, to an extent, that mantle was taken up by developers of electric vertical take-off and landing (eVTOL) aircraft.
Eve, Lilium and Vertical Aerospace were the chief culprits in this respect, between them unveiling a swathe of agreements. Given the nascent nature of the sector, it is hard to be sure how many were firm orders with deposits actually placed. But behind the noise around the numbers, what was more revealing were the operators involved and what they had signed up for.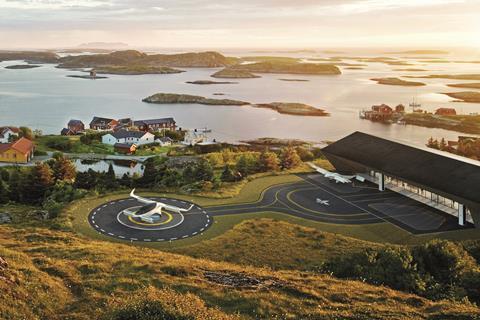 Take Lilium, which showcased two big deals with AAP Group of Norway and helicopter operator Bristow. At first glance, neither – a crew resource and training provider and an industrial services specialist, respectively – seems an obvious fit for the Lilium Jet and its regional air mobility services.
In addition to a commitment for up to 40 aircraft, AAP Group will identify and develop suitable landing sites in the Nordic region, helping to prove the potential for fjord-hopping services that improve connectivity for communities.
TIME SAVINGS
Espen Hoiby, chief executive of AAP, says: "Due to the mix of water, terrain and mountains, Norway is particularly suited to regional air mobility. With its vertical take-off and landing capability, high speed and regional range, the Lilium Jet can achieve hours of time savings compared with today's transportation modes."
Bristow's non-binding memorandum of understanding (MoU) also covers another key piece of Lilium's route to market.
On top of the potential purchase of up to 50 Lilium Jets, Bristow will also provide Part 145 maintenance services for the model's launch network in Florida and "other future US and European markets".
The pair will develop a maintenance programme to support the operation of the Lilium Jet and will enable Bristow to become an authorised service provider for Lilium. It could also see the operator flying the jets in Florida and the purchase of as many as 50 examples.
Bristow's chief transformation officer, Dave Stepanek, sees advanced air mobility aircraft as complementing rather than replacing its conventional rotorcraft fleet.
"We really see this as an opportunity to create a parallel path for Bristow and continue operating traditional helicopters for search and rescue and long-range oil transportation," he says.
TRANSFORMED OPERATIONS
"We can operate in parallel, because those vehicles will grant us access to markets that we can't work in today because of either cost or noise."
Meanwhile, UK-headquartered Vertical struck an agreement with helicopter emergency medical services (EMS) specialist Babcock International to explore the potential for new applications for the developer's VX4 eVTOL aircraft, including both civil and military missions.
The partners will explore how to use the VX4 in new operations such as EMS and cargo transportation, or even casualty evacuation for the armed forces.
Vertical says the 85nm (160km)-range VX4 has the potential to "transform these types of operations and reduce their carbon impact at a lower overall cost."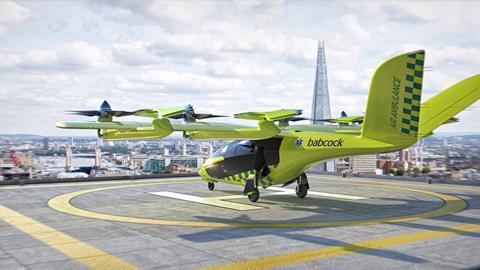 Babcock will review how it could use the VX4 for roles including first-responder operations and emergency transport between hospitals. It will also explore the potential for the VX4 to perform military missions such as medium-range logistics delivery and casualty evacuation.
Eve is also looking at the defence market through an expanded pact with BAE Systems.
Building on an agreement from 2021 that saw the pair explore the potential for a military variant, the Farnborough MoU could see the pair form a joint venture to "collaboratively develop an innovative defence eVTOL" version of Eve's platform.
A separate non-binding letter of intent unveiled at the show could also see BAE order up to 150 Eve eVTOL vehicles for defence and security applications.
Eve also revealed at Farnborough a mock-up of its four-passenger cabin.
STILL TESTING
But without a working and certificated aircraft, all the agreements are meaningless. The Lilium Jet has cleared the preliminary design review gate and the company is now working towards the critical design review in 2023, says Sebastien Borel, senior vice-president, commercial at the company.
Lilium earlier this year announced a change to the configuration of the Lilium Jet's propulsion system, reducing the number of electric fans from 36 to 30; it also pushed back service entry until 2025.
Tests of the company's Phoenix 2 unmanned technology continue at a facility in Andalusia in southern Spain. The key transition of the main wing from vertical to forward flight "happened exactly as we hoped", adds Borel. A full transition, which also sees the canard rotating, will be achieved "later this year" alongside higher-speed flights.
Manned production-conforming prototypes are planned to arrive from 2023.
Vertical, which aims to achieve service entry in 2025, is readying its VX4 prototype for a first flight later this summer, having commenced ground tests of the aircraft.
Eduardo Dominguez Puerta, chief commercial officer, says power-on of the flight-test asset has already been achieved.
He adds: "We are currently in the process of getting the prototype ready and very soon we should enter into the flight-test campaign."
Ground tests have been running "quite aggressively", says Puerta, and follow earlier windtunnel and component-level evaluations.
While staying silent on any orders, a fourth eVTOL developer was also at Farnborough, displaying a flying prototype in a specially constructed pavilion not far from the flightline.
Wisk Aero, the Boeing-Kitty Hawk venture, expects to in October unveil the production-conforming version of its aircraft – the sixth generation of its air taxi – which it will bring through US Federal Aviation Administration (FAA) certification.
Wisk chief executive Gary Gysin says it is flying test aircraft "almost every day", and that its fleet has logged some 1,600 test flights.
The newest version of the aircraft will have wing-mounted lift-fans, but Gysin declines to say if it will also have the pusher propeller of previous prototypes.
Wisk and competing eVTOL aircraft developers ultimately see operations becoming autonomous. But while its rivals see a need for piloted variants initially, Wisk's four-passenger aircraft will be unmanned from the start, Gysin says.
Owing to technical requirements associated with full autonomy, Wisk is not saying when it hopes to achieve FAA certification, freeing engineers to focus on safety-of-flight considerations.