GE-owned Avio Aero is becoming a champion of European defence autonomy and a leader in sustainable technologies. Its chief executive explains why independence works for the company.
One of the world's three big aero engine players has owned it for almost a decade, but Avio Aero remains a proudly independent Italian manufacturer, developing its own proprietary products and playing a key role in Europe's strategic autonomy in military propulsion.
"We want to create disruptive technologies and to do that here in Europe," says chief executive Riccardo Procacci, who has headed the Italian subsidiary since GE Aerospace's acquisition in 2013. "We don't want to just be a manufacturer of parts. We want an important seat at the GE table."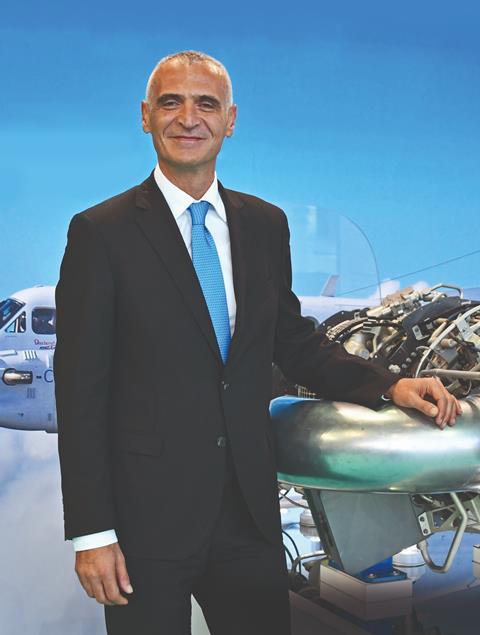 A major element of Avio Aero's business remains producing sub-systems for its parent's commercial aviation programmes such as the GE90, GEnx and CFM International Leap, as well as for GE's rivals. It is a recognised leader in gear systems, low-pressure turbines and combustion systems.
However, the company, which traces its origins to before the First World War and has a workforce of around 5,000 in three main sites, has lately been burnishing its credentials in the military field, presenting itself as part of the solution to Europe's ambitions to be self-sufficient in defence.
The company has long had a major contribution to two existing military programmes – the Europrop International TP400 that powers the Airbus Defence & Space A400M and the Eurofighter Typhoon's Eurojet EJ200 – but Avio Aero is now setting its sights on a new generation of defence products.
One of Avio Aero's most significant wins was the selection earlier this year of its Catalyst engine to power the Eurodrone twin-turboprop unmanned air vehicle (UAV) Airbus Defence & Space is leading the development of for the militaries of France, Germany, Italy and Spain. The UAV is due to fly around 2027.
While volumes and revenues from the programme will be modest compared with commercial and even large-scale military contracts, 22-year GE veteran Procacci describes the announcement as a "huge milestone" for the "growth of European capabilities and sovereignity".
The critical feature for Procacci is that – despite Avio Aero's ownership – the engine itself is free from US International Traffic in Arms Regulation restrictions because the authorities consider the technologies to be European. That potentially opens export markets not available to US players.
MILITARY MARKET
Interestingly, Avio Aero did not conceive the full authority digital engine control (FADEC)-equipped Catalyst for the military market; in fact, some might argue that the Italian company did not conceive the turboprop engine at all. Credit for that goes to the Czechs.
The clean-sheet engine is based on the M601 and its H80 successor made by Walter Aircraft Engines in Prague, which GE has owned since 2008. It was designed to compete with Pratt & Whitney Canada's ubiquitous PT6, which in its various guises has dominated the general aviation market for decades.
Textron Aviation chose the 1,300shp (970kW) Catalyst to power its nine-seat Denali in 2015, impressed by a claimed 20% fuel burn advantage over older turboprops. However, delays to the engine contributed to a missed 2019 first flight target. That finally took place in November last year.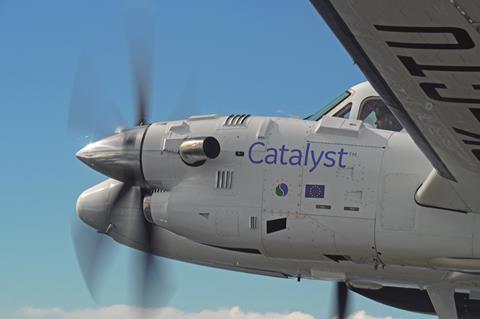 While Procacci will not comment on those delays, he says the engine is performing well in flight-testing and that "pilots love it". Avio is now steering the programme from its head office near Turin, with Prague still responsible for final assembly, and a unit in Poland carrying out subassembly work.
He says the fact neither Rolls-Royce nor Safran offered a turboprop engine in the 1,300shp class opened opportunities for Avio Aero in the military market once states began mulling funding the development of a European medium-altitude, long-endurance UAV, able to fly in non-restricted airspace.
There might be further potential. "It won't stop with one engine. We believe we will end up with a family of commercial and military drones," says Procacci. Another possible market for Catalyst are the hybrid-electric commuter aircraft that will require conventional engines as well as battery packs.
Avio Aero is involved in another key military development, the UK-led project designing the Tempest successor to the Eurofighter Typhoon. Avio Aero is working with R-R to come up with novel propulsion technologies, and has received a first tranche of funding from Rome.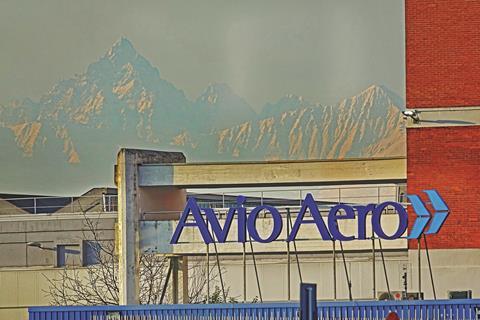 Procacci describes Avio Aero's involvement in the Future Combat Air System initiative as "great for European industry" (rather confusingly, Germany, France and Spain are backing a rival project to develop a next-generation fighter, also known as FCAS).
He believes that the decision of several European countries, including Italy, to opt for the Lockheed Martin F-35 as an "off-the-shelf" combat aircraft "deprived us of technology", and that "if we hadn't closed the gap with the Americans [with Tempest], it would never have been closed in the future".
He says Avio Aero's acceptance into the European Defence Fund (EDF) – "despite some competitors suggesting we were backed by US capital" – has also been critical for its reputation as a keystone of Europe's standalone defence industrial capability.
Among the EDF funding initiatives in which Avio Aero is involved is European Next Generation Rotorcraft Technologies (ENGRT), intended to mature technologies for future rotorcraft. The Italian company is working with compatriot Leonardo Helicopters, Airbus Helicopters and Safran.
Another is NEUMANN, which stands (rather awkwardly) for Novel Energy and Propulsion Systems for Air Dominance, focused on coming up with alternative propulsion or energy systems for a future combat aircraft. Avio Aero will lead a partnership of 38 companies.
Avio Aero's position at the heart of Europe's future defence projects is not something the company feels it is simply entitled to, asserts Procacci. "For us to sit at the same table as Safran and Rolls-Royce and say 'We have something you don't!' is the result of 10 years of hard work," he says.
That transition and strategic focus under GE comes after decades during which Avio Aero drifted somewhat under the various shareholdings of automaker FIAT, Finmeccanica, and private equity, with the Italian government sensitive about protecting a strategic industrial and military asset.
However, when GE bought the company (minus its space business) – beating Safran to the purchase – then-boss David Joyce said Avio Aero had to be more than just part of its supply chain: after all, wage rates and other costs in Italy were not that different to Ohio.
Instead, GE moved to protect Avio Aero's independence and reputation for innovation, as well as its status as Italy's military propulsion champion. The slogans on the workers' overalls at its plants at Turin, Pomigliano D'Arco (near Naples) and Brindisi read: "Avio Aero, a GE Aerospace company".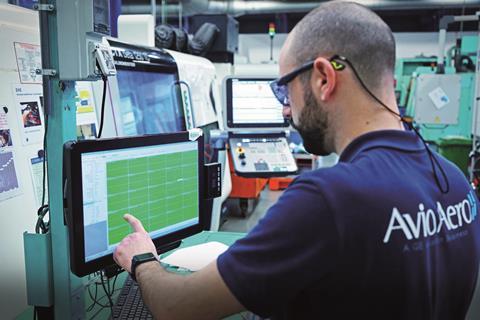 One of these areas where Avio Aero has been able to become a technology leader within GE has been additive manufacturing. The company began investing in so-called 3D printing before the acquisition, in 2009, and opened a dedicated additive manufacturing plant in Cameri in 2013.
Using machines made by another GE company in Sweden and electron beam melting processes with a titanium aluminide alloy, Avio Aero produces, among other components, additive manufactured blades for the low-pressure turbine on the GE9X, the engine that powers the Boeing 777X.
Another element of Avio Aero's autonomy has been its ability to continue manufacturing for GE's competitors, a legacy of contracts secured before the acquisition, including gearboxes for Safran and Pratt & Whitney. In fact, Avio Aero claims 80% of all commercial aircraft fly with its components.
Procacci believes third-party work will continue for years, insisting that Avio Aero treats all its customers – including its US parent – the same when it comes to pricing, delivering on time and quality standards.
However, he admits P&W, for instance, would "not trust us to work with them on their next generation of technologies". He adds: "We may still do some non-core components for their [Geared Turbofan] successor, but we are not going to develop disruptive technology for them."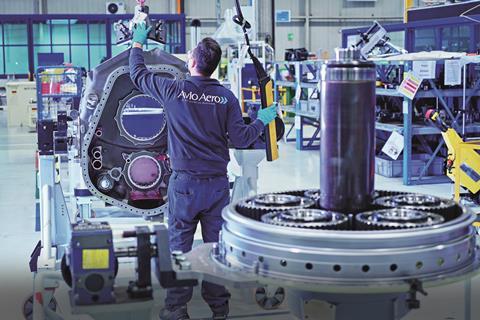 As for almost every business, the Covid-19 crisis was difficult for Avio Aero, particularly on its commercial programmes, and the latest challenges of skilled labour and raw material shortages, together with the rising cost of energy, are likely to last into next year or even beyond.
However, Procacci says the company is prepared after using the pandemic to accelerate a process of automation and digitisation within its factories. "It is all about letting lean really drive our operations," he says. "We have used the last three years to really make a step change with this."
This has included everything from investing in technologies to allow its production machines to "communicate" better with each other to real-time data collection and using artificial intelligence to assist operators to recognise defects.
SUSTAINABILITY DRIVE
Sustainability is an additional driver for the company. Avio Aero is on the governing board of the EU's Clean Aviation initiative and working on a number of programmes, including into propulsion systems for regional hybrid electric aircraft and liquid hydrogen combustion.
Another is in support of the CFM RISE programme, collaborating with GE's CFM partner Safran on maturing technologies for open fan architecture on a future narrowbody engine, up to the ground test of an initial prototype.
Again, says Procacci, this status is the culmination of many years of dedication. "The technology we have been developing has made it credible for us to be sitting there on an equal footing with Safran. Ten years ago, that would have been arrogance. Now our technical knowledge gives us the right."