A decade after its birth, and despite a very fragile market for flying schools and commercial pilot recruitment, Italy's Blackshape is preparing for an ambitious ramp-up of its flagship piston trainer programme. After launching the BK-160 Gabriel as its second product in 2015, the company is looking to boost annual production of the tandem-seat, all-carbon type to 30 units in 2021, and 60 by 2023. Since the aircraft's certification in 2017, around 20 examples have entered service.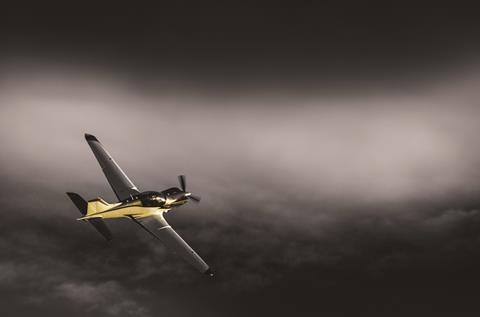 It is a "challenging" target, admits chief executive Luciano Belviso, an aerospace engineer who founded the business – based in the southern Adriatic port of Monopoli – in 2010. However, he is confident that a reviving commercial aviation training sector in 2021, together with emerging interest from "light ISR [intelligence, surveillance and reconnaissance]" and high-end recreational customers, justifies his optimism. "Our backlog is exceeding our aspirations," he maintains.
Blackshape's original product was the Prime, a low-wing, two-seat ultralight, powered by the 75kW (100hp) Rotax 912 or the larger 86kW Rotax 914, and certificated in 2012. The company has sold some 80 examples, mostly to private pilots. However, shortly after its release, Belviso says he and his team identified a "big potential from the B2B [business-to-business] market" based on "feedback from the performance of the Prime", and started talking to training organisations about a higher-spec offering for that sector.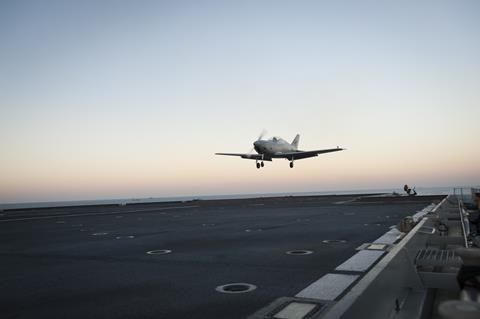 The result was the Lycoming IO-320-powered Gabriel, work on which began in 2015 with certification following two years later, just before the aircraft's unveiling at the Aero show in Friedrichshafen, Germany. The 9m (29ft 5in)-wingspan aircraft has retractable landing gear, a Hartzell Raptor three-bladed propeller, and an Aspen Avionics Evolution 1000 glass cockpit. It is capable of a maximum level speed of 164kt (304km/h).
Customers include KLM low-cost subsidiary Transavia, which in 2019 launched its multi-crew pilot licence syllabus with the Zelf Vliegen flight academy in the Netherlands. The school uses two Gabriels to train students in basic flight training, including upset prevention and recovery, and has plans to add further aircraft "after the pandemic", says Belviso. The Gabriel's maximum take-off weight is 850kg (1,870lb) and no other type in its category is purpose-built for pilot instruction, says Belviso: "It is the first plane designed for training for several decades."
Blackshape has a 100-strong workforce, but since 2011 has been part of industrial holding group Angel, whose companies in sectors such as railway signaling and automatic payment systems employ more than 1,600, including 1,200 engineers. While Blackshape remains largely autonomous, Belviso says Angel's involvement is more than a distant financial investment. "There is a lot of mentoring involved and we can draw on the resources and competences of a larger entity," he says.
Blackshape addresses three segments: recreational, a "growing training market, and another growing portion, which is light ISR", says Belviso. For the latter, the firm has developed a version of the Prime called the BK-ISR, able to carry up to 200kg of electro-optical sensor payloads. In 2019, a remotely-piloted example took part in an Italian navy-led surveillance demonstration in the Gulf of Taranto to the south of Italy, as part of the European Defence Agency's OCEAN 2020 programme. An ISR variant of the Gabriel, with a higher payload, is also available.
Belviso says Blackshape does have undisclosed ISR customers, and he believes there are still plenty of opportunities. "The market tends to be large platforms with very high performance sensors. If we shift below that, it is possible to answer a large number of tactical missions, such as maritime surveillance, where you don't need a large platform, or a rotary solution, which is more expensive," he says. "Scenarios have changed a lot in 20 years."
Belviso expects the defence and parapublic sectors will take longer to crack because of the "slower decision-making process", and that commercial training will remain Blackshape's biggest sector for the next few years. "Despite the pandemic, we expect this market to stay consistent," he says. Customers include the Test Flying Academy of South Africa, which specialises in the training of commercial and military test pilots and flight-test engineers, and operates four Primes, with three Gabriels due to be added.
One possible development for Blackshape is a turboprop version of the Gabriel. In July, the company said it had conducted several flights of a Rolls-Royce M250-B17-powered "Gabriel-TP". Belviso is reluctant to give further details, promising only that "we have a target in mind [for this project] and sometime in 2021 we will provide an update". Also on the cards is a plan to open a new factory at Bari airport, most likely towards the end of 2021, to help with the production increase.
Additionally, Blackshape is stepping up its marketing efforts in the USA, where light sport aircraft regulations make the Prime uncompetitive in the general aviation segment, but there is a big opportunity with the Gabriel, says Belviso. Its first aircraft there was used for US Federal Aviation Administration validation. The pandemic has delayed further deliveries, but Belviso says there is "a full pipeline" of orders, and shipments to the USA will start in the second quarter of 2021.
Describing the Italian-styled type as a "Ferrari of the skies", he describes the typical US GA customer as "someone who enjoys the pleasure of flying rather than just needing an aircraft to get from A to B".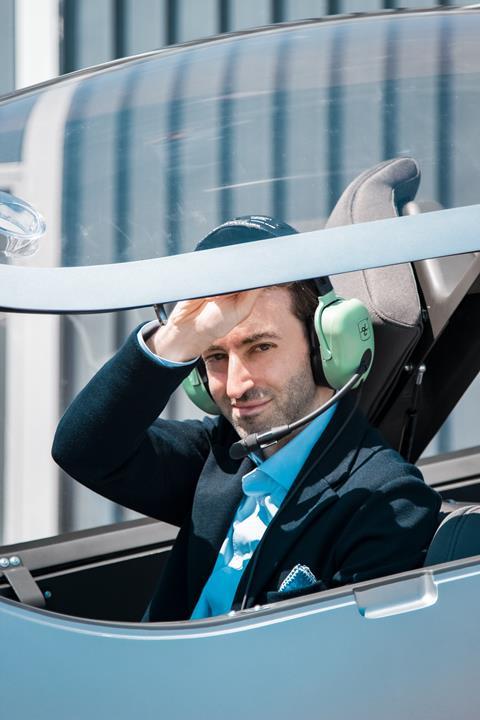 It is a philosophy that also applies to its approach to the training segment. The difference between Blackshape and many of its rivals is that "we never intended to make a solution that competes only on price", says Belviso, who started the company with co-founder Angelo Petrosillo because the pair wanted to "go back to our origins" in southern Italy after working abroad. "We are dedicated to a niche of the market that wants dedicated solutions and whose priority is to build airmanship."