Supply chain constraints have hit Boeing's 737 production system particularly hard, limiting the airframer's output as it works to regain ground lost to Airbus.
Such supply issues are not unique to Boeing, but they are among several major hurdles – others being 787 quality problems and delays to certification of its 777-9 – that it must overcome to recapture some semblance of health.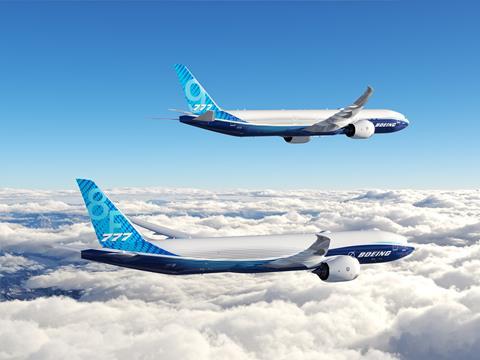 Amid all that, Boeing still faces a familiar question: when will it launch a new aircraft development programme?
Many analysts think the airframer should strike soon with a product launch, lest it fall further behind Airbus in the battle for market share. Its next jet should either be a 737 replacement, or a larger narrowbody capable of beating the A321neo in the so‑called mid-market, analysts say.
But recent comments from Boeing chief executive David Calhoun suggest the company is not ready to strike.
Speaking at an investor conference in early June, Calhoun said technological advances remain insufficient to justify launching a new aircraft programme.
Calhoun notes that aircraft manufacturers historically launch programmes only when new engines can deliver efficiency improvements in the order of 10-20%.
WAITING GAME
"That's not happening today," he said at the conference, hosted by financial firm Bernstein. "There are a lot of good ideas that are being tossed around on the subject of sustainability and new ways to power airplanes."
Indeed, aircraft and engine manufacturers, facing enormous pressure to reduce emissions, have been studying varying means of improving efficiency, including the use of hybrid-electric and hydrogen propulsion systems. But such advances are far from ready for prime time.
"That timeline is well out there… at least a decade from now," Calhoun says, adding that he is unwilling to "bet an airplane" on "incremental" efficiency gains.
That does not mean, however, that Boeing intends to wait a decade before coming to market with a new jet.
Rather, Calhoun says, other technology improvements could produce sufficient benefit to justify a new aircraft – even one lacking significantly better fuel efficiency.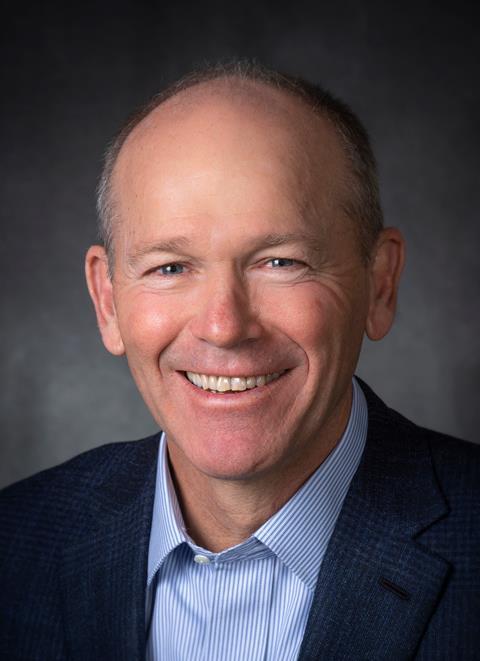 He mentions cockpit technology advances, improved autonomous systems and, notably, use of a "digital thread"; a system that connects various aspects of a programme from design and development through to production and aftermarket support.
Such design and production technologies need "at least a couple of years before I'm confident that those tools are tested and mature enough to implement on the next airplane", Calhoun says. "When that happens – then we design the next airplane. We don't do it the other way around."
DELAYED DELIVERY
Perhaps Boeing has a card up its sleeve, but analysts generally suspect the company will seek to fix its problems before turning to a new programme – especially at a time of intense scrutiny by the US Federal Aviation Administration (FAA).
That scrutiny led Boeing in April to delay its expected first 777-9 delivery by two years, until 2025, attributing this to "an updated assessment of the time required to meet certification requirements".
"It's quite a bit more rigorous than what we have experienced in the past," Boeing vice-president of commercial derivative programmes Mike Fleming said in mid-June of the model's certification.
There is also the question of cash. A new aircraft programme, from launch through to certification, can easily exceed $10 billion. Boeing lost $4.3 billion in 2021, though it aims to turn cash-flow positive this year.
The company should be on sounder financial footing as it gets its 737 Max programme back on track, with increased deliveries meaning more cash is coming in.
But the Max's recovery has been slow. Boeing has faced shortages of critical parts, which kept it from meeting its goal of producing 31 of the narrowbodies monthly by early this year. A source familiar with 737 production has said parts shortages have caused recent lengthy hold-ups.
OUTPUT UNKNOWN?
In May, Boeing chief financial officer Brian West addressed the supply issue, noting: "We have one particular wiring connector that has been slowing things down. It is a reflection of a crazy supply chain world."
In mid-June, director of 737 business operations Dennis Eng said his team is addressing supply troubles. "Our components are arriving when we need them to," he says. "We try to mitigate any disruptions or shortages on an everyday basis. But, I'd say right now, we have the parts that we need."
Boeing delivered 115 737s in the first four months of 2022 – an average of about 29 per month. But many of those were from its stored inventory of jets produced but not delivered during the type's 20-month grounding.
While Boeing does not disclose its actual production output, aircraft data provider Cirium tracks first flights, which typically occur immediately after production. In the first five months of 2022, 102 737s completed first flights, or about 20 per month, Cirium data shows.
"We have to get stability," Calhoun says of 737 production. "Our company has to be patient. We have got to work our way through these supply constraints."
Meanwhile, Airbus delivered 146 A320neo-family jets in the January-April period – an average of around 36 monthly. It aims to hike deliveries of the type to 65 monthly by mid-2023, and to 75 per month in 2025.
Boeing faces the added challenge of clearing hundreds of jets it accumulated during the 737 Max's grounding. When regulators cleared the type for service return in November 2020, that inventory stood at about 450 aircraft. At the time, Boeing said it expected to deliver most of the stored jets by the end of 2022, but in June Calhoun said 240 still remain in its hands.
STIFLED DEMAND
Boeing leaders stress that their ability to hit delivery goals depend significantly on Chinese carriers resuming taking delivery of the type. While China issued an order in December 2021 that cleared the Max to fly, its airlines have yet to resume receiving their on-order jets.
US industry analysts say China's foot-dragging reflects geopolitical factors – including tense bilateral relations and an associated trade war that has embroiled Boeing – plus the impact of Covid-19 lockdowns, which have stifled demand for air travel.
"There is no doubt that the current [pandemic] shutdown is impacting" deliveries to China, Calhoun says.
Further complicating the picture is the March crash of a China Eastern Airlines 737-800, which killed all 132 people aboard. Aviation safety experts say flight data suggests the aircraft went down as a result of deliberate pilot action, but analysts believe it gives China another reason to delay receiving the re-engined model until investigators have completed their reporting work.
If its production and delivery challenges were not enough, Boeing also faces the possibility of needing to develop a new pilot alerting system for its largest 737 Max 10, and, potentially, for its smallest 737 Max 7.
The requirement comes from a US law passed in late 2020 that, starting in December 2022, prohibits the FAA from certificating transport aircraft lacking a modern "flight crew alerting system", sometimes called an Engine Indicating and Crew Alerting System (EICAS). The US Congress established the mandate in response to two fatal 737 Max crashes – events which presented those jets' pilots with what investigators called a confusing and distracting array of cockpit warnings.
Boeing expects to secure certification for and deliver its first 737 Max 7 this year, but the Max 10 seems unlikely to meet the schedule, with first shipments due next year. The already certificated Max 8 and Max 9 are not affected by the pilot-alert-system rule.
"The big question is the EICAS requirement at the end of the year," Calhoun says. He adds: "We are totally committed to the -7 and the -10."
Calhoun has expressed confidence that Boeing will secure some type of exemption from the requirement if necessary. He notes that Congress never intended the rule to apply to the 737 Max, which is why lawmakers made the provision effective after two years; by when everyone expected the FAA would have certificated all Max variants.
Without an exemption, certificating the Max 10 would require Boeing to undertake the costly and time-consuming process of modernising the jet's alert system. Critically, such a change would leave the Max 10 different from other variants, removing some of the training efficiencies enjoyed by airlines operating the family.
Fleming says the Max 10's certification is moving slow due partly to new regulatory requirements. "We're working through a process which is different… than what we've done in the past."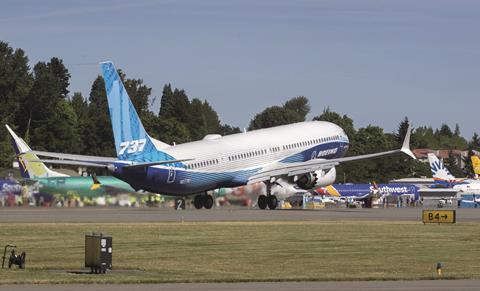 Specifically, the FAA stopped delegating the evaluation of system safety assessments that are based on pilot-response assumptions, and is now completing those reviews itself.
Max 10 certification has also been complicated because Boeing is equipping the type with what European regulators call an angle-of-attack (AoA) "integrity enhancement". That enhancement is "to further reduce crew workload following single AoA failures and to improve the systems reliability, " says the European Union Aviation Safety Agency, which requires the update for the Max 10.
Fleming says the change is "designed to eliminate… any of the erroneous indications that we think could happen on the airplane, and [to] significantly reduce the pilot workload associated with any kind of erroneous indication".
Boeing's 787 troubles are no less pressing. The company halted deliveries of the type in October 2020 because of manufacturing quality issues that included gaps between fuselage sections being larger than specified. Other issues have also surfaced.
Deliveries remain paused and will resume only after the FAA approves rework being done by Boeing. In April, the airframer said it had completed such activity on some undelivered 787s and submitted a "certification plan" to the FAA.
SUCCESS STORY?
The agency's response was "very constructive", Calhoun said in June. "There's some pretty good recognition… over the last two years that we are going to be transparent – straight – every step of the way.
"We can't do anything without them," Calhoun notes of the FAA. "They want to see American industry succeed," he adds.
Boeing has declined to provide any prediction as to when Dreamliner deliveries might resume, but there is reason for optimism. Lufthansa, for instance, has said that it expects to receive its first 787-9 "this summer".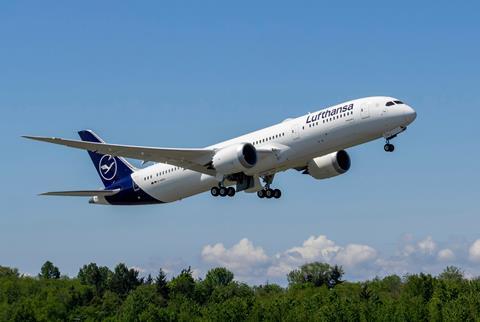 Troubles aside, Boeing has enjoyed recent sales successes, landing orders for 213 jets in the first four months of 2022. Among those were 178 737 Max from customers including American Airlines, Arajet and Southwest Airlines, plus lessors AerCap, Air Lease and Aviation Capital Group.
It also received orders for 35 777s, including a deal from Qatar Airways for 14 of the newly-launched 777-8 Freighter.
Boeing secured another major win in May when IAG, parent of British Airways and Iberia, ordered 25 737 Max 10s and the same number of the high-capacity Max 8-200 variant, and took options for up to a further 100 of the narrowbodies.
But several recent customer defections have also been experienced, in significant wins for Airbus. Last December Qantas said it intended to order 20 A321XLRs and 20 A220s, and take purchase rights to acquire a further 94 aircraft, which it will use to replace 717s and 737-800s. Airbus says the A321XLR will have 4,700nm (8,700km) of range. By comparison, the competing Boeing model – the Max 10 – can fly 3,300nm.
The same month, Air France-KLM ordered 100 A320neo-family jets and took rights to acquire another 60. The group will use them to replace the 737NG fleets of KLM, Transavia and Transavia France.
Asked about such commercial pressure, Calhoun in June described the 737 Max as operationally competitive against Airbus's products.
"There are niches where we have [advantages] and niches where the other guy has advantages," he says. "I don't worry about product performance. And the Max is actually outperforming its [specifications] by a fair margin, especially on fuel."
Boeing vice-president of commercial aircraft marketing Darren Hulst downplays the threat posed by the A321XLR, which he describes as designed for a "niche" part of the narrowbody market.
"It's not our goal, necessarily, to match Airbus plane-for-plane at the top of the market," Hulst says.
Rather, he says the 737 Max's operating economics are unmatched in the "heart" of the narrowbody market, which he defines as the segment including jets with 180-200 seats.
"That's where our aircraft have more seats, lower cost-per-seat and, ultimately, more range flexibility," Hulst says. "The 737 Max family represents the most versatile, but also the most complete, single-aisle family for the needs of the market."