Boeing executives insist the company has solid plans to address its many challenges, but people who follow the airframer are increasingly eager to understand exactly what that plan entails.
They want to understand how Boeing will counter Airbus, and how it will prevent, for future programmes, the types of problems facing its various current aircraft models.
During an earnings call on 28 April, Boeing officials said the Chicago airframer has made real progress toward improving safety and addressing production problems.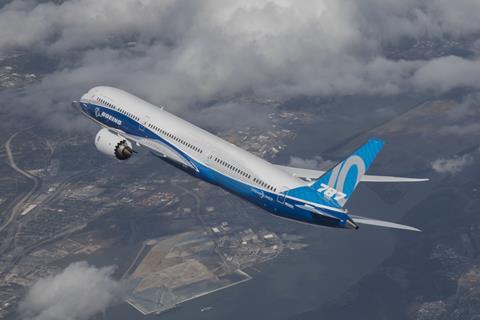 Chief executive David Calhoun cited Boeing's safety management system, more-efficient use of data, investment in "fundamental design practices" and an internal shift that has engineers reporting to a chief engineer.
"We're doing this now so that we can emerge a leaner, sharper and more-resilient company as the market recovers and production… increases in the future," said chief financial officer Greg Smith. "We'll continue to execute a widespread set of changes over a multi-year period."
But analysts want specifics.
"He didn't explain how business transformation is going to fix this on the next airplane," says Ron Epstein, financial analyst with BofA Securities. "How is this not going to happen again?"
"They can frame this however they want," adds Credit Suisse analyst Robert Spingarn. "There is a recent history of design and development issues at Boeing."
IMPROVING FINANCIAL RESULTS
On 28 April, Boeing reported losing $561 million in the first quarter, a vast improvement from the fourth quarter of last year, when a $6.5 billion 777X charge pushed it to an $8.4 billion loss.
Other than a $318 million charge against the 747-based VC-25B Air Force One replacement programme, analysts viewed the first-quarter results as unsurprising.
With US airlines adding capacity ahead of the summer season, Spingarn thinks Boeing's second-quarter results will be more telling.
"We think the second quarter is the linchpin for how to think about the rest of the year," he says. "We will have a much better idea of what 2021 will look like after we see the second quarter."
As has been the case for several years, analysts think the company's recovery still depends largely on the 737 Max's return. Boeing also must mend the 787 programme and guide the delayed 777X through certification. The 767-based KC-46 tanker has also suffered quality problems, and broader leadership questions remain unanswered.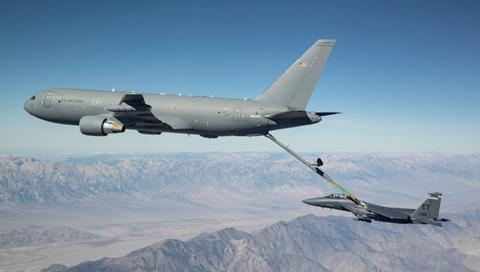 If Boeing can succeed in ramping up 737 Max production and deliveries, the Max can still be a "guarantor of stability for Boeing going into the 2020s", says Michel Merluzeau, aerospace analyst with consultancy AIR. The company must "prioritise the Max over the next decade", he adds.
The Max programme overcame its highest hurdle when the US Federal Aviation Administration (FAA) in November 2020 lifted the type's 20-month grounding.
But in April, Boeing disclosed a new 737 Max issue – one involving an electrical grounding of the standby power control unit on recently-produced jets. One aerospace safety expert describes the issue as relatively minor; one that, if not for heightened scrutiny following two Max crashes, would not have led airlines to park jets.
However, Boeing recommended that airlines pull from service the roughly 100 affected aircraft. The company "paused deliveries" while it addressed the issue, reducing 737 Max shipments in April to just four aircraft.
Then on 12 May the US regulator approved Boeing's fixes for the electrical problem, allowing the airframer to begin rolling out repairs.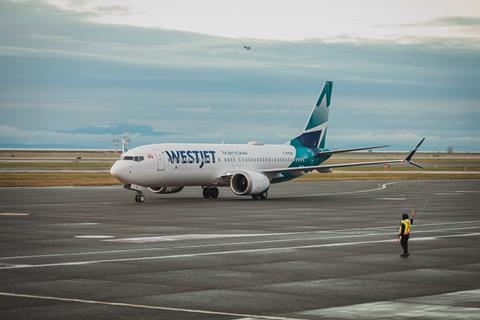 Calhoun stresses that regulators in 165 countries have approved Max flights, and that airlines globally have returned roughly one-third of their Max fleets to active service. Additionally, regulators recently approved the 737 Max 8-200, a higher-density, 200-seat variant of the typically 178-seat Max 8. Ryanair is launch customer.
One country, however, has glaringly refused to clear the 737 Max: China, which was also first nation to ground the re-engined type after its second crash in 2019.
Calhoun suggests China's Max approval is forthcoming.
"We now assume that the remaining non-US regulatory approvals will occur this year, with approval in China most likely now in the second half of the year," he says, without elaborating.
China's hesitancy to lift the grounding is viewed by analysts as fallout from the US-China trade conflict.
During the first-quarter results presentation, Calhoun repeatedly stressed that Chinese customers are central to Boeing's ability to meet 737 Max production and delivery goals, noting that one-quarter of the aerospace industry's growth in the next decade will come from China.
"We're also monitoring the global trade environment, in particular US-China relations, given the importance of the Chinese market to our near-term delivery profile as well as future orders, which influence future production rates," he says.
Smith adds that China's Max approval will "affect our 737 delivery plan", and that demand from Chinese airlines will "affect our future production rates".
737 MAX PRODUCTION, DELIVERY GOALS
Boeing's goal is, by year end, to deliver roughly half the 450 Max jets it stockpiled during the 20-month grounding. It plans to deliver the "majority" of the rest in 2022.
Meanwhile, Boeing plans to increase 737 production from a current unspecified "low rate" to 31 jets monthly in "early 2022".
Spingarn reads Calhoun's comments as implying Boeing can meet short-term Max delivery goals even without Chinese customers by transferring those operators' delivery slots to non-Chinese airlines. But Boeing's ability to maintain that momentum could become more difficult over time if US-China relations do not improve.
"A prolonged recertification delay in China could further weaken the 737 Max's recovery," says a BofA report.
Calhoun went so far during the call as to urge a US-China detente.
"We've got to reinstate our trade relationship in aerospace with China," he says. "It's important that we get our fair share… of that market, which historically has always been at 50%."
Toward that end, Boeing will "engage with leaders in both countries to urge a productive dialogue, reiterating the mutual economic benefits of a strong and prosperous aerospace industry", Calhoun adds. "It's time for us to just point out the economic implications of trade with China in the aerospace industry and commercial aviation specifically."
Calhoun concedes that Boeing "can't make up for the production gap" created by the 737 Max's troubles. So, he aims to "split that market".
"I'm not going to try to regain that ground," he says. "I'm simply, from this point forward, going to try to hold our own with respect to what I think is our rightful share."
787 'SKIN FLATNESS'
Boeing also faces the urgent need to straighten out the 787 programme, which has been beset by a "skin flatness" at the aft section of jets, where fuselage sections meet. The company says skin flatness did not meet specifications that include tolerances equivalent to the width of a human hair.
To address the issue, Boeing halted 787 deliveries after October 2020, and only resumed shipments in March. Between then and late April, it had handed nine 787s to customers, Calhoun says.
"These fit and finish issues with respect to the joins in our fuselages were just nagging problems, difficult problems," Calhoun says. "We applied real engineering talent and expertise to that – new process controls, new lines of communication with our supply side – so that we're not surprised by that stuff anymore."
During the first quarter, Boeing reached its goal of reducing 787 production to five jets monthly (down from a high of 14) and stopped producing Dreamliners in Everett, Washington. The company now makes 787s only at its newer production facility in North Charleston, South Carolina.
The 787 delivery pause exacerbated Boeing's undelivered-aircraft problem. The company had started stockpiling the widebodies earlier in the pandemic, when demand for new long-haul jets soured.
As of the end of April, Boeing was sitting on about 100 undelivered 787s, of which it expects to deliver the "majority" this year, Smith says.
BofA, however, predicts Boeing will not clear its inventory of "excess" 787s until 2025. It also anticipates Boeing will trim 787 production to four jets monthly.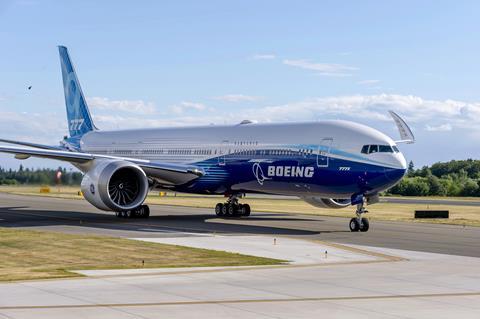 Boeing executives say the delayed 777-9 programme (the first planned 777X variant) remains on track for first delivery in "late 2023". Boeing disclosed that goal in February, when it delayed the programme by one year, citing the need to tweak design aspects due to certification issues.
"We're working closely with global regulators on all aspects of development, including our rigorous test programme," Calhoun says of the 777X. "Our team remains focused on executing this comprehensive series of tests to demonstrate the safety and the reliability of the airplane's design."
Hints of possible further 777X delays arose in recent weeks with comments made by Tim Clark, president of 777-9 customer Emirates Airline. Clark said the 777X programme was in a "state of disarray" due, he later clarified, to heightened regulatory scrutiny in the wake of the 737 Max disaster.
Emirates, an initial 777-9 customer, had expected to receive its first example in June 2020. But Clark says deliveries could now begin sometime between late 2023 and 2025.
Leaving aside reasons for the programme's hiccups, 777X delays come at a somewhat convenient time during which most airlines do not need more widebody jets, analysts note.
"Customers don't need lift" and are likely "willing to wait", says Spingarn.
"I think 777X will have a renaissance in a year or two or three, when the market is back," he adds. "Then you are going to see a wave of orders for big widebodies."
As if those challenges were not enough, Boeing during the first quarter took a $318 million charge against its 747-based VC-25B Air Force One replacement programme. That was due to "Covid impacts and performance issues at our supplier", Smith says.
"Employee clearance constraints [impede] our ability to exchange mechanics when quarantines are required," adds Calhoun.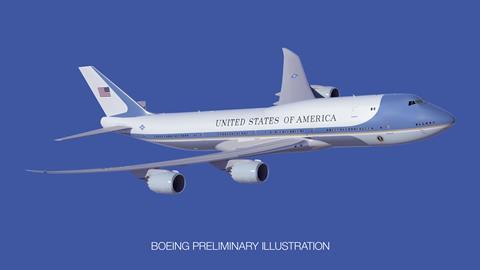 Boeing also faces leadership uncertainly, not with its chief executive – Calhoun seems likely to remain at his post for the foreseeable future – but rather its financial head. The company disclosed on 20 April that Smith, who also heads "enterprise operations", will retire effective 9 July.
In announcing Smith's departure, Boeing upped its mandatory chief executive retirement age from 65 to 70, signalling that 64-year-old Calhoun will, for now, remain in the corner office.
"We're not searching for a new strategic direction," Calhoun says of Smith's departure. "We will engage in a comprehensive and thoughtful search process for a world-class executive."
Smith has worked at Boeing for more than 30 years. He became chief financial officer in 2011 and was briefly interim chief executive prior to when Calhoun took over in January 2020.
"Greg was very involved in the strategic decisions that were driving rising cash flow and shareholder returns," says Spingarn. "If you sat with Greg, you would go beyond finance and talk about strategic" direction.
Analysts had viewed Smith as a contender to be Boeing's next leader, and his departure raises questions about Boeing's leadership plans. Some analysts have suggested more leadership changes may be needed to help the company move beyond its past and ongoing troubles.
STRATEGY QUESTIONS
As Boeing works to fix problems with various aircraft programmes, the company must also address its future – in other words, figure out how to counter Airbus and gain back share lost to the European airframer amid the 737 Max grounding.
That means developing a new aircraft.
Analysts have waited several years for details about that next jet. And for several years Boeing has stalled, never actually committing. Not long ago, the company had seemed close to launching its New Mid-market Airplane, a concept envisioned as having about 270 seats and range of 4,000-5,000nm (7,400-9,300km).
Boeing shelved that effort as the 737 Max crisis deepened.
Also, in April 2020 Boeing pulled out of a planned $4.2 billion acquisition of 80% of Embraer's commercial aircraft division, a deal that would have given Boeing a line-up of E-Jets to compete against Airbus's A220.
In the meantime, Airbus has made strides. In 2019 it launched its own version of a mid-market aircraft: the 4,700nm-range A321XLR, which is expected to enter service in 2023.
Merluzeau suspects Boeing is working to narrow the A321XLR's edge by squeezing more performance from its largest 737 Max variant – the in-development Max 10. Boeing plans to deliver the first Max 10, which has a 3,300nm range, in 2023. Airbus has also strengthened the A220 programme, embarking on a cost-cutting effort and opening a second production line for the type, in Mobile, Alabama.
The A220's capabilities, including its roughly 3,400nm range, have caught the attention of major Boeing customers. Delta Air Lines, for instance, is replacing ageing Boeing models – 717s and MD-80s – with A220s.
"The 220 is an aircraft that is going to become more dangerous to Boeing," Merluzeau says. "That's a big problem."
Boeing competes against the 110-130-seat A220 with its 737 Max 7, which carries 140 passengers and has a 3,850nm range.
The Max 7 has won notable competitions – Southwest Airlines ordered 100 737 Max in March. But that win reflects economies Southwest achieves by operating only a single aircraft type, analysts say. The airline says it is "scheduled to be" the Max 7's launch customer, with deliveries beginning in 2022.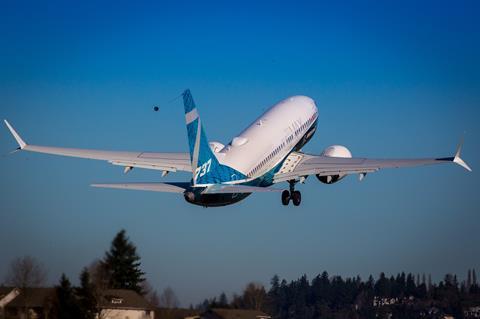 Compared side-by-side based on operating economics, the clean-sheet A220 edges out the 737 Max, they say.
"Boeing doesn't have a competitor aircraft" to the A220, Merluzeau says.
Aside from Airbus, Boeing faces competitive threats from Chinese aerospace companies, most notably Comac, with its roughly 160-passenger, 2,200-3,000nm C919. That programme remains in development, but analysts fully suspect that, in the coming decade, China will become a competitive commercial aircraft producer.
So, when will Boeing launch its next aircraft? And what will that aircraft be?
As usual, those questions arose during the April earnings call. Calhoun provided some insight, but few details. He says Boeing's next airliner will likely derive cost efficiencies through improvements in engineering and production, including the potential use of composite manufacturing.
That marks a change from past aircraft programmes, which historically benefit from engines with 15-20% improved fuel efficiency. "I don't believe the next generation of engine can deliver that kind of performance," Calhoun says.
Generally, analysts suspect Boeing will launch a new aircraft – likely a 737 replacement known as the Future Single Aisle (FSA) – in the next few years, with service entry in the early 2030s.
If that is the plan, Boeing should say so, analysts say.
"If Boeing doesn't start developing the FSA programme soon, it could be really hard for the company to recover market share from the continuously weakening position that we expect it to have by the mid-2020s," says BofA's report.