Despite ongoing technical issues, Boeing has recently landed significant new orders for the once-grounded 737 Max narrowbody, progressed with clearing a hundreds-deep inventory of stored jets and achieved first flight of the Max 10.
"It's onward and upward," Cirium head of valuations George Dimitroff says of the Max programme. "As a whole, the programme will get back to health."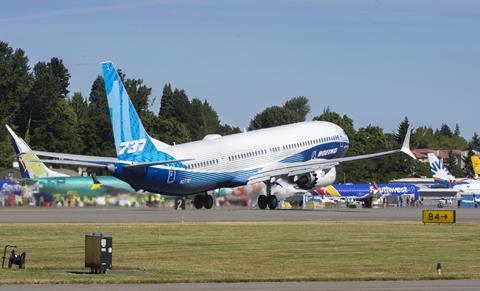 Boeing passed the highest hurdle in November 2020, when the US Federal Aviation Administration (FAA) lifted the type's 20-month grounding. During that period, Boeing had continued manufacturing the jets despite not delivering them, consequently accumulating an inventory of some 450 aircraft.
Finally, in December 2020, the airframer resumed deliveries and began working through the inventory, aiming to deliver about half of the stored jets by the end of 2021 and the majority of the remainder by end-2022.
Boeing has since whittled its Max inventory down to about 340 aircraft, some of which it produced after the FAA lifted the grounding, Cirium data shows.
The Max programme suffered a setback this year when airlines pulled 106 aircraft from service due to an electric grounding issue involving standby power control units. The FAA approved Boeing's fix in May, though the issue led Boeing to temporarily halt Max deliveries.
SMALLEST FIRST
Still, Boeing has landed new Max orders in recent months, and surging air travel demand (at least in the USA) bodes well for continued sales.
Southwest Airlines ordered 100 737 Max 7s in March, throwing a major wave of support behind the smallest Max variant, which Boeing expects to begin delivering in 2022. This year, Boeing has also secured Max orders from Alaska Airlines, United Airlines, financial company 777 Partners and lessors Dubai Aerospace and Aviation Capital. It has concurrently logged Max cancellations, but Max orders in 2021 through May exceeded cancellations by 61 jets, company data shows.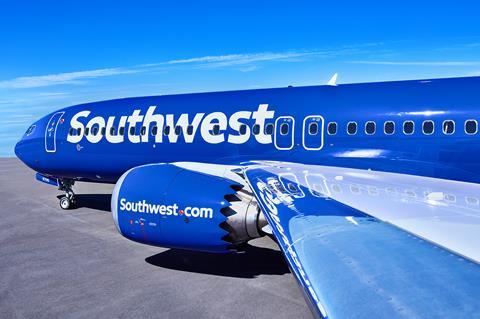 Boeing's Max momentum accelerated in June. Mid-month, it delivered the first of its high-capacity 737 Max 8-200 variant to low-cost carrier Ryanair. Then, on 18 June, the first 737 Max 10 got airborne, kicking off a certification campaign that Boeing says will lead to a first delivery in 2023.
The Max programmes faces several remaining hurdles, notable among those being China's re-certification of the jet. When that might happen remains unclear; the process appears snarled in the broad US-China trade dispute. But China's approval is critical – the country's airlines will generate an expected 25% of the aerospace industry's growth in the next decade, Boeing chief executive David Calhoun recently said.
Ensuring the Max's success means more to Boeing than about anything else. Of the 4,121 jets in Boeing's backlog at the end of May, 3,291 – 80% – were 737s (the majority being Max, with a small number being 737NG-based military surveillance jets), according to company figures. Boeing needs revenue from those deliveries to fund its future.
The company intends to ramp up 737 Max production to 31 jets monthly in early 2022. But the FAA remains involved. The agency still holds responsibility for issuing Max airworthiness certificates – the documents that clear individual aircraft to fly. The FAA took that duty from Boeing in 2019.
Additionally, as part of a 2021 settlement with the FAA, Boeing agreed to perform a safety risk assessment of its "readiness for increasing" Max production. The FAA will have the chance to evaluate Boeing's readiness ahead of production rate increases.