When the world started shutting down in March 2020 as Covid-19 took hold, business aviation enjoyed an unexpected, if short-lived surge. As airlines cancelled thousands of flights, and governments considered border closures, quarantines and stay-indoors orders, many stranded abroad wanted to get themselves and their families home quickly. Those who could afford it found that the sanitary capsules of private aircraft were the perfect solution.
Since then, the sector's performance has been bumpier, although business aviation has fared much better than its commercial counterpart. With airline networks slashed and concerns over catching the virus in crowded airports and cabins, some high-end travellers have switched to private aircraft for essential trips. Many have also managed to fit in leisure travel – to the likes of Dubai, Florida and ski resorts – when restrictions permitted.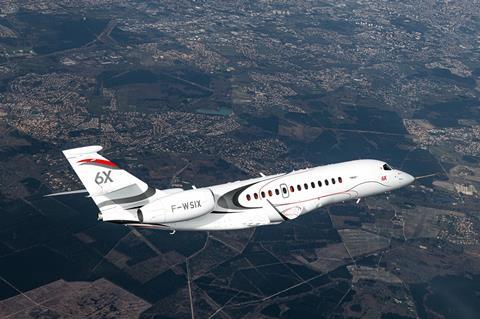 However, with even politicians, Hollywood stars, and captains of industry forced to communicate virtually from their houses for much of the past year, business aviation has not escaped the impact. This has affected new aircraft deliveries. Figures from the General Aviation Manufacturers Association (GAMA) revealed that shipments of business jets in 2020 were one-fifth lower than in the previous year, with GAMA noting that pandemic-led supply-chain disruption contributed to the drop.
While the global situation remains uncertain, a new confidence on the back of vaccine breakthroughs saw the decline in deliveries slow in the fourth quarter, and some believe that optimism will continue in 2021. "I am quite bullish on new airplane sales," says commentator Brian Foley, of Brian Foley Associates. "The manufacturers are conditioning shareholders for a gloomier outlook, but I think the opposite."
He says business aircraft utilisation figures for the first quarter in the USA – the biggest market – were "almost on a par" with 2019, and, despite stricter travel rules and higher infection rates, "I suspect Europe is just behind". With continuing negative headlines, Foley believes "it is hard to escape the brain fog to see better days". However, he is confident these will begin with a boost in leisure trips in the summer, followed by a return of business travel in the fourth quarter.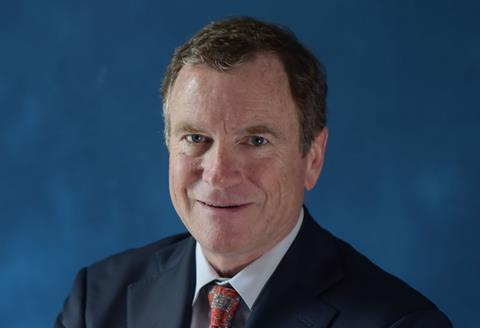 Adam Cowburn, a director with aviation consultancy Alton, says that, in the USA at least, leisure travel "is driving the traffic trend", with fewer people using business aircraft for business. "You can see it in the aircraft mix," he says. "There is a skew to lighter aircraft and to weekend travel. You can also see it in the destinations – Florida and ski country taking the place of business cities like New York and Chicago. People have been getting off light jets in shorts rather than heavier jets in suits."
EUROPEAN EXCEPTION
In Europe, the situation has been different. There, tighter lockdowns and a "greater pullback in scheduled airline activity" could be a possible driver for business aviation this year, if demand for essential travel recovers more quickly than airlines are able to reinstate services, Cowburn believes. Different national travel rules could also hamper recovery, with cross-border business aviation travel lagging domestic activity in the USA by 12 to 18 months, he suggests.
Like almost all industry events in the past year, the two main annual business aviation fixtures – EBACE in Geneva and NBAA BACE in the USA – fell victim to Covid-19 in 2020. EBACE 2021, due to have taken place in May, has also been replaced with a virtual programme. BACE is scheduled for Las Vegas in October, but this will mean manufacturers will not have had an opportunity to showcase products, schedule press conferences or meet customers for two years.
With product development having continued throughout the crisis, some believe NBAA BACE 2021 could therefore see an outpouring of delayed launches and programme updates by airframers. Dassault – rumoured to have had an announcement on a new top-of-the-range type originally lined up for EBACE 2020 – flew its newest product to date, the Falcon 6X, for the first time on 10 March. Service entry for the Pratt & Whitney Canada PW812D-powered, ultra-wide-cabin jet is due late next year.
The French manufacturer could certainly do with some fresh blood in its family. Although Falcon deliveries in 2020 were down by just six from 2019's total of 40, orders fell to just 15 from 40. Seven of these were for a French navy maritime surveillance programme, so only eight were business jets. In the company's annual results presentation in February, chief executive Eric Trappier admitted that "uncertainties led our clients not to order new aircraft" in 2020.
SCALING BACK
One of Dassault's two main rivals, Gulfstream, said in January that interest in its ultra-long-range G650 and G650ER was holding up, despite the 2019 launch of its new flagship, the G700. The manufacturer – which delivered 127 aircraft in 2020, compared with 147 the year before – intends to continue offering the G650 alongside the larger and more expensive G700 after the latter enters service in late 2022.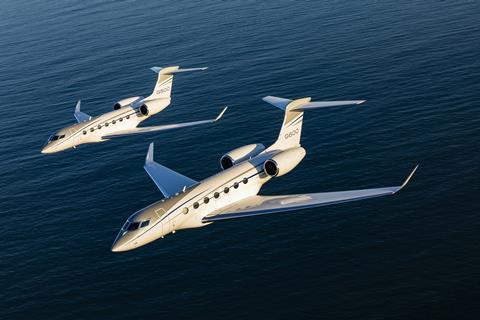 Phebe Novakovic, chief executive of Gulfstream parent General Dynamics, warned late last year that 2021 deliveries were likely to slip again for the Savannah, Georgia-based airframer, not so much because of the impact of the pandemic but because of the withdrawal from production of the older-generation G550. The still-young, large-cabin G500 and G600, together with the Israeli-built super-midsize G280, make up Gulfstream's range.
After a spate of divestments in recent years, Bombardier is now a business aviation-only manufacturer – its rail, regional aircraft, and aerostructures interests together with its one-time crown jewel, the CSeries, have all departed. However, even that side of the Canadian company's activities is set to get slimmer after the announcement earlier this year that it would be stopping Learjet production later in 2021, after years of struggling sales for the iconic light-jet brand.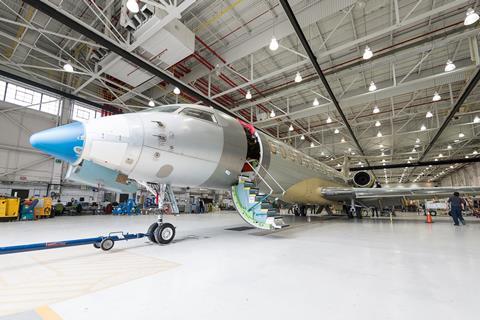 The decision leaves Bombardier with two ranges – the super-midsize Challenger pairing, and the large-cabin, long-range Global family. In terms of 2020 deliveries, Bombardier almost kept pace with Gulfstream, with shipments falling by 28 to 114 units versus the previous year. While the Challengers continue to dominate their segment, much depends on the success of the flagship Global 7500, which entered service in late 2018 and the 50th example of which was delivered in March.
Bombardier, Dassault and Gulfstream have had the top end of business aviation to themselves for decades – although Airbus and Boeing have offered airliner-derived ranges. Now, however, Airbus plans to take on the likes of the Global 7500 and the G700 with a business jet adapted from the A220-100 – formerly the smaller of Bombardier's CSeries pair – launching the ACJ TwoTwenty in late 2020. Deliveries will start in early 2023, with Comlux among initial customers.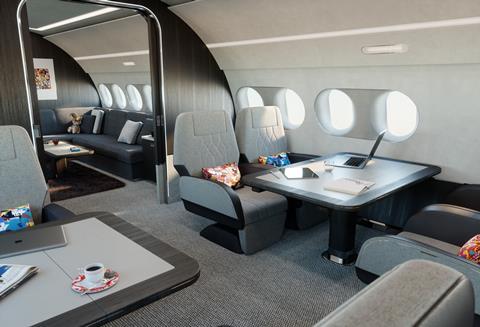 While the larger airliner-derived segment is highly profitable but tiny – mostly head-of-state transports – Bombardier, Dassault and Gulfstream can together deliver almost 200 large-cabin jets in a good year. Airbus believes it can steal a piece of that pie with a product whose main selling point will be its 73sq m (786sq ft) cabin. However, drawbacks are its relative lack of speed and a range of 5,650nm (10,400km), which leaves it short of the 7,500nm or more offered by its rivals.
Embraer, which has also dipped a toe in that large-cabin segment with its airliner-derived Lineage and Legacy 650, has done much better in the smaller-sized market, where its Phenom 300 is the strongest selling light jet. The Brazilian manufacturer also has two new midsize contenders in the recently reworked Praetor 500 and Praetor 600. It delivered 86 aircraft in 2020, down from 109 the previous year.
ALL CHANGE
Like Bombardier, Embraer has had its convulsions at a boardroom level, after a planned joint venture with Boeing on the commercial aviation side collapsed in April 2020. However, its corporate aviation activities, which it launched two decades ago, remain a key part of its future. Its most significant development in 2020 was the December delivery of the first Praetor 600 to launch customer Flexjet, part of a 64-aircraft deal for Embraer types announced in 2019.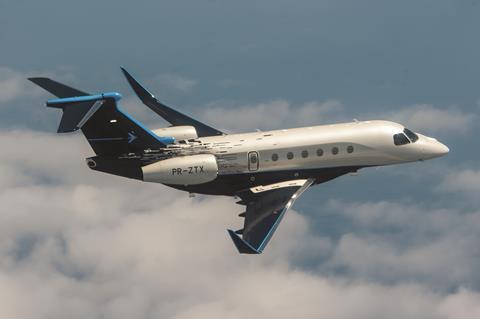 Textron Aviation – behind the Cessna and Beechcraft brands – remains the biggest player in business aviation in unit terms. It delivered 559 aircraft in 2020, including 132 Citation jets, down from 600 (206 jets) the previous year. The Wichita, Kansas-based manufacturer's in-development products are the delayed Denali single-engined turboprop and the twin-turboprop SkyCourier, although in February 2021 it did unveil a cabin update for its 11-year-old Citation CJ4, rebranding the light jet the CJ4 Gen2.
Late last year, Textron also introduced a new King Air variant, the 260, a smaller sibling to its recently launched King Air 360. The King Air family, which has been in production for almost 60 years, continues to dominate the twin-turboprop market, with 62 deliveries in 2020. This illustrates how, with regular, subtle improvements, several of the types introduced in the great 1960s' expansion of general aviation remain popular today.
However, Textron's ambitions to move into the large-cabin segment to compete with the likes of Bombardier's Challenger 650 and Dassault's 2000LXS remain on hold following the suspension of the Hemisphere programme in mid-2019, four years after the 4,500nm-range type's unveiling. That was triggered by the failure of Safran's Silvercrest engine to deliver as advertised, something that also put paid to Dassault's 5X and led to its replacement with the 6X.
BRIGHTER SPOTS
Other manufacturers entered the second year of the Covid-19 crisis on the back of a reasonably strong 2020. Deliveries of Honda Aircraft's sole product, the HA-420 HondaJet, held up well, falling from 36 in 2019 to 31 in 2020. The 100th example of its rival in the light-jet segment, Pilatus's PC-24, was delivered at the turn of the year. The Swiss manufacturer shipped 40 examples in 2020, along with 83 units of its PC-12 single-engined turboprop: an almost identical performance to 2019.
For Cirrus, Daher and Piper, one of the most significant developments of the past 12 months has been the certification of Garmin's autoland safety system on the single-engined Vision Jet, the TBM 940, and the M600, respectively. The device, which each airframer brands differently, is designed to take control of and land the aircraft if the pilot becomes incapacitated and has been hailed as one of the most important developments in general aviation safety in years.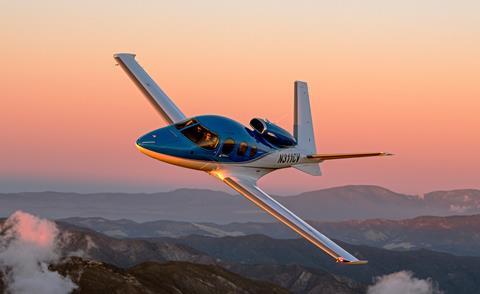 A question mark remains over the future of two once-innovative business aircraft programmes and the manufacturing operations behind them. An Italian state-appointed administrator has shortlisted four companies keen on acquiring Piaggio Aerospace, manufacturer of the distinct Avanti twin-pusher.
Meanwhile, an entity called AML late last year became the latest investor to take on the assets of Eclipse, the Albuquerque enterprise behind the original very-light jet, the Eclipse 500.
As well as the effect on travel, Covid-19 is likely to cast a shadow over the industry for some time, with cash-constrained manufacturers forced to delay or cancel investment in product development.
However, despite manufacturers being denied one of their biggest networking and promotional opportunities with the cancellation of EBACE, many in the industry do foresee better times ahead, with business movers and shakers desperate to ditch virtual meetings for human interaction.
"Yes, platforms like Zoom will remain important for business co-ordination," says Foley. "But that need to visit factories and to meet face to face will cancel out the Zoom effect, along with new entrants coming into the market."
Cowburn agrees that a recovery will quickly kick in once immediate health fears abate. "There is no structural brake on demand," he says. "And there is the competitive impact too – if your business rival is visiting a customer face to face, you cannot afford not to."
George Galanopoulos, managing director of Luxaviation UK, believes that, after a "tough" start to 2021, demand throughout Europe will pick up substantially in the summer, with leisure leading the way, and business travel following from September.
"People are desperate to get away, and have been holding back on arranging meetings, so there is a lot of pent-up demand," he says. "However, there will still be that fear of Covid, so people of a certain wealth will be attracted by private aviation."
This time last year, after organisers had taken the unprecedented step of pulling the plug on EBACE, few in business aviation imagined there would be a feeling of deja vu 12 months on.
However, six months has proved a long time in the pandemic, and – assuming vaccine roll-outs remain on track and there are no surprises with jab-resistant variants – the industry landscape could look very different come October 2021, when NBAA BACE is due to open its doors in Las Vegas.