The annual NBAA convention rarely disappoints – and with the US market in robust health and sustainability driving huge advances in technology, this year's event in Orlando is sure to be memorable.
As pandemics go, business aviation had a good one. With commercial travel disrupted and concerns about catching the virus on busy airliners, many who could afford it switched to flying private – some for the first time. This shift meant the sector became a rare bright light for the wider industry in 2020 and early 2021, and that upbeat trend is continuing as the community prepares for its annual US get together, the National Business Aviation Association's (NBAA's) BACE in Orlando, from 18-20 October.
Particularly in the USA, business aviation is as healthy as it has been since before Covid-19. Orders are outstripping deliveries and used aircraft remain hard to find and expensive. Chaos at airports and unreliable airline schedules are convincing converts that their decision to abandon commercial was right. In August, Bombardier chief executive Eric Martel said the airlines' troubles were continuing to be "accelerators" for business aviation, even with Covid-19 largely in the rear-view mirror.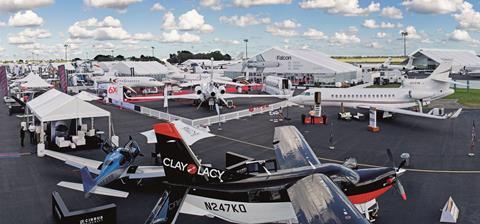 That does not mean there are no troubles ahead. Soaring fuel costs and inflation generally are causing consumer and small-business confidence to wobble. Europe's energy crisis – a side effect of dependence on Russian gas – could push the region into recession this winter. There are also shortages and delays throughout the aerospace supply chain. "It's setting up as natural cyclical slowdown," remarks Rolland Vincent of the Rolland Vincent Associates consultancy.
BUILDING MARGINS
For aircraft manufacturers, however, prospects remain broadly positive. While difficulties in sourcing raw materials and skilled staff, combined with worries over the viability of small suppliers, are causing headaches, book to bill ratios of almost two to one mean it is a "great time to build margins", says Vincent. Weakening demand for charter services would be the first sign of a downturn, he adds, but there is no hint of that happening so far.
Operators bear this out. Jim Segrave, founder and chief executive of FlyExclusive – one of the largest US charter providers – says people who began flying private during the pandemic are staying loyal. "Once you are in you don't want to get out," he says. Parts and crew shortages, threatening dispatch reliability, are much bigger challenges than finding customers. "We have more demand than we can supply," he adds.
Lou Pepper, chief executive of fixed-base operator Atlantic Aviation, reckons clients new to the sector have expanded the industry by a fifth since the pandemic. "The combination of people wanting to get out of cities and the horrendous service provided by airlines drove people who were not users of [general aviation] to buy hours or charter a plane," he says. "We always felt that was going to be sticky. Once they tried it, people realised how convenient and affordable it is."
Gregg Brunson-Pitts, chief executive of aircraft broker Advanced Aviation Team, sees signs of aircraft availability "loosening up" after a year in which sourcing equipment had become very difficult. He believes this was largely down to private owners being cautious about releasing their aircraft to third parties during the pandemic. However, he too believes demand for charter will hold up, despite high prices. "We get a lot of charter requests from people who don't want to deal with airlines," he says.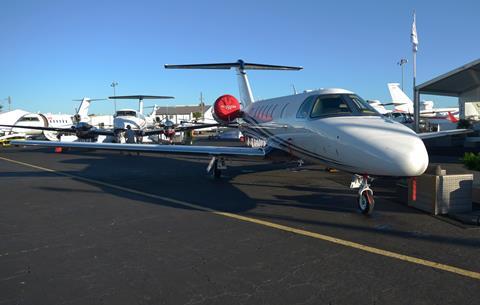 Although the General Aviation Manufacturers Association (GAMA) will not publish aircraft sales for the third quarter until after the NBAA convention, half-year figures indicate an industry in strong recovery after a significant dip in 2020. Airframers shipped 536 turbine aircraft, including 289 business jets, in the six months to end-June, compared with 485 (264 of them jets) in the same period in 2021. For the last full year, GAMA reported 1,237 deliveries (710 jets) against 1,087 (644) in 2020.
This year's convention returns to its alternate-year home, Orlando, for the first time since 2018 after the Covid-19-forced cancellation of the 2020 edition. This will also be the first NBAA BACE in three years that will be fully open to overseas exhibitors and attendees. While the return of the show in October 2021 drew a large and enthusiastic domestic audience, only a handful of foreign visitors made it to Las Vegas because the USA was still imposing border closures.
The industry's push to become more sustainable and the so-called advanced air mobility (AAM) sector will be major themes of this year's convention, as they were at its European counterpart EBACE in May. While disruptive propulsion technology will doubtless be a topic of discussion, sustainable aviation fuel (SAF) remains the best short-term hope for the industry in its drive to cut its carbon footprint. However, as in Europe, the fuel remains expensive and in short supply at airports.
In August, US President Joe Biden signed into law the Inflation Reduction Act, which includes a tax credit for producers of SAF, a move NBAA welcomes. "We have long advocated for this blenders' tax credit as a vital step to fulfilling our industry's pledge to achieve net-zero CO2 emissions," says president and chief executive Ed Bolen. "Implementation of this credit marks genuine progress towards increasing SAF production, promoting greater availability, and reducing costs to end users."
NEW ENVIRONMENT
The USA is meanwhile making strides towards creating the operational and regulatory environment for a new breed of electric vertical take-off and landing (eVTOL) air taxis, with Congress recently passing the Advanced Aviation Infrastructure Modernization Act. The legislation authorises funding for so-called vertiports and other public transport facilities to support AAM operations. Two workshop sessions at BACE will focus on the AAM opportunity for the business aviation sector.
The Orlando event will also feature the Emerging Technology Zone, highlighting AAM aircraft and technologies. "These platforms hold the promise to revolutionise short distance, zero-emissions transport in the near future," says NBAA director of aircraft displays Joe Hart. "NBAA-BACE, like business aviation, always has an eye to the horizon. We're excited about showcasing these promising emerging technologies that point our industry's way to a bright future."
According to the organisation, every mainstream manufacturer is attending, with exhibition space close to sold out by mid-September. Airframers often hold their cards close when it comes to revealing what newer types they will be displaying, even days before the event, but NBAA has no doubt that the static exhibit at Orlando Executive airport will feature "the most advanced and dynamic aircraft line-up ever seen" at the business aviation show.