As with much of the supply chain, Covid-19 has dealt a double blow to cabin suppliers. The collapse in new airliner deliveries from March 2020 hit assembly-line demand for products such as seats, galleys, lighting, overhead lockers, and in-flight entertainment equipment. Meanwhile, the grounding or under-use of thousands of aircraft has also meant the loss of vital maintenance, retrofit and replacement revenue.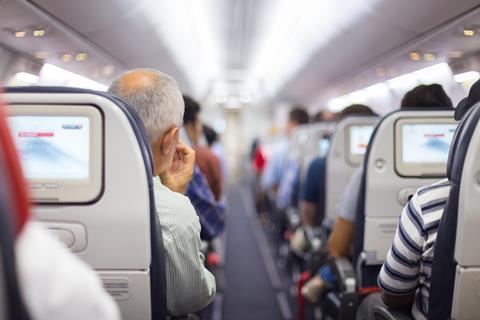 In the years before the pandemic, the interiors sector had been flying high, as soaring narrowbody orders plans saw existing suppliers boost capacity, and start-ups swarmed into the market. Meanwhile, in long-haul, intense competition among airlines for the highest-yielding customers was resulting in a booming market for self-contained "suites" and other exclusive premium cabin features that ensure a point of difference over rivals.
Despite the 737 Max crisis at Boeing, Hamburg's annual Aircraft Interiors Expo (AIX) in March 2020 was set to be one of the busiest ever. But as the pandemic exploded, AIX was cancelled, along with its sister event for the passenger experience market, WTCE. This year's convention was postponed for five months, and then replaced with a virtual event from 14-16 September. The show itself will not now take place until next June – a gap of 38 months from AIX 2019.
So after a bleak year and a half, do interiors specialists anticipate a pick-up between now and Hamburg 2022 – or fear more months, or years, of misery? Traffic recovery has been patchy, with the US domestic market rebounding to 2019 numbers this year before the Delta variant put the brakes on. While Europe has seen a bounce-back in short-haul, strict border controls mean long-haul is still in the doldrums. And a resumption of normal service in the Asia-Pacific seems a distant prospect.
Despite the crisis, Recaro, the biggest pure-play seating manufacturer, has continued to bet on the future with a €50 million ($58 million) research and development centre at its Schwaebisch Hall site in south-west Germany, which opens in September. However, chief executive Mark Hiller maintains it is "very challenging to do proper planning" because of the ever-changing nature of the virus and government responses to it.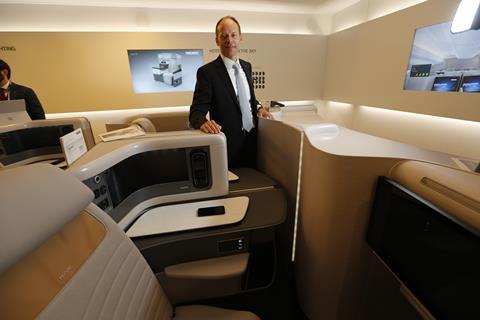 After seeing a roughly 60% sales decline in 2020, Hiller says Recaro's revenues will remain "bottomed out" this year, although he is "very positive" about a recovery. "At the beginning [of the pandemic], there were questions about whether air travel would ever come back," he remarks. "Now most people are desperate to travel, and I think you can see this with the US domestic market, where it has already returned to 2019 levels."
He is expecting a return to "disciplined growth" for the business next year, and believes that government rules are the main reason people are not travelling. "Right now, the market is suppressed, but I am very much on the optimistic side," he says. "I support the theory that there is a lot of pent-up demand, and when restrictions are lowered or gone, we will be back to a similar growth path to years before."
Although privately-owned Recaro has been investing heavily in its premium offering for several years, its core market remains economy seats, and this has helped protect revenues as the short-haul, leisure segment has been the most resilient through the crisis. "Our share in business class is very low, but our intention is to build from there," says Hiller. "In the current situation, I would be concerned if it was the other way round."
Recaro this year won its first seat deal in the regional segment, supplying KLM Cityhopper Embraer E195 E2s. KLM already uses Recaro seats on its main fleet. Hiller believes it is important to be able to "support our customers with a full range", and to continue developing new products as traditional cabin classes morph into new offerings such as premium-economy-plus and single-aisle business class. "There will be more shades of grey," he says. "Seating won't be so black and white."
In nearby Laupheim, Diehl Aviation is shedding around 30% of its close to 6,000 staff globally after the German cabin and aircraft systems specialist was impacted by a drop in orders for and deliveries of Airbus twin-aisles. New chief executive Josef Koecher, who succeeded long-serving Rainer von Borstel on his retirement in April, does not see demand returning soon. "Volumes have fallen drastically, particularly in widebodies, and I think this will remain for the next few years," he says.
However, Koecher does see some upside, with Airbus and Boeing looking to increase A320neo and 737 Max production in the next two years, and some carriers looking to repurpose narrowbodies for longer-haul operations, requiring, in some instances, new-look cabins. "Our production rates are increasing on single-aisle, and we are seeing requests come in from airlines for reshaping interiors, so we could be looking at more upgrade business," he says.
Koecher also believes Diehl must become nimbler and more aggressive in its marketing, combining innovation in new technologies with bundling of its products to deliver broader "customer solutions". Links with providers of complementary services are another option. Diehl in June signed a pact with US-based HAECO Cabin Solutions, which, as well as being a cabin equipment manufacturer in its own right, also has experience in designing, installing and certificating interior retrofits.
"We have markets, like the US and Asia, and with Boeing operators, where we can do more," says Koecher, who considers the division of the private Diehl industrial group a "global player", but smaller than the giants of the interiors sector like Collins and Safran. This means, he says, that more strategic partnerships might be on the cards as the business looks to broaden its customer base. "With Covid, the portions are smaller, so you need more portions," he remarks of the approach.
He identifies a number of trends that will come to the fore in the post-Covid world. One is touchless technology, particularly with on-board lavatories, as Covid-19 has emphasised the need for personal hygiene. Digitisation will continue to be a driver, with sophisticated cabin management systems allowing passengers more control of their immediate environment. And the quest for sustainability will remain, with cabin equipment manufacturers driven to develop advanced, lighter materials.
In the UK, another recently installed chief executive at an established interiors supplier reflects on a period that has been "challenging and revealing, both in its impact and duration". Grant Bennett heads STG in Cwmbran, which makes LED cabin and emergency floorpath lighting. A government furlough scheme and ongoing demand for replacing safety-critical equipment has meant the business has been able to retain 57 of its pre-Covid 72-strong workforce, he says.
With little or no discretionary spending by airlines on upgrading cabins with atmospheric lighting, at the peak of the crisis in mid-2020 STG's revenues dropped to "20% of what we'd typically sell". But, combined with efficiencies, that core turnover allowed it to avoid "burning cash". This year has been "a bit better than we expected" as MRO activity increased ahead of an anticipated pick-up in traffic in the early summer, he says.
STG offers its LED lighting as a retrofit to airlines to improve the cabin environment. "An LED system on a mature aircraft makes everything look fresher, and the cost, including installation, makes it very worthwhile," says Bennett. "We have seen a lot of interest and even some deliveries. The message we are getting from the large integrators is that they are busy with RFPs [requests for proposals], but not work. There is a lot of getting-readyness going on."
Like many in the sector, Andres Budo, senior vice-president commercial at AVIC Cabin Systems (ACS) – a Chinese-owned grouping that comprises Austrian interiors manufacturer FACC, UK cabin monuments designer AIM Altitude, and business class specialist Thompson Aero Seating – believes there is "a real appetite from the public to get back to normal and return to flying", but that recovery will take longer for airlines dependent on the long-haul market and premium passengers.
He also believes a market is emerging for "products that increase passenger confidence" in the Covid-19 recovery era. "We have looked at our existing portfolio for adaptations, for example anti-microbial, anti-viral surfaces and touchless features, while at the same time assessing the market to see if there are any areas where new products could help bridge the gap and provide reassurance," he says.
These include Thompson's VantageSolo seat that ACS says aids social distancing in the premium cabin via a "reverse herringbone" configuration that places the passenger's head away from the aisle. AIM's ARCA concept is a boxed-meal system that keeps crew contact with food to a minimum, by enclosing uneaten and used items when the meal is collected. PureCabin is a microbacterial coating that can be applied to surfaces including laminates, leather, and metal.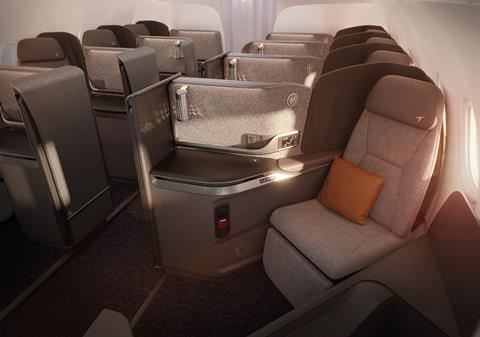 "What is often most important with any Covid-related products is passenger perception," admits Budo. "One of the keys to recovery lies in creating confidence." He adds: "We are, at heart, an innovative and progressive industry. We are solutions-driven and thrive in a challenging environment. We must take this attribute and use it to our advantage, in a way that benefits our customers and their passengers."
Airline inactivity has meant interiors firms have endured 18 months of misery. But a recovering commercial aviation sector, and revival in aircraft orders, particularly on single-aisles, could lead to a flurry of deals delayed since the pandemic. In addition, changing travel habits might spark new product development, as airlines rethink the post-Covid cabin. A return to pre-pandemic peaks might be some years off, but the hope is 2022 could breathe life into the interiors market again.