Full-flight simulators (FFS) are costly pieces of kit, so, in normal times, they tend to be seriously sweated assets, taking a breather only when being maintained. But these are far from normal times, and, like the rest of the industry, pilot training has had a torrid 12 months. Simulator occupancy and demand for devices plunged as pilots were furloughed, fleets grounded, and deliveries pushed back. Like the aircraft they mimic, hundreds of simulators have sat idle for much of the crisis.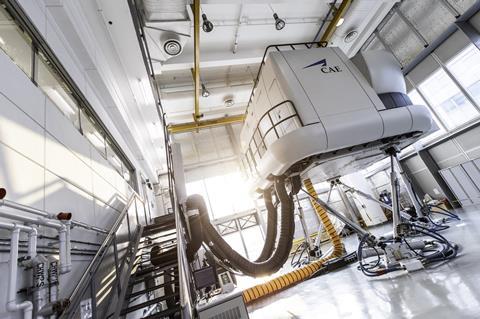 The two big manufacturers of airliner simulators – CAE and L3Harris – reflect this slowdown in their latest financial results. The Canadian company notes that "civil training utilisation is well below pre-pandemic levels", with the devices in its own training locations operating at around 50% capacity during the second half of 2020 and into the first three months of 2021. CAE was expecting to deliver 35 FFS in its fiscal year, which ends on 31 March, compared with 56 the previous year.
For its part, L3Harris took orders for seven FFS in 2020, against 10 in 2019. In its full-year financial results, the diversified defence and aerospace technology company said the slump in the market had "significantly reduced" demand for flight training and simulators for its commercial aviation solutions business. This led to L3Harris temporarily closing some of its facilities and launching a "restructuring" drive to "align its resources with the outlook for the commercial aviation market".
The two companies have responded very differently to the downturn. Last November, Bloomberg reported that L3Harris was planning to sell its pilot training unit for $1 billion. In the event, it was only the military part of the business that was divested, with CAE undertaking to pay its rival just over that amount in a deal announced on 1 March. CAE's largest acquisition to date reinforces its dominant market share in military training and is expected to close in the second half of 2021.
It was CAE's fourth bolt-on in as many months, with the Montreal-based group taking advantage of its market leadership position and a strong balance sheet to drive consolidation, both horizontally and vertically – something it has been doing for a decade or more. Also last November, CAE announced plans to buy the Canadian-based commercial aviation arm of Textron's Tru training business – the third player in mainline airliner simulators – for around $40 million.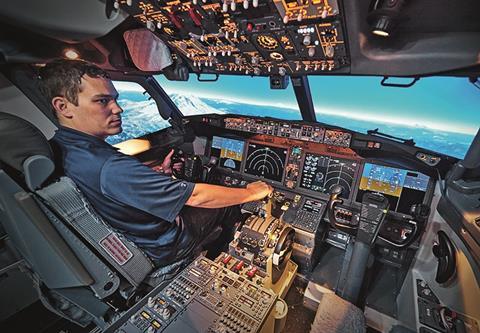 Unlike its two competitors, which provide training services as well making the actual devices, Tru is purely a manufacturer of simulators on the commercial side. After winning the contract from Boeing to develop the 737 Max simulator – and installing the first in the airframer's Miami training centre in 2016 – Tru had supplied around three in 10 of Max simulators delivered. However, the grounding of the re-engined narrowbody in 2019 had put a brake on its growth.
STRENGTHENED RELATIONSHIP
CAE's new addition comes with 80 employees, an installed base of some 60 simulators, and, as well as a production facility in Montreal, training operations in France and Malaysia, and a minority stake in an Icelandair simulator centre. In a message to employees, CAE said the acquisition would boost its order backlog, broaden its number of airline customers, and strengthen the relationship with Boeing.
Textron, which originally bought the Montreal-headquartered business as Mechtronix in 2013, is not leaving the market – it is retaining its US-based Beechcraft, Bell and Cessna training operation. However, the move leaves just one other mainstream manufacturer in the commercial FFS segment – US training provider FlightSafety International, which provides regional aircraft simulator tuition alongside its core offering in business aviation and defence.
The Tru divestment follows CAE's acquisition last November of Amsterdam-based pilot training firm Flight Simulator Company for $83 million. That business, founded in 2005, operates a suite of mainly CAE-built FFS, including nine 737s and Airbus A320-family devices, a 747 and a 787, and an Embraer 190, operated in partnership with FlightSafety International. CAE followed that up last December with the purchase for $25 million of Merlot Aero, a crew management software company.
In its latest results, CAE notes that the outlook for the sector has improved since the outset of the pandemic, reflecting "the benefits of a highly regulated aviation industry and the fundamental requirement for aviation training". This is a feature that gives many in the sector some hope. Even with a modest recovery later this year, the need for furloughed pilots to regain currency, or retrain on different types as the global fleet mix changes, could drive a hike in simulator hours.
DEMAND STIMULUS
"There will be a catch-up of delayed training," maintains Robin Glover-Faure, vice-president sales and marketing, commercial aviation at L3Harris. "Airlines will also be changing the types of aircraft they operate, with pilots of the 747-400 or other four-engined types having to learn the ropes on an Airbus A350 perhaps. There is also the return of the Max. All these factors will give a stimulus to demand."
The resumption of Max flights, and deliveries, after almost two years, should deliver a significant boost to the market as recovery begins. Training organisation BAA is among those planning to introduce a Max FFS at its new Spanish facility this year, with the L3Harris-manufactured device arriving in April, and operational in the second half. It will join a CAE-manufactured A320 FFS installed in January, with other 737 and A320 non-FFS flight training devices to be added this year.
Vilnius, Lithuania-based BBA, one of the largest independent training providers in Europe, says that, although the Covid-19 crisis has "prompted dramatic re-evaluation and readjustment" of its business ambitions, it intends to continue with its expansion, which included the opening of a centre in China in June 2020. The company believes that the Max's return to service will push up demand for training on the type at its Barcelona facility during 2021.
Unsurprisingly, the past year has seen few high-profile simulator delivery announcements. Among the exceptions, in January L3Harris said that Air China would be acquiring three of its FFS – two A320 devices and one A350 – which will go into operation at the flag carrier's Beijing training centre within 18 months. It is the airline's second simulator order with the Crawley, UK-based business, which supplied Air China with an A320 FFS in 2017.
The retirement of the last 747-400s from passenger service and the withdrawal of many A380s are also leading to shifts in the simulator market. British Airways said in March that Air Atlanta Icelandic, which charters passenger and freighter versions of the jumbo, would be taking over one of its three 747-400 FFSs, although BA would continue to host and maintain it at its London site. Announcements on the remaining pair of devices are expected soon.
Demand for simulators will return when flights resume in earnest, but ownership models may change as airlines adjust to a new economic reality, believes Glover-Faure. "I suspect there will be moves towards a more variable cost base, with owning capital-heavy training centres becoming less attractive," he says. With L3Harris operating in-house sites in Crawley, Bangkok, and Dallas, that "trend definitely goes in the direction of our business".