In California, the four seasons are sometimes half-jokingly said to be earthquake, mudslide, drought and fire; none of these, of course, is funny - and the wildfire management team has a fleet of 50 aircraft to prove just how serious they can be
In the early morning hours of 8 November 2018, the deadliest, most destructive and most expensive wildfire in the history of California broke out in tinder-dry forest about 88 miles (141km) north of the state's capital Sacramento. By the time the "Camp Fire" blaze was contained almost three weeks later, 85 people were dead and the town of Paradise had been levelled. The firestorm destroyed almost 19,000 structures and acrid smoke reached the San Francisco Bay Area to the southwest – forcing residents indoors, cancelling sporting events and raining ash over a large swath of the state.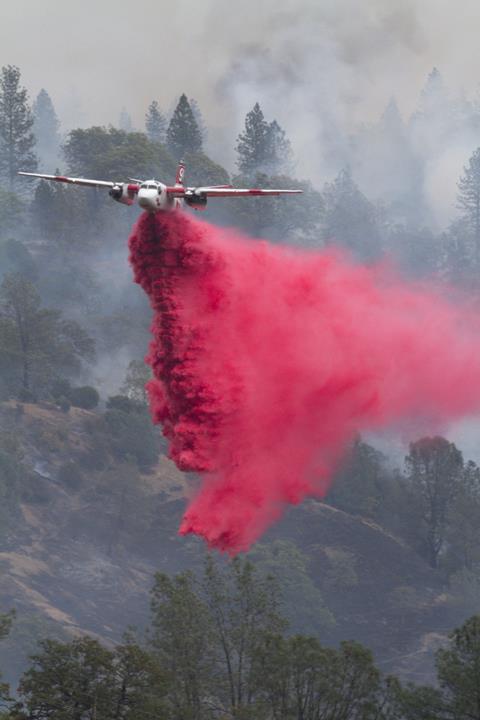 A spark from a nearly 100-year-old power transmission line coupled with high winds, low humidity and dry brush created the perfect recipe for disaster in the arid western US state. This was a worst-case scenario that the California Department of Forestry and Fire Protection – also known as CAL FIRE – trains for every day. Its jurisdiction is the most populous state in the nation, and its owned fleet of aerial firefighting equipment is the largest in the world.
Preparedness means everything in a place where, as many Californians joke, the four seasons are not spring, summer, autumn and winter, but earthquake, mudslide, drought and fire. In the past five years more than 2 million hectares (5 million acres) of the state have been torched by wildfires. "There's going to be a fire season in California every year, no matter where you are," says Dennis Brown, senior chief of aviation for CAL FIRE's Aviation Management Unit (AMU), based near Sacramento.
Joel Kerley, chair of the National Interagency Aviation Committee (NIAC) of the National Wildfire Coordinating Group, agrees. No matter what kind of a fire season it turns out to be, he says, it is always a struggle to effectively manage the available resources.
"During peak fire season, you are never going to have enough stuff," Kerley says. "That's when the co-ordination efforts really kick in. My group is there to keep a pulse on the activity of all the fleet that is out there."
NIAC co-ordinates aerial firefighting standards and strategy across the USA, shifting assets to where they are needed most.
The AMU's fiscal year 2019 budget is $93 million out of a total for CAL FIRE of $2.5 billion. The fleet consists of about 50 aircraft: fixed-wing air tankers, tactical aircraft and helicopters are strategically stationed at 12 air bases and 10 helicopter bases up and down the state. But it can balloon to between 250 and 300 aircraft if a particularly bad fire season warrants, says Brown.
CAPABLE FLEET
The workhorse of CAL FIRE's aviation family is the Grumman S-2T Turbo Tracker tanker, which can hold 4,545 litres (1,200USgal) of water or fire retardant – a chemical salt compound mixed with water, clay or a gum-thickening agent and a pink dye. At 4.1kg (9lb) per gallon, an S-2T can carry up to 4,900kg of retardant. The aircraft came to the agency from the military, where in their previous lives they were used to track submarines.
Filling S-2Ts takes just minutes. The aircraft have a fill spout in their tail, allowing CAL FIRE to "hot load" retardant without having to shut off the aircraft's engines between missions. Pumps push 1,100-1,900 litres of retardant per minute into the tanks, allowing the aircraft to launch again quickly. One S-2T can cycle five to six times before it needs to be shut down and refuelled, Brown says.
The air tankers usually deliver a load of retardant ahead of a wind-whipped fire line to slow its progress, or reduce its intensity, and give on-the-ground firefighters a real chance to extinguish or at least contain it.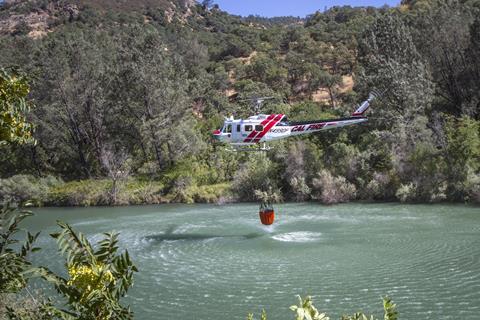 Twelve Bell UH-1H Super Huey helicopters, which can each carry up to 1,200 litres of water in buckets mounted below the aircraft and 11 crew including the pilot, are used for fast initial attacks on wildfires. They can also be used for medical evacuations, mapping and non-emergency missions.
In early 2019, CAL FIRE took delivery of a Sikorsky S-70i Black Hawk helicopter, the first of what will be a fleet of up to 12 high-tech twin-engine "Firehawks" that will eventually replace the ageing Super Huey fleet. The second Firehawk is due to be delivered later this year. Altogether, this investment is worth about $300 million.
The agency also operates 15 Rockwell OV-10A Broncos, former military reconnaissance aircraft used to co-ordinate aerial assets with ground-based firefighters.
"The OV-10s are our command and control platform, an airborne fighter co-ordinating operations for the fire," Brown says. A pilot and an air tactical group superviser (ATGS) use the tandem two-seat aircraft to gain an overview of the blaze, plan strategy and call in air support where it is most needed on the ground.
Two Beechcraft King Air A200s, used for ATGS training, and a Baron 58, used for administrative purposes and transporting people and parts, round out the fleet.
In an average year, CAL FIRE's fixed-wing and rotary craft usually fly between 200-300h each, with about three-quarters of those hours on actual firefighting missions and the rest for training, says Brown.
The agency receives aviation support from several other authorities, including the California National Guard, which alone owns more aircraft than most nations, as well as the US Forest Service. Together with its partners, the aircraft available to be deployed can range from small drones for fire detection and reconnaissance, all the way up to the guard's Modular Airborne Fire Fighting System (MAFFS) – a retrofitted Lockheed C-130 Hercules that can carry more than 15,000 litres of retardant.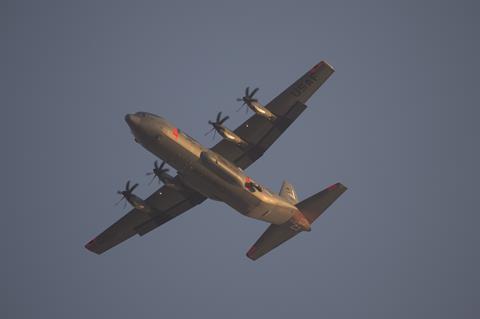 CAL FIRE is gearing up to receive its own fleet of seven C-130s, including ground support equipment, handed down from the US Coast Guard through the government's 2019 National Defense Authorization Act. These will enter service beginning in about 18 months after being modified and structurally upgraded for firefighting operations.
One of this type aircraft, owned by Canada's Coulson Aviation and contracted out to Australia's Rural Fire Service, crashed in January while helping tame that country's historically destructive wildfires, killing its three-member crew.
"Tanker 134 had been instrumental in fighting California's wildfires in 2019. This was a unique contract, as we were able to put our flightcrews on this aircraft to start training [them] in flying the C-130, transitioning from the S-2T air tankers," Brown says. "With that very close relationship over the course of the fire season, it was a huge emotional hit for all of us when the aircraft and flightcrew were lost in the accident in Australia."
The crash brought into sharp relief how brutal and punishing the missions are for both the machines, as well as the people who operate them. Unpredictable winds, dangerous or impassable terrain, low visibility due to smoke, and heat that can melt paint off a fuselage are some of the everyday dangers crews face in fighting these blazes.
When releasing their loads, air tankers are usually no more than 150ft above the ground, flying that requires exceptional piloting skills and highly specialised training, as well as robust and clear communications with ground-based firefighting units. Any higher than that and the accuracy of a drop is lost.
"For every fire, we have what's called the fire traffic area, which is a 7nm [13km] ring around the centre of the fire," Kerley says. "Within those seven miles is our airspace, and we will bring anywhere from two to five to 20- 25 aircraft into that area at different altitudes."
Brown tells the story of a CAL FIRE pilot who, during the 2018 Camp Fire, got an early morning call to drop retardant over a fire line in a rural area. "The conditions were so severe that he flew around for an hour trying to drop," Brown says. "He deployed full flaps, power off, tried to descend to get low enough to drop, but it was impossible to get down safely." The heat from the fire constantly pushed the aircraft higher, making any potential drop ineffective.
GROWING CHALLENGE
Wet winters have a counterintuitive effect on the following fire season, experts say. Rain is usually a good thing for the flora and fauna of a region – the grass is greener and thicker, and vegetation grows more quickly. But when that vegetation dries toward the end of the following summer, it can become fast-burning fuel for a wildfire.
"At the height of the drought a few years ago, here in the north of California we had a lot of dead trees, the fire danger was extreme, but in the south they had had no rain for so long, they had no grass crop, so they had an extremely low fire season," explains Brown.
No two seasons are ever the same. Weather conditions and climate change are part of the equation, but also societal changes and new population clusters have placed additional stress on the state in terms of wildfire danger. In 1980, California had just 25 million inhabitants. In 2018 it had 40 million. Humans continue to encroach upon nature, so fires are destroying more structures and property, and killing more people.
"Seasons are definitely different than they used to be," Brown says. "Thirty years ago there were a lot fewer homes in the wildlands and while we did have late-season wind-driven events, it was not impacting people as much."
There is no clear "beginning" or "end" to fire season, say both Kerley and Brown, and the season itself is less predictable than it used to be. In southern California, which generally has a hotter climate, firefighters stand at the ready earlier in the year than in the northern part of the state. Most of CAL FIRE's air attack bases are ready to go with trained crews and aircraft prepared between 15 April and 1 June.
The hottest months, both in terms of weather and wildfire spread and intensity, are July, August and September, with the season winding down by late October.
But occasionally, the most destructive fires – like those in 2018 – are not contained until late in November or even early December.
The longer the season, the more difficult it is to get the aircraft through regular maintenance cycles during the season and also ready for the following year. Mandatory maintenance protocols, as well as component replacements and repairs, usually take place over the ever-shortening winter off season.
"We've seen a huge uptick in the maintenance schedules and inspections. What we do supersedes anything that the [Federal Aviation Administration] would require or the manufacturer requires for the aircraft," Kerley says. Therefore, each aircraft has its own mechanic assigned to it, to keep it running when and where it is needed. "If they're not flying… they become unavailable for us," he adds.
It is too early to make a reliable forecast for what the 2020 season will look like, says Brown. But one thing is clear – trouble will come with the northern hemisphere's summer.
The National Interagency Fire Center predicted on 8 April that the next few months will be warmer and drier than average along the West Coast. "This, coupled with the development of a significant grass crop in the lower elevations and an early melting of the mountain snowpack, is expected to prove to be problematic" in July and August, the agency writes in an assessment report.
NIAC is gearing up for this scenario. The organisation's readiness plans are rated in terms of levels - one being the lowest, five being the highest. "It gets tricky when we are at planning level four or five, that means that geographic area has run out of material. At that point, it becomes just prioritisation, which fires are the biggest priority, the biggest values at risk."
How often does that happen? "It would be way easier question if you asked me how many years we don't get to planning level five. Almost never," Kerley says.
CORONAVIRUS CONCERNS
As if that was not enough, this year's coronavirus pandemic has added yet another layer of worry for aerial firefighters. "We don't yet have 100% clarity on how much that is going to affect us," Kerley says, adding that the virus has already severely impacted preparations early in the year. Some training has had to be curtailed and moved online rather than conducted hands-on. "It's going to be very different for us this year. It's not going to be a normal season for us."
Cleaning protocols are being stepped up, but social distancing rules are difficult to maintain in what is often a rough and dirty environment with many people at close quarters for extended periods.
Aerial units are beginning to rely more on unmanned systems (drones) for reconnaissance, detection, mapping and planning out the distribution of resources to fight fires. This year, that part of the aviation fleet could play a greater role than ever before.
"Intelligence is going to be a premium this year, because we're not going to have enough stuff to go around. We need to get real-time information to the decision makers to help with that prioritisation process," Kerley says.
"We can use sensor technology and satellite technology to an extent, but it's one thing to detect the fire out in the middle of nowhere, and another thing organising the logistics of getting folks there to suppress it, along with this whole corona crisis – you can just imagine the massive amount of co-ordination going on right now."