It seems reasonable that at some point in the future – be it 2030, 2050, or whenever – civil supersonic jets will again be zipping between the world's distant cities.
Exactly when that time might come remains open to debate, but there is no doubt that in the last year several civil supersonic jet developers stepped closer to making their projects a reality.
The handful of companies in the sector spent the last year partnering with major aerospace suppliers (including engine makers), lining up buyers, hiring known aerospace executives and, in the case of Boom Supersonic, rolling out a demonstrator jet.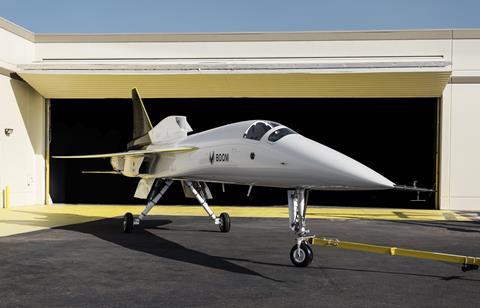 Several companies predict their supersonic jets will be flying by 2030, if not earlier. And their efforts align with supersonic projects underway with the US government, including rules being written by the Federal Aviation Administration (FAA) and NASA's development of its X-59 Quiet Supersonic Technology (QueSST) demonstrator.
All of this during a pandemic.
EVALUATING TECHNOLOGIES
"XB-1 remains on track to fly in 2021," Denver-based Boom tells FlightGlobal. "XB-1 is currently in the integrated testing phase, where we are testing all aspects of the aircraft, from landing gear to avionics systems, to ensure its flight readiness."
XB-1 is Boom's supersonic demonstrator – a single-pilot, triple GE Aviation J85-15-powered craft with which the company intends to evaluate technologies and designs ultimately intended for a conceptual passenger airliner called Overture.
In October 2020, Boom rolled out the needle-nosed XB-1 during a slick virtual event.
The XB-1's test programme will involve ground and low-speed taxi tests at Centennial airport in Colorado, and flight tests over the Mojave Desert. Boom has hired Mojave, California-based aerospace company Flight Research to assist with flight testing.
"The goal of the flight-test programme is to safely expand the envelope of XB-1 to supersonic speeds," Boom says. "This will be done through an incremental build-up of the aircraft performance while being monitored by a chase aircraft and a control room."
All the while, Boom will continue developing Overture, its focus on "completing the systems definition review… and finalising Overture's design", it says.
"We are building Overture [by] leveraging the processes, design methods, principles and relationships we have built through XB-1," the company adds. "We have been advancing Overture's conceptual design throughout the XB-1 programme with these learnings."
The Overture is to be a Mach 2.2, 65-88-passenger airliner that will cost upwards of $200 million and, Boom says, be capable of profitably operating some 500 transoceanic routes.
Also this year, Boom expects to select a location at which to manufacturer the Overture. It aims to begin manufacturing in 2022 and to reveal the aircraft to the world with a roll-out in 2025. First flight would follow in 2026.
"We expect Overture to begin carrying passengers by 2029," Boom says.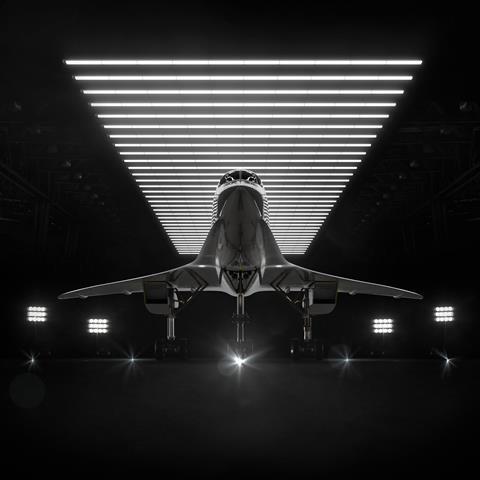 Boom has already secured at least two potential airline customers. Those include Japan Airlines, which in 2017 invested $10 million in the company, taking purchase rights for 20 jets in the process. Virgin Group has also taken "pre-orders" for 10 Overture jets, Boom says.
Founder and chief executive Blake Scholl has predicted the Overture will be such a hit that Boom will eventually build more units than Boeing has produced 787s.
As the XB-1 has progressed, Boom has beefed up its team and cadre of industry partners. In February, it announced that former Boeing chief executive Philip Condit had joined as an advisor.
Rolls-Royce came on board in 2020 as an engine partner for the Overture, agreeing to evaluate "existing engine architecture can be adapted for supersonic flight", Boom and R-R said last July. R-R has said an Overture powerplant could potentially be based on a Trent turbofan's core.
Last November, Collins Aerospace also joined the Overture team as developer of the jet's nacelles and other structures.
More recently, in March, Boom received a capital investment of an undisclosed sum from American Express Ventures, the innovation finance arm of that financial services company.
Though the civil supersonic sector must overcome various technological and regulatory hurdles, the jets will indeed come to market, according to aerospace consultancy AIR. It predicts manufacturers will deliver more than 300 civil supersonic jets by 2040, with delivery rates hitting about 30 aircraft annually in the 2030s. Fractional aircraft ownership companies will purchase about half those jets, with private owners taking one-quarter of the total and governments 17%, AIR predicts.
NETJETS BACKS AERION
Another supersonic player, Boeing-backed Aerion Supersonic, also has kept busy in recent months, pushing forward development of a business jet called AS2.
Aerion made a slash in March when it revealed a partnership with two Berkshire Hathaway subsidiaries: fractional aircraft ownership company NetJets and aviation training provider FlightSafety International.
Under the agreement, NetJets acquired rights to purchase 20 AS2s. Powered by three GE Affinity turbofans, the jet will carry eight to 10 passengers and have a 4,200nm (7,780km) range at M1.4, and 5,400nm range at M0.95, according to Aerion.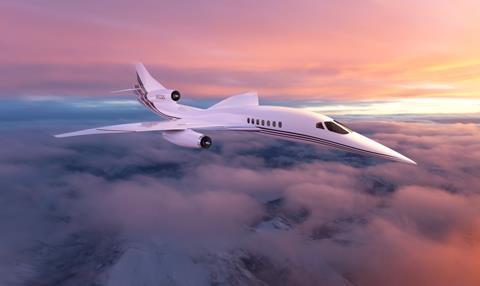 NetJets also agreed to become the sole business jet operator on an envisioned booking portal called Aerion Connect. FlightSafety's role involves helping Aerion create a "supersonic flight training academy", Aerion says.
While far from a firm order, securing NetJets' backing is no small accomplishment – it is, after all, among the world's largest operators of business jets, with a fleet of more than 750 aircraft.
Aerion is working along a timeline that calls for the AS2 to make its maiden flight in 2025 and enter service in 2027. Aerion says it will soften the AS2's sonic boom by leveraging a phenomenon called "Mach cut-off", which occurs when atmospheric and flight conditions cause booms to deflect up, not down, according to the company.
Like Boom, Aerion has secured an impressive array of suppliers as partners. Universal Avionics will make the AS2's enhanced flight vision system, BAE Systems will develop a fly-by-wire flight-control system, Spirit AeroSystems is working on the jet's forward fuselage and Honeywell Aerospace will supply its avionics suite. Other partners include Aernnova, Collins, GKN Aerospace, Potez, Safran Landing Systems and Safran Nacelles.
Aerion also stands out from the pack for its progress in building an actual manufacturing site for its supersonic jet. Before year-end, it is to break ground on Aerion Park", a campus and headquarters in Melbourne, Florida at which AS2 production will begin in 2023, the company says.
Another competitor, Spike Aerospace, intends this year to begin building a supersonic demonstrator and to fly that manned aircraft "toward the end of next year", says founder and chief executive Vik Kachoria. The Boston-based company is also evaluating locations at which to house a manufacturing site, and seeking a partner to assist with fabrication, he adds.
Spike aims to develop the S-512, a twin-engined, M1.6 civil jet, for certification by 2028.
The company has spent the last year finalising the S-512's design to ensure it meets range, efficiency and sound requirements. Spike says the S-512 will be suited for both overwater and overland flights thanks to aerodynamic features that will ensure it does not generate a "loud, disturbing sonic boom on the ground".
In a shift, Spike increasingly views the airline market as the most opportunistic for the S-512. Spike had pitched the aircraft primarily as a 12-18 passenger business jet. "It is now the primary market we are going for," Kachoria says of the airline sector. "We definitely believe it's going to be the game changer here."
The S-512, outfitted with up to 22 first-class seats, would be perfect for operating point-to-point long-haul routes such as New York to Liverpool or Marseille, Kachoria says.
In February, Spike said it has partnered with Indian company Tech Mahindra, which will assist it with stress analysis and fuselage work. Aerospace veterans also joined Spike's team in the last year, including Bill Boisture, who has been chief executive of Hawker Beechcraft, president and chief operating officer of Gulfstream Aerospace and president of NetJets. Others include former Virgin Australia Airlines group executive John Thomas, Boeing and Dassault Aviation veteran Brian Foley, and Ray Benvenuti, a finance executive who had been chief executive of Stellex Aerostructures.
In 2020 another supersonic developer joined the fray: Virgin Galactic. In August last year, the company unveiled the design of a R-R-powered, delta-wing civil jet capable of reaching speeds of M3.0, carrying nine to 19 passengers and cruising higher than 60,000ft.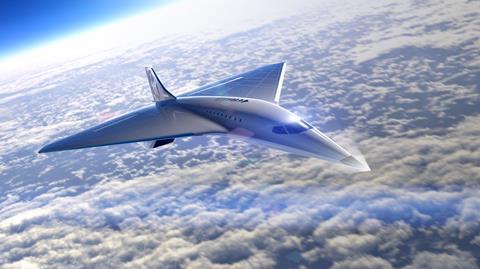 MILITARY APPLICATIONS
While the supersonic developers are eying the civilian aviation market, executives have said their products could be adapted for use by governments or militaries.
Indeed, a 3 March report from the US government's Congressional Research Service highlights several potential government applications for supersonic passenger jets. They could whisk heads of state during times of conflict, or be used to shuttle nuclear warheads to forward bases, enabling such weapons to be stored in more-secure facilities in the USA, the report says. Supersonic jets could also be deployed on urgent humanitarian or special-operations missions, such as those involving hostage rescue or embassy defence, it adds.
The US Air Force (USAF) has shown interest. In 2020, several companies – among them Boom, Los Angeles-based Exosonic and Atlanta-based Hermeus – won contracts to begin developing a supersonic military executive transport.
"We are showing the air force what an executive cabin can look like at 1.8 times the speed of sound," says Norris Tie, who co-founded Exosonic several years ago with chief technical officer Tim MacDonald.
Exosonic has already been working to develop a 70-passenger M1.8 civil supersonic jet with 5,000nm range, for service entry in the mid-2030s. It also is tweaking that design for potential military applications.
Exosonic's conceptual 31-passenger military transport, developed in collaboration with the USAF's Presidential and Executive Airlift Directorate, would be outfitted with two private suites: one for three passengers, and another for eight. The jet would also have 20 business-class seats, two galleys and two lavatories, Exosonic says.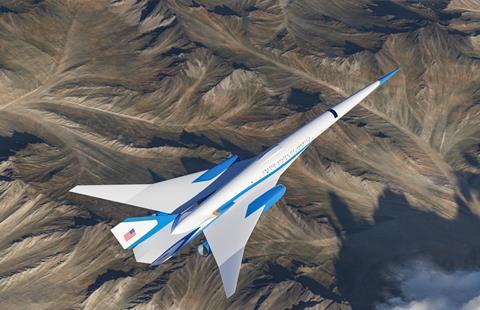 X-59 ADVANCES
As the various companies work to bring supersonic civil jets to market, the US government has been advancing related efforts.
In January, the FAA finalised a rule intended to ease the process by which companies obtain approvals to perform civil supersonic flight tests. That followed a March 2020 proposed rule that would establish noise standards – though only at take-off and landing – for a new class of supersonic aircraft. The noise proposal begins the FAA's process of again permitting overland civil supersonic flight, which it has essentially banned since 1973.
But overturning that ban requires the industry to solve the primary roadblock: disturbance caused by sonic booms.
NASA is hard at work addressing that issue through development of the X-59, a jet intended to demonstrate a so-called "low-boom" design. Lockheed Martin is designing and manufacturing the X-59 at its famed Skunk Works site in Palmdale, California, and will be performing X-59 test flights.
NASA had aimed to have the X-59 airborne this year. But production shutdowns and delayed component deliveries – blame Covid-19 – forced the team to push back first flight until 2022, says Craig Nickol, head of NASA's Low-Boom Flight Demonstrator project.
The team has overcome some relatively minor design issues that have required some rework, but has faced "no major showstoppers", he says.
"We are predicting first flight to be late spring, early summer timeframe 2022," says Nickol.
The team recently "closed out" manufacturing of the X-59's wing, having installed the wing's fuel system and attached wing skins. Workers have also attached the jet's empennage to its fuselage, and are "getting ready to mate the fuselage to the wing", Nickol said in March. "Structurally, we should have what looks like an aircraft within a few weeks."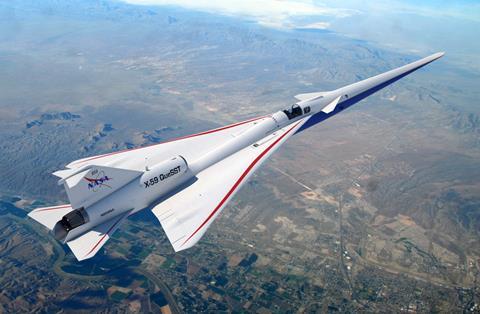 The X-59 has features intended to significantly soften its sonic boom. It has a long, slender fuselage, and most external features are atop – not below – its fuselage.
Powered by a single 22,000lb-thrust (95kN) GE F414-100 engine, the X-59 will achieve speeds of M1.4 and cruise at 55,000ft, NASA says.
The agency already received two F414s – one primary, one spare – and will conduct an engine "fit check" this summer, Nickol says.
The X-59's initial "checkout flights" will be conducted from Palmdale. Next, the team will move the demonstrator to NASA's Armstrong Flight Research Center in Edwards, California, where they will put it through a two-part flight-test programme. NASA is spending $5.8 million to renovate a hangar at Edwards for the jet.
The first phase of flight testing will last about nine months and involve envelope expansion and airworthiness evaluations. NASA will then take ownership of the jet from Lockheed and begin the second flight-test phase, also lasting about nine months and involving "acoustic validation" – measuring the sonic boom, Nickol says.
Between 2024 and 2026, NASA intends to deploy the X-59 on "community overflight testing" missions, during which it will fly the jet over the USA and survey public reaction to the jet's noise. Regulators can use that data to write supersonic flight rules, NASA says.
NASA has hired Santa Clara, California-based Crystal Instruments to provide equipment that will measure the X-59's boom. The system will collect "waveform and spectral data related to sonic booms and sonic thumps", and enable NASA to "perform various specialised operations for real-time sonic-thump analysis", NASA says.
The agency will initially deploy the system at Armstrong and later in a 30nm-long "ground microphone array" near Edwards AFB.
The X-59's design should mean that its boom, measured on the ground, will be less than 75 perceived dB – like "distant thunder", Nickol has said. By comparison, Concorde had a boom of 105 perceived dB.
"All of our predications are currently pointing toward the fact that this aircraft should be able to meet those requirements," Nickol says. "It looks good, and we don't see any issues hitting that mark."