Hill Helicopters has a mission: to bring a modern, high-technology rotorcraft to a part of the market that has not seen genuine innovation for some years. In addition, the company will manufacture the majority of the clean-sheet helicopter in-house – including its turbine engine - will build an all-new production facility and the UK, and make a first delivery to a customer in just three years from launch.
Hill broke cover in 2020 and with a first flight planned this year, it promises to be quite a whirlwind development. The company was founded by Dr Jason Hill, who also holds the posts of chairman and chief engineer. He is a former aerospace engineer at GKN Westland – which eventually evolved into Leonardo Helicopters – who then set up his own engineering consultancy, before deciding to launch the helicopter manufacturing business. He is also a qualified pilot.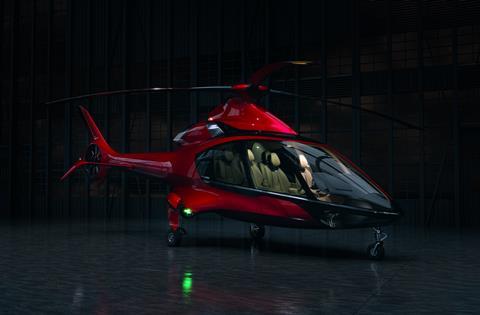 Explaining the rationale behind the HX50 helicopter, Dr Hill writes on the company's website that there was nothing on the market "that came close to meeting my expectations or fulfilling the potential of what a premium private helicopter could truly be."
He wanted, he says, an aircraft "that was safe, capable, fast and breathtakingly beautiful" and which "fused the best of premium automobile styling, refinement and build-quality, with the convenience and exclusivity of point-to-point private air transport."
Given the understandable pressure to deliver in a relatively short space of time, Dr Hill declined FlightGlobal's request for an interview. But live-streamed customer events either side of Christmas provide an insight into the company's thought process and strategy. They are also, it is worth noting, absurdly technical affairs for what are essentially marketing events: Dr Hill does not shy from offering in-depth and sometimes complex answers in response to questions on the aircraft's design or performance.
OWNER-CENTRIC
Hill, he says, is "owner-centric" and the HX50 is "based on what private owners need". Targeting the market for private flyers means that the fledgling airframer is not delivering a fully certificated aircraft. Instead, it will gain an initial type approval from the UK Civil Aviation Authority – equivalent to that for a European Union Aviation Safety Agency Part 27 aircraft – and is provided to customers with what the company describes as "amateur-built airworthiness approval", noting that "each aircraft is factory-constructed during a two-week fully supported build course" at Hill's factory. In the UK it will be a 'home-built' aircraft, whereas elsewhere, the USA for example, it will fall into the 'experimental' category.
Eventually there will be a certificated version of the helicopter – the HC50 – but that will not arrive until 2026 and will benefit from the maturation of its non-commercial predecessor.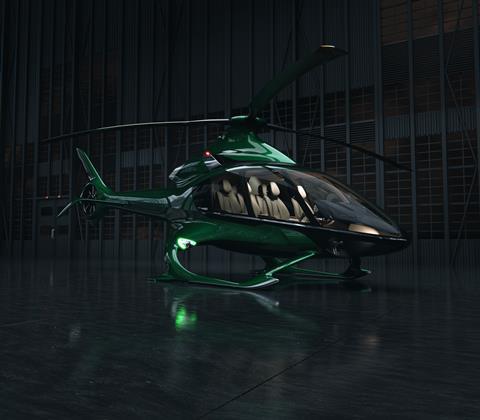 The route to market it one of numerous strategies adopted by Hill that appear to cut against the grain. For example, Dr Hill boasts that the company is "vertically integrated" in so much that it will bring the vast majority of manufacturing in house – whether that is for the fuselage, rotors, engine or transmission, or even smaller components such as bearings.
Or as he puts it: "We will take raw materials in through the back door and send a premium product out through the front."
He sees Hill Helicopters as very much a "manufacturing company" rather than the recent trend among rotorcraft businesses to consider themselves "technology companies".
All of which should mean the company has a very good handle on cost control and is not beholden to others for support or parts supply; Hill will "not be held to ransom" by outside suppliers, runs the argument. In turn, the strategy should ensure predictable through-life costs and the availability of spares for the end-user.
The cost-control is vital to the business model an enables an awful lot of advanced technology to be packed into the helicopter (that it is a home-built aircraft also keeps the price down).
Take the composite airframe, for example. Dr Hill describes the use of the material as "absolutely fundamental" to the HX50; in order to achieve the required combination of an attractive finish, high strength and crashworthiness "you have to go composite", he says.
But making carbonfibre parts via the traditional process is "very expensive" on a per-unit basis and also requires significant capital outlay – and physical space – to acquire and set up autoclaves large enough to accommodate a structure as large as a fuselage. It also not particularly conducive to manufacturing at scale. "One of the unique things with the HX50 is that rather than pre-preg [material] we are using dry fabric and infusion technology", he says; it is an "industrial" production process used on wind-turbine blades that has been adapted for the new application.
Alongside material specialist Composite Integration "we have taken that process and now demonstrated that we can produce a single-piece fuselage." Work continues to "iron out" the technique ready for production of the full-scale article. That includes finalising a means of applying the copper mesh crucial for lightning-strike protection.
Dr Hill says the company is "pushing harder and harder to finalise the full-scale airframe", optimising the carbonfibre lay-up and geometry to "make the most robust, damage-tolerant structure that we can". The first flight-test fuselage should arrive later this year.
IN-HOUSE DESIGN
Another critical system is the HX50's FADEC-equipped 500shp (372kW) GT50 turboshaft engine – another in-house development. Dr Hill describes it as "absolutely crucial" to the programme: not being beholden to a third-party gives an aircraft manufacturer the freedom "design the aircraft it wants" where the "performance of the aircraft governs the engine design", rather than vice-versa.
The powerplant is close to design freeze and the manufacture of various components is now under way. "I'm very pleased with where we are on the engine," says Dr Hill. "I am very pleased with the engine design full-stop: it is very elegant, very simple.
"We have managed to avoid building complexity into the engine which is often the case."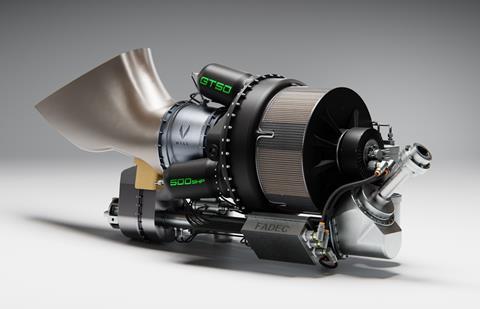 The latest iteration of the GT50 is "more compact" than previous versions and features a new nine-blade impeller with a nine-blade stator or diffuser. That has been refined from an earlier 10-blade design, which itself was "derived" from a 12-bladed version, after analysis by Hill's production engineers and aerodynamicists concluded that lower number of blades would be the "optimal solution".
While the new design is a "little bit more challenging aerodynamically", says Dr Hill, optimisation allowed the team to achieve the desired performance. The change also allows the part to be machined faster and also results in a stronger component.
Design of the annular combustor is now also frozen, and Dr Hill is confident that it will deliver better performance than initially planned. Efforts to fine tune the production process are continuing, he adds.
A first engine should begin bench tests by the summer, with the aim of running a pool of test engines – including those equipping its three initial prototypes – for a combined 5,000h before series production begins.
Additionally, fine tuning continues of various elements of the drivetrain, including the reduction and bevel gearboxes, tail rotor drive shaft and lubrication system. In parallel, Hill continues to refine elements of the manufacturing, such as the tooling and heat treatment, in order to accelerate and simplify the overall process.
But the in-sourcing of production is not confined to the obvious areas; Hill even plans to make its own bearings, arguing that those suitable for aerospace applications are typically "very, very expensive".
QUALITY CONTROL
"The quality control, surface finishes and the performance of these things are no different in a light helicopter than they are in bits of industrial machinery," says Dr Hill. The firm will initially manufacture its own bearing races, fitting them with third-party balls or rollers, before also making those parts too.
On top of that, the manufacturer is investing in an in-house casting facility – but is again looking outside the confines of traditional aerospace for more cost-effective means of production, in this case the jewelry industry. Analysis of a series of tests conducted in the run up to Christmas have given Hill confidence that inert environment casting – where an unreactive gas is used to prevent a reaction with oxygen – can deliver results that are on a par with using "hugely expensive" vacuum casting.
Sales of the helicopter have been brisk: as of late January, the company had taken orders for 373 HX50s and another 59 HC50s – an increase of 84 units over the pre-Christmas total, when it had sold just 348 HX50s. Customer deposits for those aircraft have generated around £25 million, more than sufficient to bring the helicopter into production.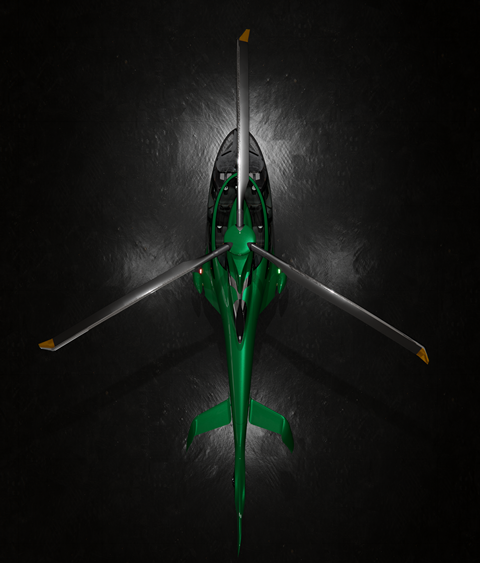 Hill intends to build 260 aircraft in the first year of production, ramping up strongly over the following 12 months. But it sees potential for much higher annual output and its new-build factory will be sized to deliver up to 1,000 aircraft per year.
Assuming all goes to plan, then a maiden sortie of the HX50 should take place later this year, leading to a first delivery in August 2023.
Promised performance should see the HX50 capable of cruising at 140kt (260kt) and, even with a full passenger load, flying for 3h, giving a range of about 420nm (777km). With just three people on board endurance could be as long as 8h – but as Dr Hill points out, by that stage, the endurance of passengers may be more of a factor.
But with drag predicted to be around one-third lower than suggested by Hill's initial modelling, there is confidence that the cruise speed at maximum continuous power could now be above 140kt; Dr Hill is reluctant to confirm the figure, simply saying it will be "140kt and a bit".
For all of his willingness to embrace innovation, however, there is one area that Dr Hill is avoiding: electrification.
While that may be a long-term goal – it could offer "fantastic opportunities" for a conventional helicopter, he says – the problem is that "the energy density of batteries is not there yet". An interim step "once the technology is right and the time is right" could involve some form of hybridisation – potentially as simple as an emergency battery and electric motor to be deployed in case of engine failure.
But asked if he sees the nascent market for electric vertical take-off and landing (eVTOL) aircraft as a threat to the HX50 and the answer is a resounding 'no': "We do need to decarbonize aviation and become more electric but you have got to be realistic – the only way to get off the ground vertically more efficiently than a helicopter is in a balloon.
"I don't believe [eVTOLs] offer any material advantages over a modern well-designed helicopter."
But the popularity of eVTOL designs – at least from an investment perspective – does give Dr Hill a reason to be cheerful: the number of such aircraft in development illustrates "the number of people that want to do point-to-point travel," he says.