Job prospects for out-of-work or would-be pilots in the USA and a handful of other countries are looking up. However, in much of Europe, and particularly the UK – where complicated and ever-changing Covid-19 travel rules put a dampener on hopes for a summer overseas tourism boost – the situation could hardly be more different.
The reliance of the UK aviation sector on long-haul markets such as Australia and the USA that have largely shut their borders has compounded the problem.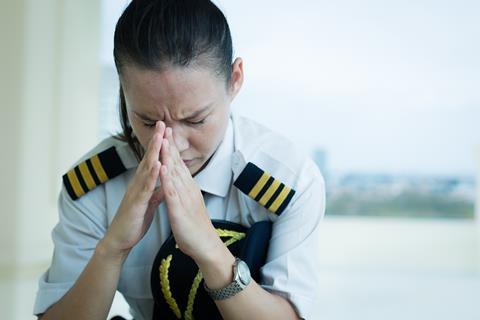 A further blow for pilots will come from the winding up of the government's furlough scheme at the end of September. The British Airline Pilots' Association (BALPA) has estimated that 51% of air transport workers were on the programme on 31 July – the highest percentage of any industry. "While other sectors have been able to get up and running, aviation is still essentially in lockdown," observes BALPA acting general secretary Martin Chalk.
UK carriers, aware of the challenges of recruiting or training experienced replacements when recovery comes, have largely avoided mass lay-offs by using the furlough scheme or asking pilots to accept temporary part-time contracts, or reduced salaries. Chalk is sympathetic to the employers' plight. "Pilots are desperate to get back to work, but unless airlines can get back to something like they were operating in 2019, it's difficult to see how that can happen," he says.
Aviation is one of the few sectors where businesses are still being asked to "take steps to protect the rest of society", says Chalk, but "we feel abandoned by the government right now". While other European markets such as France and Germany saw traffic levels return to between 40% and 60% of 2019 levels over the summer, the UK was stuck at way below even that. Many pilots, he says, have survived the crisis so far, but some are running out of cash, and "getting through winter will be difficult".
The hardships facing many pilots has led to the launch of at least two support groups in the UK. When airline pilot Scott Bateman helped found the Pilots Together charity in mid-2020 to support industry colleagues who had lost their jobs, he thought it would "last a year".
Eighteen months or so later, he admits that "as time has gone on, we have realised that there are elements of our community who are just not being supported. We are planning for a long term future."
CAREER ADVICE
So far, the organisation, which raises funds from contributions, has helped around 350 pilots with everything from career advice to financial support to stay current on type or retrain, including for non-aviation jobs such as driving trucks or trains. While some pilots, deep into careers and well-paid, can afford to retire or take a sabbatical, this does not apply to all, says Bateman: "A lot of pilots we are helping are new starters, with high levels of debt and certainly not on pop star wages."
The charity's aid goes beyond career coaching. In August it launched a text-based support service, staffed by volunteers, called #WePilots, for colleagues struggling with their mental health. It is free and available 24 hours, every day of the year. As a result of the crisis, many pilots are experiencing anxiety, depression and loneliness, "issues that are often taboo or stigmatised in the profession", says Pilots Together.
Resilient Pilot is another intiative, a not-for-profit venture intended to put new pilots whose careers have been put on hold by the crisis in touch with mentors. Also offered are discounted refresher training through partners, as well as regular career webinars. Pilots pay a small monthly membership fee. The organisation's aim is to help recently-qualified pilots "stay connected with the industry and ready for the ramp-up", says chief executive and founder Karen Bath.
Despite the grim situation, there have been positive signs. Wizz Air said on 13 September that it is reinstating pilot salaries to pre-Covid-19 levels from 1 October. Like many of its counterparts, the Hungarian low-cost carrier had agreed pay cuts with pilots in lieu of redundancies. Wizz is also recruiting 200 pilots by December as it looks to triple the size of its fleet to 500 Airbus narrowbody aircraft. It follows an announcement in July by rival Ryanair that it plans to recruit 2,000 pilots.
However, for UK pilots simply moving to where the work is may be tricky. The Brexit agreement that followed the country's formal withdrawal from the European Union in January 2021 does not include full mutual recognition of pilot licences. UK-issued licences – even if they were obtained while the nation was a member of the European Union Aviation Safety Agency (EASA) – are no longer valid for EU-registered aircraft, and vice versa. The same applies to cabin crew and maintenance engineers.
Pilots can apply for an EU licence through an EASA member state's national aviation authority, and several Britons did this before Brexit took effect. UK pilots still can, but backlogs mean the process can be time-consuming. In September, Ryanair chief executive Michael O'Leary said the Irish-headquartered carrier would still be recruiting UK-licensed pilots to operate non-EU routes from UK bases, but suggested that the value of a UK licence had deteriorated after Brexit.
With European markets recovering faster than the UK, and airlines in the USA and elsewhere recruiting again, for British pilots simply "getting on one's bike" to find a job is not possible, in the short term at least. It is why BALPA has urged the government to restore mutual recognition of EU and UK licences. The restriction is a major barrier to mobility, believes Bateman. "If we could transfer licences, people would be leaving in their droves," he says.