While the coronavirus may have devastated the commercial aviation sector, the defence market has remained relatively unscathed. The cost to governments of furloughing workers combined with an economic downturn that could last for years will exert fiscal pressure on military budgets. At the same time, defence spending is driven by unconnected priorities – perceived future security threats, long-term procurement requirements, and the need to nourish or develop domestic industries.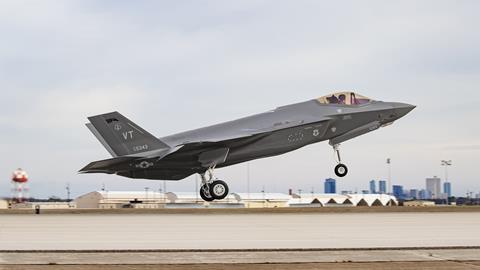 The defence sector had a particularly strong 12 months going into this crisis, with total sales for the 10 largest defence companies up almost 15% year-on-year to $214 billion. Lockheed Martin, Northrop Grumman, and Raytheon (before its merger with United Technologies follow Airbus and Boeing in the overall rankings and derive almost all their revenues from the defence sector. They saw revenues grow 11.5%, 12.4%. and 7.8% respectively.
Top 10 defence sales
Rank
Compnay name
Defence sales, $ millions
Defence sales growth
1
Lockheed Martin
$59,000
11.5%
2
Northrop Grumman
$33,800
12.4%
3
Raytheon
$29,200
7.8%
4
Boeing
$26,200
-0.6%
5
L3Harris
$17,200
10.2%
6
BAE Systems
$12,500
10.1%
7
Airbus
$12,200
-6.4%
8
Leonardo
$10,500
6.9%
9
United Technologies
$7,980
58.1%
10
Dassault Aviation
$5,770
96.7%
Boeing, number four when it comes to defence sales, had little to compensate it for its dreadful performance in the commercial sector. The Chicago-based company's defence revenues moved slightly downward compared with 2018. Rival Airbus, whose military products include the A400M and smaller Spanish-built transports as well as a share in the Eurofighter programme, also had an indifferent year for defence, with sales dropping 6.4% to $12.2 billion.
While L3Harris, BAE Systems and Leonardo all enjoyed a sales bounce from defence in 2019, it was a truly bumper year for the two smallest players in our top 10 table – United Technologies, whose Pratt & Whitney and Collins Aerospace divisions both have military businesses, and Dassault Aviation. Their sales growth for 2019 was 58% and almost 97% respectively, with the French manufacturer delivering 26 Rafale fighters during the year, compared with 19 in 2018. With fewer deliveries forecast for 2020, that success is unlikely to be repeated in the next Top 100.
Top 100 aerospace companies ranked by revenue
1

2

3

4

Currently reading

Defence market unscathed as big players enjoy sales hike

5

6