A so-called 'Generation Tempest' took off on the opening day of the Farnborough air show, as the UK announced plans to fly a supersonic demonstrator of the sixth-generation fighter within five years.
Herman Claesen, BAE Systems' managing director Future Combat Air System (FCAS), notes that unlike the last such UK demonstrator – the Eurofighter-precursor EAP first flown in 1986 – digital design and model-based system technology means that company and Royal Air Force (RAF) pilots already have "flown" the future asset.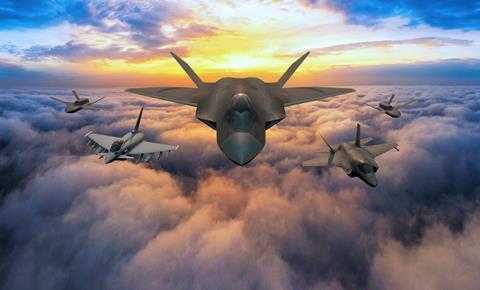 "We are already flying this aircraft digitally. We have already conducted 100 flying hours," Claesen says.
While design details of the Tempest demonstrator – such as the engines to be provided by Rolls-Royce – have not been disclosed, Claesen confirms: "It is a low-observable aircraft, and the technology is highly sensitive.
"The design, development and build of that demonstrator is progressing very well," he adds.
Launched at Farnborough's 2018 show, the manned Tempest fighter also has gained a revised look, with new renderings and a small model depicting a platform now more closely resembling the Lockheed Martin F-22. Team Tempest partner and airframe developer BAE notes, however, that this is not representative of the demonstrator that it will fly by 2027.
WORK IN PROGRESS
Richard Berthon, director future combat air for the UK Ministry of Defence (MoD), says activities linked to the demonstrator have been under way "for a couple of years already".
He also reveals: "We are conducting joint concept analysis with Japan and Italy on a future combat aircraft. We are looking at our respective requirements and potential alignment of our industrial bases, to make decisions later on in the year."
Sweden – which has also been linked to the FCAS programme since its launch – "remains a very close partner". However, he notes that the nation is faced with a "radical change in its strategic environment" following Russia's late-February invasion of Ukraine, and that "NATO accession changes the dynamic for them".
Team Tempest partners BAE, Leonardo UK, MBDA UK, R-R and the MoD also used the show to launch a 'Generation Tempest' initiative. Berthon says the recruitment drive is intended to attract "the brightest and best" talent to work on the project, which aims to deliver operational capability from 2035.
"We are serious about Tempest – not just in the early stages – we are serious and determined to see this through," UK defence secretary Ben Wallace said at the show.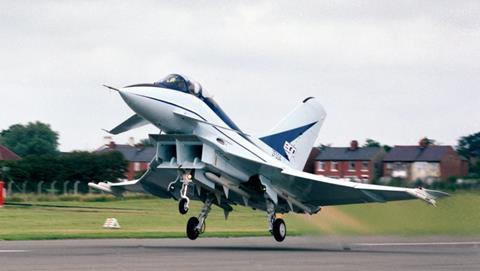 Meanwhile, Leonardo has revealed Mitsubishi Electric as its partner for the bilateral Jaguar advanced radar demonstrator project between London and Tokyo.
"Jaguar represents the first big building block of an international radar programme that meets the ambitions laid out by Japan and the UK as part of F-X/FCAS discussions," the European company says.
Andrew Howard, its director major air programmes, describes Jaguar as a "pathfinder for the wider collaboration", with work taking place at "a deep, cutting-edge engineering level".
"What we are trying to achieve with Jaguar is high-powered, miniaturisation and digitisation of the radar antenna head," he explains.
The goal is to produce a multifunction RF system (MRFS), as a "sixth-generation radar" evolution beyond the ECRS Mk2 active electronically scanned array on order for the RAF's Tranche 3 Eurofighter Typhoons.
"Our vision for MRFS is getting more power in less space with greater capability," Howard says.
Key elements include an integrated sensing and non-kinetic effects (ISANKE) and integrated communications system. Howard describes this as "a new layer of sensor integration" which will combine inputs from the aircraft's radar, electro-optical, infrared search and track and defensive aids systems.
SHARED INFORMATION
"ISANKE is all of the sensors, deeply integrated across the platform through a digital backbone," Howard explains. "It is providing a better outcome to the aircrew, and allows information to be shared on and off platform.
"What we have seen so far have been very promising results. We are getting an awful lot more radar capability than we would have got a generation ago," he notes.
Howard expects the technology to be trialled aboard the Tempest programme's Boeing 757-based Excalibur flying testbed in the 2026-2028 timeframe.
"The pace of progress to date has been really positive," he says of the collaboration, noting that the companies have been developing links since 2018. "The relationship with Melco [Mitsubishi Electric] is showing that we can do it."
The UK and Japan last December signed a memorandum of co-operation around multiple future combat aircraft technologies.

Craig Hoyle joined Flight International in 2003, and has edited the now monthly title since 2015. He has reported on the UK, European and international military aviation sector for more than 25 years, and produces our annual World Air Forces directory.
View full Profile