A UK technology programme to demonstrate a so-called "additive capability" for use as part of a future combat air system is advancing on schedule, with an initial one-year phase having concluded in May.
Led by the UK's Defence Science and Technology Laboratory (Dstl), the lightweight affordable novel combat aircraft (LANCA) initiative will assess such an unmanned system's suitability for employment alongside fighters such as a future Tempest platform.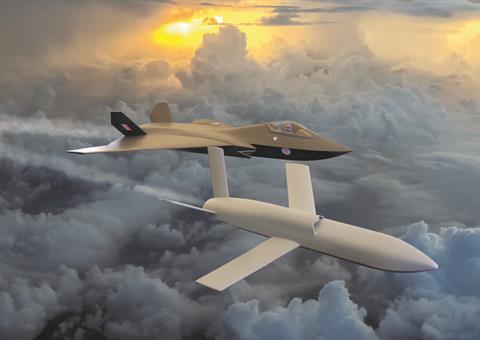 Dstl displayed a LANCA concept model within an exhibit for the Royal Air Force's Rapid Capabilities Office at the Royal International Air Tattoo in July 2019.
To be produced for a targeted one-tenth of the cost of a fighter, the transonic platform could be employed in a variety of roles, including carrying sensors or electronic warfare equipment in advance of strike packages.
Dstl says three bidders – Boeing, Team Avenger (formed by Blue Bear), and Team Blackdawn, "all participated fully in phase 1, and have submitted proposals for phase 2". It is currently assessing which of their designs will be advanced to flight status by as early as 2022.
"We anticipate being able to announce the results of the phase 2 evaluation later in the summer," says Peter Stockel, autonomous systems and innovation autonomy challenge lead at Dstl.
"Phase 2 completes in mid-2023 on current plans, and we would expect to have flight tests well in advance of that," he says.
"We have asked that demonstration system flights are delivered using full-scale vehicles," Stockel says, although "sub-scales may [also] be used as part of de-risk elements".
Also referred to as Project Mosquito, the demonstration activity is comparable to the US Air Force Research Laboratory's "loyal wingman" assessment of Kratos Defense & Security Solutions' XQ-58A Valkyrie, and Australia's Airpower Teaming System project, being advanced by Boeing.