Brazil's Embraer ended 2019 facing some big tasks in 2020. With the first two members of its new three-aircraft E2 series of commercial aircraft performing well so far and the other in flight-testing, the regional jet manufacturer is anxiously awaiting regulatory approval to split off its commercial aircraft division and join forces with Boeing.
The pending deal, announced in July 2018, calls for the US aerospace giant to buy 80% of Embraer's commercial aircraft division for $4.2 billion. "They had the ultimate holding-pattern kind of year," says Richard Aboulafia, vicepresident of analysis at Teal Group. Embraer and Boeing also recently announced a plan to form a defence joint venture to market the KC-390 airlifter as the C-390 Millennium, to emphasise the transport's cargo mission. Embraer will retain its business aircraft unit unaltered. Initially, Embraer expected the Boeing deal, which has to pass muster with anti-trust regulators in at least 10 jurisdictions, to close by the end of 2019, but it has hit some regulatory snags along the way.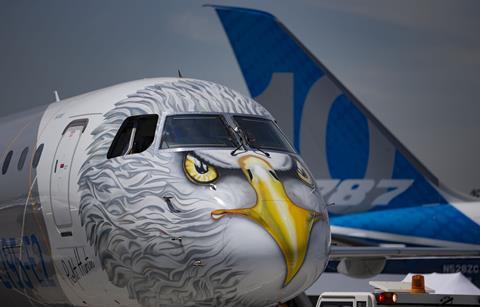 In particular, the EU has said it will conduct a more thorough review of the tie-up, pushing the completion date into the first quarter of 2020. In November the airframer, based in Sao Jose dos Campos, said it had received "unconditional clearance to close our transaction from almost all jurisdictions, including the USA, China and Japan". "We continue to co-operate with the remaining jurisdictions as [they assess] our transaction and look forward to a positive resolution," the company added at the time.
Despite positive reviews of the new flagship E2s and strong sales, industry observers say that joining up with a larger partner was inescapable, especially after Airbus took over Bombardier's CSeries programme. "When the CSeries became the A220 and all of a sudden Bombardier's supply chain was in Airbus's hands, it might have taken six months or five years but it was inevitable Embraer was going to lose," Aboulafia says. "The only hope was to get their supply chain in the hands of someone else, someone who could crunch down on the costs. They would have been toast without it." With entry into service of the E190-E2 in 2018 and delivery of the E195-E2 to launch customer Azul in September 2019, Embraer is now waiting on the final aircraft to complete the E2 family: the E175-E2. First flown on 12 December, this is heading towards a 2021 entry into service. The 70- to 140-seat E2 jets are completely re-engineered and technically upgraded from their older siblings. But the new E175-E2 faces an obstacle.
Outfitted with more powerful and heavier Pratt & Whitney PW1700G geared turbofan engines, the aircraft exceeds the maximum take-off weight specified in the scope clauses that govern regional air transport in the USA. Scope clauses are provisions in contracts between major US airlines and their pilots' unions that keep mainline airlines from farming out more flying to the regionals. They prohibit regional affiliates from operating aircraft that have more than 76 seats or a maximum gross take-off weight in excess of 39,000kg (86,000lb). While the first generation of the E170 and E175 fulfilled the clauses, the E175- E2 with its new engines would put the aircraft 5,290kg over that maximum weight. Nonetheless, Embraer's executives hope that the jet's performance – they claim it will be the most fuel efficient aircraft in its segment – will help convince US airlines to change these contractual rules.
Without those changes, Embraer will effectively leave the most lucrative regional jet market in the world – North America – to Mitsubishi Aircraft. The Japanese manufacturer is developing its SpaceJet M100, designed to carry 76 passengers in two classes. The SpaceJet will have PW1200G engines and will not exceed the 39,000kg limit, so barring a lifting of the weight cap, the new-technology M100 essentially competes in the USA against the older-generation E175. MAJOR MARKET "There's a big question mark over the programme," Aboulafia says. "About 60% of this [regional jet] market is North America and you could work extra hard, put lots of boots on the ground everywhere else and five years from now it will probably still be 58% of this market." For the moment, the E1 models remain popular in North America and abroad, and Embraer continues to take orders and build them.
Of the 85-95 E-Jets to be built in 2019, about 20% are E2s, with the rest being the first-generation variant. Both aircraft are built on the same production line. About 80 airlines currently fly E-Jets, Embraer says. In time, the firm hopes to transfer as many of its current E-Jet customers as possible to E2 aircraft, since the training requirements for pilots and maintenance crews to upgrade to the new jets are minimal. Embraer recently announced a firm order with Dutch flag carrier KLM for 21 E195-E2s and three new E195-E2s for Nigeria's Air Peace. Spain's Binter took delivery of its first E195-E2 in November. Azul and Helvetic Airways, already E-Jet customers, also received their first E2s in 2019. As for what is next, company executives said in November that now that the E2 programme is up and running, Embraer may look again at building a new 50- to 70-seat turboprop.