Engineers don't hold much truck with concepts like luck, preferring instead to trust in hard empirical data. But even Susan Ying – whose CV includes stints at hard-data places like Boeing and NASA – occasionally wonders if her four-decade journey hasn't been helped by the stars aligning.
She is too modest to say, but the reality is that talent and sheer hard work put her in the right place at the right time to make her career arc possible.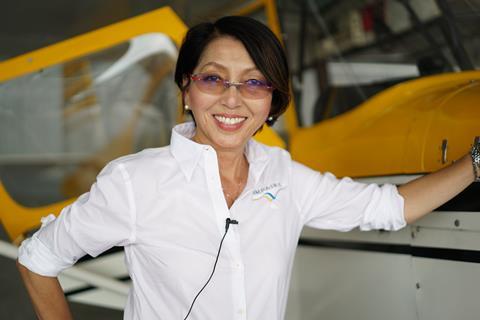 Ying is now senior vice-president of global partnerships at electric aircraft developer Ampaire, her second job since nominal retirement.
Born in Taiwan but raised in Indonesia, travelling throughout Southeast Asia as a child sparked an early passion for aviation. "We did lots of flying in big jets. It was really exciting because it was so different from everything else," she says.
Despite her interest, barriers were already obvious. "A couple of times as little kids my brother would be able to go to the cockpit and visit the pilots but I was never invited because I was the little girl."
Perhaps because of that exclusion, her curiosity was piqued: "I thought there must be some magic going on up there for them to make the airplane fly; it fascinated me. But when I went to college my first choice originally wasn't aerospace or engineering because I didn't know there were such options."
A lacklustre attempt to tackle her first subject choice coincided with Ying stumbling into flying lessons and the discovery that "flying isn't just a boy's thing". She found from other female aviators that a path into engineering was available.
Initially graduating from Cornell University in Ithaca, New York, Ying found the eastern USA "too cold", and quickly left for the warmer climes of Stanford in California. There she met a professor, Dick Shevell, who was a chief engineer for Douglas Aircraft on the DC-8, -9, and -10 programmes. "I was able to study under him, which was fantastic. By that time, I knew what I wanted to do with the rest of my life – be a designer of airplanes."
But aircraft design was not the first role she took post-Stanford. Instead, NASA beckoned.
Ying's thesis was on 3D computational fluid dynamics and she joined NASA to "push this state-of-the-art technology". That led her down a supercomputing path – first joining Florida State University and helping to establish its new engineering school, then to the Department of Energy's Scalable Computing Lab in Iowa State University in Ames.
However, torrential rain on her very first night in the Midwest flooded Ying out of her apartment. Most of her possessions were ruined, she was rendered homeless, and her car left running only intermittently. "I basically lost everything," she says.
"Life goes on but after that I was bound and determined to leave Iowa and go somewhere else; I said to myself, I have to get my act together and get out."
SPACE RACE
Ying began applying for jobs and among the adverts for more regular aerospace positions there was one from NASA that caught her eye: the space agency was seeking astronauts for its Shuttle programme.
But Ying did not think she had the 'right stuff'.
"Before I never would have dreamt of applying to NASA for the astronaut programme," she says. "Why? Because I knew astronauts were super-smart; some of these people had three PhDs, or one medical doctorate and a PhD, or they were a fighter pilot with 1,000 hours of jet time – things like that. I didn't think I would qualify."
But it transpires a degree of desperation can help you overcome your reservations: "When you are homeless and have nothing then you have nothing to lose. So I applied – and I became a finalist."
Then fate – or the fallibility of the human body – intervened: NASA's stringent medical examination process threw up a cancer diagnosis, removing Ying from the astronaut pool.
Putting the disappointment behind her – and having overcome the disease – Ying landed a job at McDonnell Douglas working on high-lift aerodynamics.
There was a twist, however: on a commercial flight, Ying bumped into Kalpana Chawla, who she knew from her time in Ames and the NASA selection process. By then, Chawla had been picked as an astronaut, making her first spaceflight in 1997. Ying invited her to speak at one of McDonnell Douglas's regular Amelia Earhart Society meetings, and Chawla promised to set a date once she was back from her next mission.
Sadly, that next flight was aboard the shuttle Columbia in January 2003, for the STS-107 mission, which ended in the loss of all seven astronauts as the spacecraft disintegrated on re-entry.
As it turns out, the cancer diagnosis may have saved Ying's life. "Thinking back, if it hadn't been for my cancer it could have been me on that flight.
"Life is so precious – you really have to make the most of it. I think she [Chawla] made the most out of her life doing what she loved, and I think that's what I'm doing right now working in sustainable aviation."
After McDonnell Douglas was acquired by Boeing, Ying stayed on, helping to drive numerous projects, including advocating for the more-electric architecture eventually adopted on the 787. Post-Boeing, she retired, only to be tempted back by Chinese airframer Comac, where in 2014 she became chief integration officer, taking charge of the systems engineering function at the fledgling manufacturer.
Returning from China, Ying retired for a second time, before one of those coincidences that have defined her career again intervened. Back in her Boeing days, she had helped with recruitment activities at Stanford University – her alma mater. There in 2009 her team spoke with a "young man we all thought was brilliant" but who, to her surprise, turned down a job offer.
"When I retired from China, I came back to the US, my former Boeing colleague told me to go and meet this same young man again," she says.
REVOLUTIONARY VISION
Although no longer working for the US airframer, she reluctantly agreed. And the young man turned out to be Ampaire co-founder Cory Combs. "He was just so impressive and visionary… to cut a long story short, he recruited me," she says.
Ampaire's initial focus on aircraft for short-haul or island-hopping missions – so-called regional air mobility – offers the potential to improve people's lives, in a sustainable way, by enhancing connections across many regions. But perhaps closest to heart is her childhood home of Southeast Asia. The inhabitants of a country like Indonesia – an archipelago of more than 17,000 islands with often limited links between them – stand to gain hugely from aviation's third revolution, Ying argues.
But it is a revolution that could be closer than people think: "Cory convinced me the future of aviation would be electrification, and it is possible with today's technology!"