As Saab's new flagship fighter powers into its delivery phase, we get exclusive access to the E/F-model programme at the company's Linkoping final assembly site.
With the pending completion of its military type certification process, entry into service with first export customer Brazil and an ongoing ramp-up in production, 2022 represents a pivotal year for Saab's flagship Gripen E programme.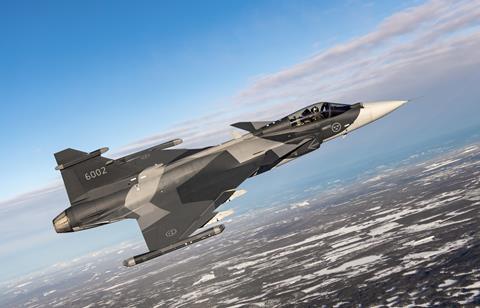 Less than a decade after the company in 2013 received a 60-unit launch order from Stockholm, and five years since first flight, its Linkoping site is now firmly in delivery mode with the all-new model. The Brazilian air force's lead pair of serial production examples arrived in the Latin American nation by ship on 1 April, and further transfers to the service and the Swedish air force will be made in the coming months.
FlightGlobal was recently given exclusive access to review the fighter's development and production status, and to try out one of Saab's development simulators for the type.
THUNDEROUS ROAR
It was a cool, crisp, clear morning on the last day of March, and the calm of spring was briefly interrupted as one of the Swedish air force's future assets – tail number 6012 – departed Linkoping for a test flight, with a thunderous roar from its GE Aviation F414 engine. While the aircraft might look much like its older C-model sibling, the increased power – and noise – from the larger jet's 22,000lb-thrust (98kN) powerplant clearly sets it apart.
Johan Segertoft, Saab's programme director, Gripen E/F, says the new fighter is nearing the completion of its type certification campaign, with data-gathering flights almost at an end.
"Today will be some of the last test sorties we will do," he tells FlightGlobal, with the airframer to formally apply for military type certification "in the summer".
Already, "the authorities have approved over 50% of the documentation package. We have finalised 100% and sent in 84% or so," he says.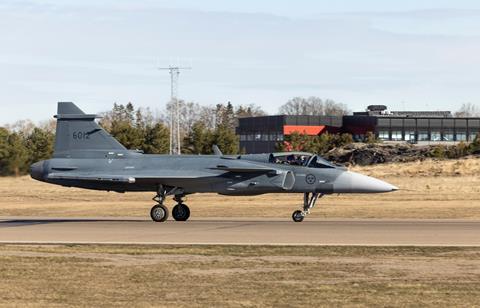 As the total number of sorties flown has passed 1,100, Segertoft says that what was a technically very challenging development process is now reaping clear benefits.
"Model-based design" is a popular buzzword in the fighter industry today, but Saab claims to be the first manufacturer to have achieved it.
A software engineer by trade who joined the company in 2010 from the automotive sector, Segertoft points to another fundamental design philosophy for the Gripen E, which separates the architecture for its flight-critical and non-critical software. This is important because it enables rapid modifications to be made to the overall system without the need for fresh flight testing each time.
Five years ago, while working as project manager for the Gripen E's avionics backbone, Segertoft described Saab's approach – initiated in 2009 – as being "naively brave", but he is no doubt that it was the right strategy for delivering success.
"It took us seven years to realise how best to partition the software," he notes, describing this process as having been "immense work".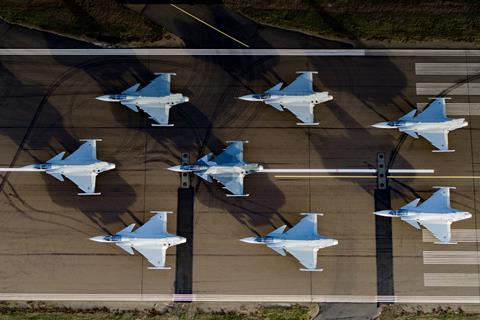 "What the [Gripen E's software] platform is doing is basically creating safe virtual boxes that you can put whatever you want in," he explains.
"The platform ensures that the outer shell won't impact anything else, even if they talk to each other, since they are not talking directly. Everything is via the platform, which controls everything. If you compartmentalise everything, modularise it, everything is very clear. Everything has its responsibility. Everything has its interface."
Continual updates have been made through the development and flight-test campaign, introducing enhanced capabilities and increased computing power. On average, a new software drop has been made every four weeks in batch form, while perhaps 15-30 smaller updates have been introduced daily for both the aircraft and its simulators.
COMMON SOFTWARE
"If you do software for an aircraft, why should you do different software for the simulators, desktop simulators, hardware-in-the-loop rigs or ECS [environmental control systems]?" Segertoft notes.
The scale of such updates has ranged up to installing replacement mission computers and the type's all-new cockpit – within a period of just five months – including a wide area display (WAD).
"During this time, we have had close to zero software defects found in the aircraft – you can count on one hand the number of times we have had to do correction on software," he says.
"If you have a bug in fuel management, that is a small software [update]. But if it's in the flight management computer, you will need to recertify that piece of code. We can do that in less than a week."
Getting this aspect of the programme right has been a critical requirement – Segertoft notes that certifying the safety of avionics is among the toughest challenges for any industry, perhaps ranked only behind the level of oversight afforded to the nuclear and medicine sectors.
"The vision has always been to code in the morning and fly in the afternoon. We are doing it," he says.
Describing managing traditional software as akin to untangling a huge bowl of spaghetti for those unprepared for the task, he notes that when most manufacturers look to separate tactical from flight-critical software, "they are separated physically, because that is easier. But it has a lot of drawbacks, because it's an integrated machine."
Getting it wrong, he says, is like a mobile phone user in need of an update being told: "Send your phone back, you will get it in two years. I need to change one app, but we need to recertify the phone."
UNTAPPED BENEFITS
He says the method introduced with the Gripen E provides a wealth of opportunities for end users, noting: "I don't believe we have realised all the benefits yet".
"Could an air force have its own [software] programmers within 10 years? There is no technological boundary," he says.
Brazil's first locally designated serial production F-39Es were unloaded in Navegantes, and on 6 April completed a roughly 50min transfer to the Gripen Flight Test Centre at Embraer's Gaviao Peixoto site, flown by Brazilian air force pilots.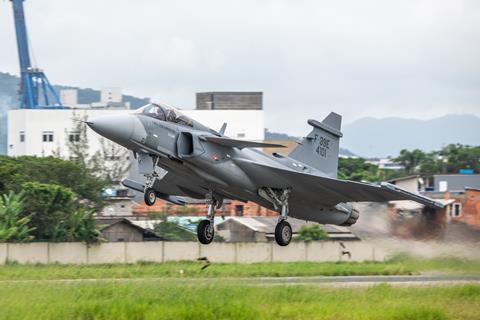 A first F-39E – already being employed to support flight testing and local systems development work – had been transferred to the nation in September 2020.
With the air force registrations 4101 and 4102, the new arrivals will initially be used to support military type certification tasks in the country. "Thereafter they will be transferred to Anapolis [air base] for the final stages of the delivery phase," Saab says.
"The arrival of the aircraft is the result of a project that sought from the beginning to increase our deterrent capabilities, as well as having the objective to foster research and industrial development in Brazil," says Brazilian air force commander General Carlos de Almeida Baptista Junior.
"We now have a state-of-the-art multi-mission aircraft that will be the main asset for guaranteeing the sovereignty of Brazilian airspace," he adds.
Brazil plans to introduce its new fighters from later this year, and several of its pilots have already completed their conversion to the type from the Northrop F-5. Acceptance test activities also are currently being completed with relation to Brazilian-specific mission systems, Segertoft notes.
Brasilia in 2014 placed an order for 36 Gripens: 28 single-seat F-39Es and eight two-seat F-39Fs. Development work on the latter variant is being headed by Brazil at the Gripen Design and Development Network facility, also in Gaviao Peixoto, with Embraer as Saab's lead local industry partner.
Sweden is adopting a more gradual pace for the introduction of its first of 60 new-model aircraft, with pilot and technician training due to start soon. But Segertoft notes that the Swedish air force's 1 January 2025 target for service introduction – with its F7 Wing at Satenas – marks the point at which the type will be ready to "defend the country".
Joint test and evaluation activities involving Saab and the Swedish service are being conducted from Linkoping and the air force's nearby Malmen air base, and a tactical operational test and evaluation phase will commence next year.
"The activities in Malmen are very much ramping up, with a shift in focus from the Swedish air force," Segertoft says.
The service plans to continue operating its fleet of just short of 100 Gripen C/Ds until 2035. In early April, it was announced that the MS20-standard model is to receive further capability enhancements, in order to preserve its operational relevance and "enable collaboration" with its successor.
While the Gripen E's frontline introduction in Sweden is just under three years away, its capabilities have already been the focus of intensive work to explore its operational possibilities.
Supporting this activity is a simulation-based development centre at the Linkoping site, which has eight devices – ranging from desktop part-task trainers to a domed simulator. These are capable of supporting two four-ship formations, along with virtual entities.
TACTICAL MISSION
In one scenario briefed to FlightGlobal, a simulated formation of eight Gripen Es in mid-2021 conducted an offensive mission targeting an Almaz-Antey S-400 surface-to-air missile (SAM) battery located in hostile territory, also requiring them to engage defending Sukhoi Su-35s.
Four aircraft from the tactical air unit (TAU) were configured in an air-to-air role, with each carrying seven beyond-visual-range MBDA Meteor and two Diehl Defence IRIS-T short-range air-to-air missiles.
Two fighters served as dedicated electronic attack assets, each carrying a pair of electronic attack jammer pods – representative of Saab's Arexis system – plus six LADM air-launched decoy missiles and two Meteors. A planned development of MBDA's Spear EW platform, and with an effective range of over 52nm (96km), LADM can emulate the radar signature and flight profile of its launch platform, providing a false signal to confuse enemy forces, or conduct jamming.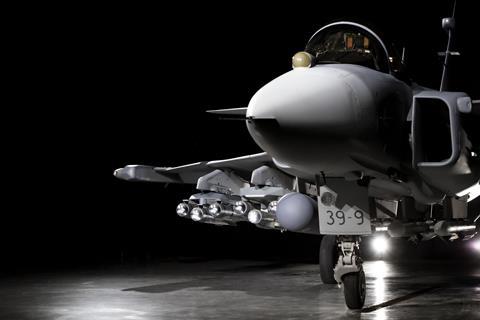 The remaining two aircraft in the formation were optimised for ground-attack, carrying six Spear air-to-surface missiles, six LADMs, and two Meteors.
Such a mission can be flown "largely radio-silent", with passive detection of hostile aircraft made using the Gripen E's Leonardo Skyward-G infrared search and track sensor and onboard electronic warfare equipment. By using a tactical datalink, all TAU members can see on their WAD which target has been assigned to each aircraft, with "all sensors supporting the track".
Once in operation, the fighter's Leonardo Raven ES-05 active electronically scanned array radar can be employed to perform multiple tasks simultaneously. Following a Meteor launch, the radar's swashplate repositioner enables the aircraft to turn more than 100° away from a threat while maintaining its track and datalink connection with the weapon, before final handover is completed for its end engagement.
In addition to providing enhanced situational awareness, this operating method would, for example, also automatically assign jamming assistance to an individual aircraft if it needs to suppress a pop-up SAM threat.
"For a medium-sized aircraft, we have a lot of countermeasures," notes operations analyst and Gripen pilot Jussi Halmetoja, referring to its 360° self-protection capability, including chaff and flare dispensers and active decoys, such as the Leonardo-developed BriteCloud.
Halmetoja says that during this simulated mission – a "quick, intense battle" – the air defence system was successfully suppressed, with two of the S-400's "Gravestone" engagement radars destroyed. The second of these was attacked by Spear weapons launched before the first array's destruction, and dynamically retargeted via Link 16 datalink as the back-up was switched on. Several Su-35s were also engaged, with no losses from within the TAU.
Additional work has been performed to assess how the new fighter will be operated in combination with Saab's Bombardier Global 6000-derived GlobalEye surveillance aircraft, which Sweden is also expected to acquire. Halmetoja notes that the long-endurance platform will enable the air force to optimise its tactical performance by not having to maintain constant combat air patrols with its fighters.
"If you have 60 aircraft, you want 60 aircraft flying, and you want them to be available at all times," notes Segertoft. This level of readiness is essential, he says, since "For the [Gripen] C/D, you thought you had a 10 minute period before you were under threat. Now you have to assume you are under threat on ground. That is sort of an evolutionary shift in what the opponent can do towards you."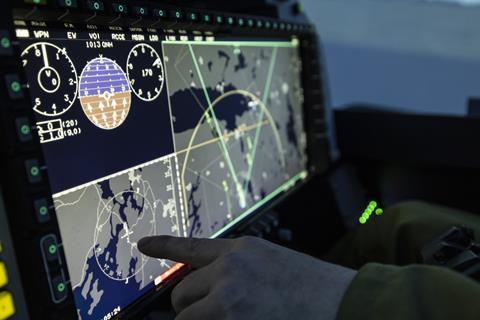 Sized at 19 x 8in, the WAD provides ample real estate to show the broad tactical picture, or can be configured to depict multiple screens simultaneously, with increased detail in each.
"The whole philosophy of the WAD is that human-machine collaboration, to allow the pilots to have minimum workloads, so they can focus on the tactical aspects and much less on flying, and pushing buttons and making menu selections," Halmetoja notes.
EXPORT DISAPPOINTMENTS
As its new product nears operational readiness, Saab has experienced two major export campaign disappointments within recent months, with first Finland and then Canada opting to instead acquire Lockheed Martin's F-35A to meet their future combat aircraft needs.
While Helsinki's rejection of a proposed package of 64 Gripen Es and two GlobalEye surveillance aircraft came as a blow, Ottawa's decision had been widely expected, owing to its long-held partner status on the Joint Strike Fighter programme.
Canada's decision was a disappointment nonetheless, but Saab has taken some consolation from the fact that its fighter was deemed capable of performing the nation's mission set.
Speaking before the selection, Saab chief executive Micael Johansson in February noted: "We have a clear answer from the Canadians that we have passed certain requirements for affordability, capability and security when it comes to having our system working interoperably within the Two Eyes, Five Eyes and NORAD context."
Further international sales campaigns with the Gripen E/F will receive a valuable boost after the type has begun serving its lead pair of customers. Opportunities include a protracted Indian air force requirement for 110 new fighters, and Brazil is expected to have a need to buy additional aircraft as part of a broader fleet renewal process.
Another factor that could help Saab during future competitions relates to a potential near-term decision for Sweden to seek membership of NATO, amid raised security concerns following Russia's invasion of Ukraine. The company frequently faces false criticism that the Gripen is not a NATO aircraft – even though the C/D-model has been in long-term use with alliance members the Czech Republic and Hungary.
The suggestion that both Helsinki and Stockholm could expand NATO beyond its current 30 member states has received thinly veiled threats of a military response from Moscow.
On 2 March, four Russian air force combat aircraft – pairs of Su-24s and Su-27s – violated Swedish airspace east of Gotland, and were swiftly intercepted by Gripen Cs. The "brief incident" prompted Swedish air force commander Carl-Johan Edstrom to describe Russia's conduct as "unprofessional and irresponsible".
While casual observers might have questioned the need for Sweden to look beyond its relatively young current fleet and order the E model when multiple advanced capabilities are embodied with the Gripen C/D, geopolitical events since late February have highlighted Stockholm's foresight.
ASSEMBLY TOUR
Our exclusive access also included a chance to tour the Gripen final assembly line.
Head of production Matti Olsson notes that the Gripen E's model-based design brings "lots of efficiency benefits" during the final assembly process, and also makes it easier for Saab to transfer work packages to other nations.
As an example of this, he points to Embraer's work in producing rear fuselage sections for the fighter. Brazilian personnel remain in Linkoping to gain experience as part of a transfer of technology package. Each spends between 18 and 24 months in Sweden to build up their competency.
A first example of the fighter to be completed in Brazil will enter final assembly next year.
The Gripen E uses all-new structural parts versus the C/D model, with aluminium-lithium frames delivering strength and reduced weight. Despite being a larger aircraft, the total tool count has dropped by more than 20%.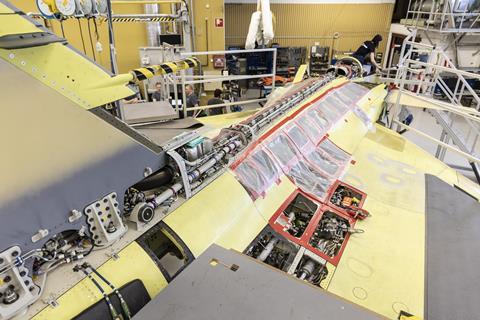 Final assembly also is performed without the use of laser alignment equipment, owing to the precision nature of the manufacturing process. Indeed, Olsson refers to some connectors as being "flyaway tools".
While the C/D programme had around 50,000 production documents, everything is now computerised, also aiding the process.
The final assembly flow sees major structures mated at a first station with around 15 workers, who also connect harnesses for around 35km of wiring, plus pipes, before the aircraft moves on to have its landing gear installed, and undergo fuel system integration and test. Aircraft are then completed at one of two last assembly stations. After this, they head for the delivery hangar, fuel system calibration and engine testing, before undergoing pre-acceptance flight tests.
Olsson notes that Saab's assembly process relies on self-inspection by individual workers, rather than using supervisors. This has been the case since the early 1990s, and results in "higher-quality, prouder workers", he says.
Also visible during our visit was a surprise: a lone, new-build Gripen C sitting opposite the pair of E-model fighters in their final assembly stations.
Saab declines to say if it has a customer in mind for the yet-to-be painted jet, with Olsson noting that its construction represents "maintaining competency in assembly of the aircraft, as we are offering it to customers within 18 to 24 months [of a contract]".
The Czech Republic, Hungary, South Africa, Sweden and Thailand are current Gripen C/D operators.
Meanwhile, Segertoft outlines how Saab managed the impact of Covid-19 disruption on the programme. In all, he says, 175 of the company's suppliers were affected by the pandemic, requiring some work to be brought in-house. And on the final assembly line, where a team of eight people would normally work at one station, only two colleagues could be present – masked and socially distanced – forcing the company to adopt a round-the-clock working pattern.
"It required a lot of man hours to mitigate," he says. "It was an immense effort – somehow they made it."
More than 30 Gripen Es are now in various stages of the production process. Saab last October stated that full-rate production would be achieved this year, but has not disclosed its annual output target.
Hailing the programme's shift from development and testing to delivery, Segertoft has a clear pride in the company's achievement.
"I said in 2018 that we knew it worked. Now we know that it works beautifully," he says. "We said that we had something truly spectacular, and we do."
Simulator ride highlights Gripen E's advances
FlightGlobal's 31 March visit to Linkoping also included time in the site's simulator development building, under the guidance of operations analysts Jussi Halmetoja and Martin Hambraeus – both Gripen pilots.
The virtual experience began with flying an approach to a road landing strip, sized just 800m (2,620ft) long and 16m wide. Such touchdowns can be performed with the toe-brakes already applied, enabling the aircraft to stop with ample distance to spare.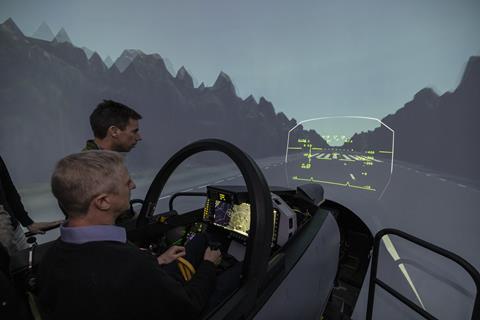 Once on the ground in real life, a small team of conscripts would be able to refuel and rearm the fighter inside 10min. For departure, the aircraft can then be comfortably turned within the narrow width of the landing strip – primarily by using the rudder pedals.
A fundamental aspect of Sweden's fast jet operating philosophy for decades, this ability to operate from confined spaces was demonstrated during the NATO-led Libya campaign in 2011, when Gripen Cs continued to operate using a taxiway at NAS Sigonella in Sicily after a landing mishap had temporarily put its runway out of action.
There are multiple aids to reduce pilot workload during such tasks – for example, markings within the head-up display that indicate both the optimal landing point on a runway, and whether the approach is too slow or fast to achieve this.
When in a tactical situation, the wide area display (WAD) can show a variety of information, either using the full 19 x 8in screen size, or split down into smaller windows. Various symbology denotes the location of friendly and hostile aircraft, and indications are provided when a threat comes within range of the fighter's weapons.
ENHANCED CONTROLS
Before making a final landing in Linkoping, our brief evaluation of the simulator included a chance to launch Meteor and IRIS-T missiles via cues on the WAD and head-up display.
The throttle and stick controls have also been enhanced from the previous version of the Gripen, with added shift functions enabling access to multiple display features, such as a weapon selection menu, and reconfiguring the main display.
Although highly complicated for a novice to use, the functions – which are the result of years of work spent in honing the fighter's human-machine interface – become second nature with practice, Hambraeus assures.
In addition to its work supporting the new type's operational introduction, the training centre's mission rehearsal capabilities have also been used by Gripen C/D operators the Czech Republic and Hungary, prior to their deploying aircraft in support of NATO's Baltic Air Policing mission.