Eyeing a lucrative gap in the market for a 4,200nm-range jet with large-cabin comfort, Gulfstream has embarked on its G400 development with lofty expectations.
Gulfstream's in-development G400 will round out the airframer's family of large-cabin business jets, filling a market niche seen by many observers as ripe with opportunity.
The Savannah company revealed development of the up to 12-passenger G400 at an event in October 2021. That same night, it also disclosed the development of a larger, 19-passenger jet called the G800, which perhaps received the most attention because, during the event, it rolled out the first G800 test aircraft.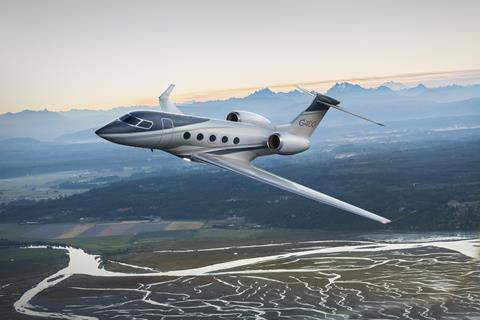 Today, there is no G400 to lay eyes on; Gulfstream has yet to unveil the first flight-test example, though assembly is ongoing.
HIGH SPEC
Still, the smaller type stands to make considerable waves in the wedge of market space it occupies – the lower end of the large-cabin segment. Jets in this category are not ultra-long-range globe-crossing machines, but rather incredibly high-end aircraft with spacious cabins designed more for continental than transoceanic flying.
Analysts say the space has grown stale in recent decades. They note that, initially at least, only two other jets will compete directly with the G400, and both are updates of decades-old platforms.
That gives Gulfstream an advantage, says the airframer's president, Mark Burns.
"Most of [the] airplanes that are in that space now have been there for a while," he tells FlightGlobal. "This is a new generation of airplane – much more efficient engines, much more efficient operations, lower ownership costs."
Gulfstream, a division of General Dynamics, aims to deliver the first G400, priced at $34.5 million, in 2025.
Boasting a 4,200nm (7,770km) range, the G400 fills a gap in Gulfstream's line-up, occupying space between its super-midsize, 10-passenger G280 and the 19-passenger, large-cabin G500.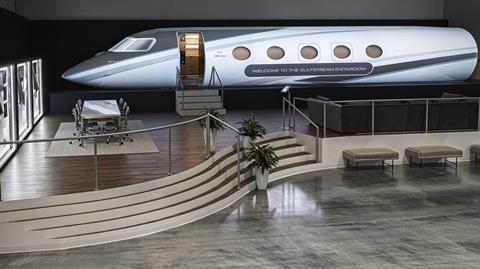 The G500 and G600, launched by Gulfstream in 2014, are the G400's sister ships. Burns says the company's long-term plan always called for development of the third family member.
The three jets – known internally by Gulfstream as its "Advanced Aircraft Programs" – share fuselage cross-sections and other technologies, such as the airframer's Symmetry Flight Deck, which includes touchscreens, active-control sidesticks and a "Predictive Landing Performance System" that warns pilots of possible runway overruns.
Gulfstream's other large-cabin jets include the G700 and G800 – ultra-long-range, Rolls-Royce Pearl 700-powered sister ships that compose a separate aircraft family. It is developing and testing these in tandem and aims for the first G700 to enter service by mid-2023, with the G800 following in early 2024.
The G400 will have twin Pratt & Whitney Canada PW812GA engines – certificated by Transport Canada in mid-September – each developing almost 13,500lb (60kN) of thrust. The new model will hit its maximum 4,200nm range when cruising at Mach 0.85. Maximum cruise speed will be M0.88, according to Gulfstream.
By comparison, the G500 has a range of 5,300nm, and the G600 6,600nm. Those jets have different variants of the PW800: 15,140lb-thrust PW814GAs for the G500 and 15,680lb-thrust PW815GAs for the G600.
The G400 will be the smallest Gulfstream large-cabin model, although not by much. The type will measure almost 26.3m (86ft 3in) from nose to tail. Its cabin will stretch 11.07m from front to back, excluding the baggage compartment. Those figures are each about 1.5m shorter than the G500's specifications. The G400's cabin will be 1.88m high and 2.31m wide – the same as on the G500 and G600.
Capable of cruising at up to 51,000ft and as fast as M0.9, the G400 will need 1,520m of runway to get airborne at its maximum take-off weight of just under 31,700kg (69,850lb).
LAB TESTING
The jet's characteristics are "very similar" to those of the G450 – a 4,350nm-range model that the company stopped producing in 2018 – says Gulfstream senior vice-president of innovation, engineering and flight Vicki Britt.
As with Gulfstream's other jets, the G400's complex systems undergo rigorous testing in a Savannah research and development facility called RDC III. The site houses several labs at which technicians test the integration of various systems, including avionics, flight controls and a data concentration network (DCN) – a hub through which major systems connect.
The labs vary from bench test facilities – to evaluate systems integration with the DCN, for example, or whole-aircraft integration – and iron bird rigs where Gulfstream combines digital and mechanical systems.
Along with developing new aircraft, Gulfstream has been expanding its service offerings in recent years, adding aftermarket capability in Appleton (Wisconsin), Fort Worth (Texas), Mesa (Arizona), Palm Beach (Florida), and Van Nuys (California) in the USA and Farnborough, UK.
Five G400s will participate in the flight-test and certification programme, including one employed for cabin testing, Britt says. By comparison, Gulfstream is using only three test aircraft, including one for the cabin, for its G800 programme. That is partly because some certification work completed for the G700 will carry over to the G800 – a benefit made possible by the many similarities between the two jets, Britt says.
The G400's certification will be more involved owing to several factors. Those include the amount of time elapsed since the US Federal Aviation Administration certificated the G500 (in 2018) and the G600 (2019), and the G400's use of a different engine variant, says Britt.
In recent years, "the rigour with which we have had to do some of our testing, especially in the labs, significantly increased the workload," she says.
"The 400 will have to go through more than the 500 and the 600… from a software testing standpoint," Britt adds. "There [are] some things that haven't been addressed from a certification standpoint."
The G400's cabin accommodates two-and-a-half distinct living areas, and Gulfstream offers nine-, 11- or 12-passenger cabin configurations. Depending on the selected arrangement, it has sleeping accommodations for four or five people. The cabin has five windows per side and electric-controlled shades.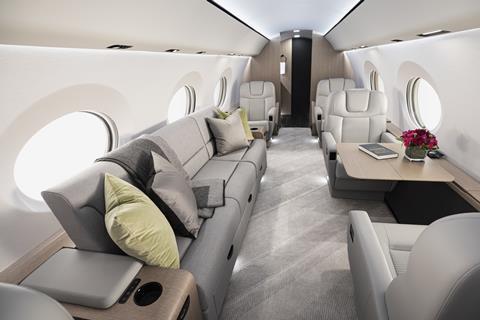 "It's probably just the right product at the right time," says Gulfstream director of interior design Tray Crow. "I think the market is looking for something like this, with a really wide cabin."
Crow oversees Gulfstream's cabin mock-up centre, which houses G400 and G700 demonstration cabins. During a visit to Savannah by FlightGlobal earlier this year, Crow offered a tour of the G400 mock-up.
"As you can see, a very spacious cabin, especially for where this aircraft sits in the marketplace," he says.
The mock-up was in the 11-passenger configuration. Standing in the galley, Crow pointed aft, calling out features. The cabin has four club seats forward: two on each side. Amidships, it has a right-side divan and two left-side club seats, while aft are another pair of club seats, both forward-facing.
SEATING OPTIONS
Crow explains that the 12-passenger configuration lacks the divan, but that six of its seats can form a conference area in the aft cabin. Its nine-passenger configuration, meanwhile, features six club seats and a divan, plus a second lavatory.
With its 4,200nm range potential, overnight trips, including transatlantic crossings, are absolutely part of the G400's mission profile, Crow says. However, the jet's capabilities make it ideally suited for transcontinental US hops or routes within Europe and Asia.
Gulfstream will build G400s in the same Savannah facility that houses G500 and G600 assembly, and using similar techniques. The company developed the site, and the processes, from the start to incorporate G400 requirements, says director of operations technology and support Steve Ritchie.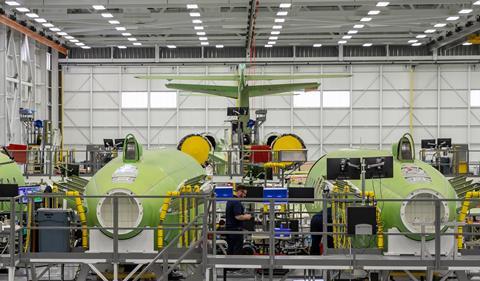 The G400 "predominantly is based off the 500", he notes.
Ritchie stands in a quiet room overlooking the busy assembly floor. "Other than some very specific tools that we have had to make for the shorter fuselage section, [G400 production] is relatively similar," he says. "It's just more volume required for the site."
He explains that G400 production – as for the G500 and G600 – will incorporate improvements Gulfstream developed for the G650. For instance, the company altered the design of some fuselage components to allow for increased use of automated riveting. Also, some parts arrive at the assembly site with more pre-drilled holes and other pre-fabricated features that make actual assembly easier.
STRUCTURAL SIMILARITY
"By embedding those holes or features into the part when it is manufactured, you no longer need a separate tool," Ritchie says. "It improves quality. That's really where our focus is.
"The [G400's] producibility, and the structural approach to building the aircraft, is very, very similar to the 650," he adds.
During our visit, several G500s and G600s were taking shape at the assembly site. Fuselage sections form as they move from station to station along the assembly floor. Workers, assisted by machines, form main barrel sections that compose fuselages. The work involves attaching fuselage frames to fuselage panels and adding structural brackets.
The G400's fuselage is made from aluminium, while components such as pressure bulkheads, horizontal stabiliser skins, wing-to-body fairings and engine pylons and cowlings are made from composites, says Ritchie. Aerostructures specialist GKN Aerospace produces the jet's rudders and wing skins.
Gulfstream had considered investing in an automated "levelling system" for joining fuselage sections, but decided to take another path.
"We looked at it and we said, 'We don't need to go to that level of expense or complexity,'" Ritchie says.
Instead, Gulfstream developed "precision-build carts". These hold fuselage barrel sections (forward-mid, centre-mid, and aft-mid), and allow workers to bring sections together using "joining fixtures", Ritchie says.
"We build up the fuselage sections, we join them together. We bring them to systems integration", where workers wire the jets and install other internal equipment, he says.
Next, teams add the wings, and the whole structure takes the unmistakable shape of a Gulfstream large-cabin jet. The company manufactures G400, G500 and G600 wings and empennages in an adjacent facility in Savannah.
"We bring the wing across from the next building," Ritchie says. "We take the fuselage… join it to the wings and put all the other major components on, like the landing gear, the engines. The empennage comes over and gets installed."
Jets then move to Gulfstream's flight-test facility for fuelling and engine runs. First flights follow. After receiving airworthiness certificates, it begins completion work, which it performs in Savannah and at facilities in Appleton and Dallas, Texas, Ritchie says.
Gulfstream has started constructing the first G400 test article but has not said when that jet will be complete. It will build fuselage barrels for G400 test aircraft in the G500/G600 facility, then move the barrels to another part of the Savannah site, where workers will complete remaining assembly work.
PARALLEL LINES
As Gulfstream transitions to G400 production, it plans to transfer all production work to the G500/G600 site, assembling all three models there. To accomplish that, the airframer plans to expand the facility to include another parallel production line, Ritchie says.
In terms of market segment, the G400 sits wedged between the upper echelon of large-cabin jets including the G500, G600 and Bombardier's Global-series, and super-midsize aircraft such as the G280.
"It's sitting in really a unique place… a sweet spot, kind of, between those two worlds," Crow says.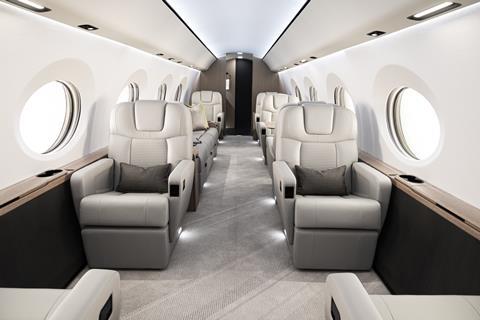 That market position has seen little innovation or development in recent decades, say aerospace analysts. They note that essentially only two other in-production jets compete in the G400's space: Bombardier's Challenger 650 and Dassault Aviation's Falcon 2000LXS.
Gulfstream had, previously, had a stake in the segment with its G450. Cessna also had its eye on the sector with the Citation Hemisphere, but ceded the space when it shelved development of the aircraft in 2019 amid engine troubles.
"The [Challenger 650] is the oldest business jet in production, and the [Falcon] 2000 is around the second oldest," says aerospace analyst Richard Aboulafia with AeroDynamic Advisory. "Gulfstream found a golden opportunity."
The Challenger 650's lineage stretches to the 1970s. The type is based on the Challenger 600, a jet developed by long-defunct Canadair that made its maiden flight in 1978. Bombardier acquired the programme when it purchased Canadair in 1986. It has since rolled out new variants, including the Challenger 605, which completed its debut flight in 2006.
Bombardier updated the type in 2014 by introducing the Challenger 650. Powered by twin 9,220lb-thrust GE Aviation CF34-3B powerplants, the type can carry 12 passengers and has range of 4,000nm. Including all derivatives, Bombardier has delivered more than 1,000 of the jets.
Dassault's Falcon 2000LXS, launched in 2012, is the French airframer's update to its baseline Falcon 2000, a jet that entered service in 1995. The 2000LXS has twin 7,000lb-thrust PW308Cs and range of 4,000nm. Globally, nearly 650 Falcon 2000s remain in service or storage, according to Cirium fleets data.
Deliveries of jets in the G400's category have been limited in recent years. In 2021, airframers handed over just 20 jets in the segment, down from 57 in 2015, according to Aboulafia. He defines the segment as encompassing business aircraft with list prices between $35 million and $45 million.
But Aboulafia predicts a slight renaissance. He expects deliveries of G400-class jets will accelerate in the coming years, hitting 50 in 2028.
Burns declines to say how many G400s Gulfstream might ultimately sell, but predicts the market will be substantial, noting the sales success of the predecessor G450.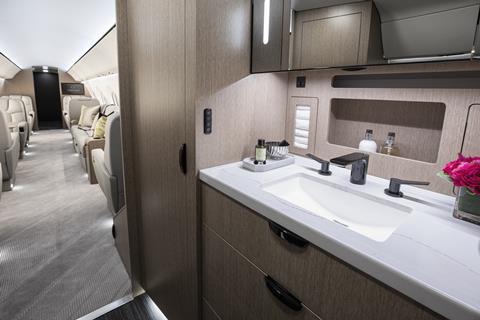 "This is going to be a large space… a lot of customers," he says. "At 4,200nm, there is a strong case for this airplane for a lot of people – private individuals and corporations."
Crow expects G400 buyers will include customers upgrading from midsize jets and existing operators of large-cabin types.
"We also anticipate large fleet owners using this for their regional or domestic missions," Crow adds. "This will be a game changer. There has not [been] anything new in this market sector in 20 years."